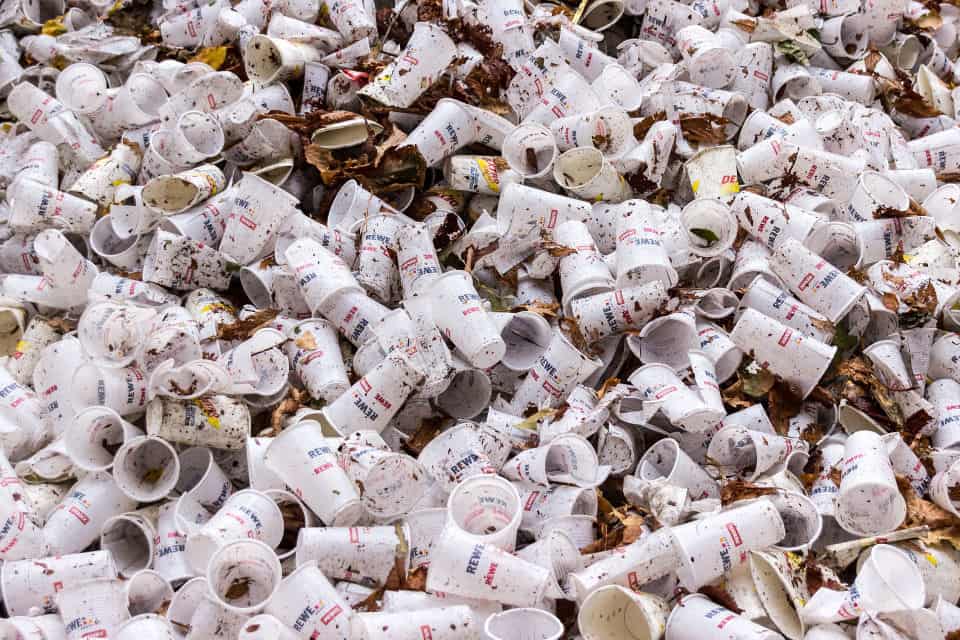 South Koreans Ready to Discard Disposable Cup Culture
Sit down with a coffee at almost any café in South Korea and you'll be surrounded by people drinking from disposable takeout cups. Walk in any public place during the morning rush or after lunch and you'll notice every public garbage bin overflowing with plastic cups. In cafés, so ingrained is the throwaway culture that it's common to be given a disposable cup even when you've asked for a ceramic mug.
These typical scenes might create the impression that consumers aren't bothered about this wasteful practice, but new evidence suggests that South Koreans are concerned about the profusion of trash. A survey released on Dec. 4 by the Ministry of Environment found that of 2,005 respondents, 78.6 percent said they thought the increase in use of disposable cups was a "serious" problem, while only 3.7 percent said it was "not serious."
The survey also gauges the public's appetite for a "disposable cup deposit scheme" as a partial solution. Under such a scheme, the price of the disposable cup (approximately 50-100 won, or 5-10 US cents) is included in takeout drink prices, and paid back to customers if and when they choose to return their empty cup.
A whopping 89.9 percent of respondents claimed that a disposable cup deposit scheme was needed; 61.8 percent said they would use non-disposable cups if such a scheme were introduced, while 69.2 percent said it would prompt them to return the disposable cups they had used. The numbers make it clear that most South Koreans are more than ready for a change to the current throwaway model. South Korea operated disposable cup deposit scheme from 2002 to 2008, but abolished it as part of wider easing of regulations on businesses.
Since then, use of disposable cups has skyrocketed. According to the Korea Women's Environmental Network (KWEN), the number of disposable cups sold rose from 432 million in 2009 to 672 million in 2015 — a jump of more than 55 percent. Conversely, the proportion of disposable cups recovered by businesses from their customers fell from 77.8 percent in 2010 to 68.9 percent in 2015.
"Our primary demand is that the government reintroduce the disposable cup deposit scheme," said Cho Eun-ji or KWEN's Environmental Health Team. "It would also help if more cafés advertised discount schemes for customers who bring their own cups. We found that a lot of cafés did run such programs but weren't advertising them."
Even when disposable cups are recovered by cafés from their customers, it appears that most end up burned or landfilled. Hong Su-yeol, director of Resource Recycling Consulting, has estimated that less than five percent of disposable cups are currently recycled. "Most cups that are not recycled are either just incinerated or burned as solid recovered fuel to generate electricity" Hong told Korea Exposé.
As well as the environment, disposable cups may also pose a threat to the health of consumers: KWEN found that 96 percent of lids used on hot drink takeout cups in South Korea were made from polystyrene, a substance that may release carcinogens and substances that can cause hormone imbalances.
Meanwhile, KWEN also reported that the number of cafés and coffee shops in South Korea passed 90,000 in the first half of 2017. The corresponding number in the United States, which has a population more than six times that of South Korea, is just over 30,000.
Cover image: Disposable cups (Source: Pixabay)
Become a subscriber to access all of our content.