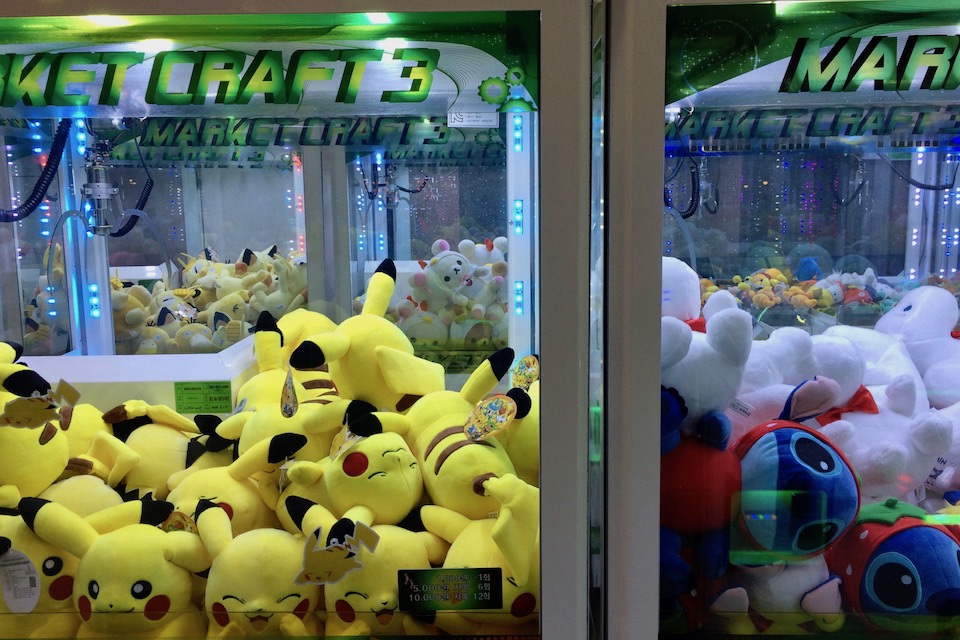 Sibal Biyong: Spending Toward Meaning of Life
Lately it seems that all over Seoul there are vending machines full of plush toys, known as the "claw machine." You insert money, then control the mechanical hand to fish objects inside the clear glass box. In most cases the effort ends in failure.
At first I wondered if anyone would waste money on this futile diversion. But claw machines have become so ubiquitous — some stores, occupying prime real estate close to subway station exits, offer only these contraptions and nothing else — that I can only conclude South Korean customers must be spending good sums on this game of toy-fishing.
Gambling on claw machines seems to be but one popular pursuit among the young. Others include buying small items that doesn't cost an outrageous amount — a tube of fancy hand cream or luxe stationery comes to mind — or going to a fashionable cafe and dolling out 7 or 8,000 won (around six to seven U.S. dollars) for a cup of coffee. None of this is necessary for survival; it's about instant happiness, obtained without denting the monthly budget.
The Korean term for this very conspicuous tendency to spend money on what seems to be very inconsequential things is sibal biyong, a term that's been trending since at least the beginning of this year. Meaning something along the line of 'fuck-it expense,' it stands for consumption for the sake of stress relief, a way to claim self-esteem through small purchases amidst an unhappy living situation.
Another term in vogue is tangjin-jaem, literally 'max-out fun.' There is no need to explain: In wasting a great deal of money on useless things, one finds pleasure that is absent in life.
These expressions gave me insight into what's happening in some parts of Seoul. The area near my apartment is littered with nice cafes, each one boasting a prettier, more Instagram-worthy interior than the one before, and they are filled with impeccably dressed young people at every hour of the day.
For a long time I believed these were idle children of the rich, with generous allowances and no productive aim. Then a compelling essay in OhmyNews titled "Why Young People Became Obsessed with Pretty Cafes" offered a different reading: When most young South Koreans can afford to live only in shitty places — a sub-basement or roof-top apartment (in South Korea rooftop units are often poorly constructed and sometimes even illegal for human habitation), the parents' home (shitty in the sense of having to sacrifice privacy) or even the dreaded goshitel — he or she longs to escape, and finds temporary refuge in well-appointed commercial spaces.
"Just because you don't drink that cup of coffee, does that mean you can get a car or house?" asked writer Kang Yoon-hee in the OhmyNews piece. Since a genuinely big purchase like a home or a car is way out of league for most young people, they might as well drop the bucks on things that are within reach. That cup of coffee and slice of cake are a ticket to an urban oasis, albeit for a limited duration. And while lingering at a given café in trendy but inexpensive garbs from shops like Zara and Uniqlo, you can take artfully composed pictures and upload them on Facebook or Instagram, scoring some necessary social capital from your peers.
What is happening in South Korea isn't necessarily unique. There is the stock English phrase "retail therapy," alluding to the function of shopping as a stress reliever. And judging by what I hear from friends and former colleagues in New York City, there are plenty of Uber-riding American millennials who are unafraid to pay 20 dollars for a gruyère-filled grilled sandwich or indulge in cocktails that fetch 15 dollars a pop. One satirical video I came across sometime ago mocked a group of American millennials complaining of poverty, except their definition of poverty included not being able to afford repairs on an iPhone, an already expensive piece of gadget.
If those young Americans are subject to opprobrium as spoiled brats living beyond their means, in the South Korean context the prevalence of the terms sibal biyong and tangjin-jaem has been understood to telegraph an undercurrent of despair in society: Young people see no reason to plan for the future because there is no viable future in their view. They make trivial purchases and engage in trivial hobbies while insisting, "YOLO!" (You only live once!) (It's apparently a very popular thing to say among young South Koreans, at least according to our twenty-something intern.)
To some extent the concern with the here and now strikes me as resembling the Buddhist doctrine of mindfulness, if I discount the unabashedly consumerist dimension. Rather than dwelling solely on relative poverty of their generation, the proponents of sibal biyong and tangjin-jaem focus on transient but rich pleasures of the moment. Any disapproval that I see comes from the mainstream media espousing an 'adult' perspective. These responsible elders want to make a case, based on the phenomenon of wasteful youths, that South Korea needs a new economic and social vision, one that gives young people hope. Think creating jobs, making it easier to raise children and providing affordable housing.
In fact, there is a big debate in South Korea about what needs to be done for the young. The youth unemployment rate hovers around 11 percent and shows no sign of abating. (Another worry is that young people are dropping out of society entirely, joining the NEET — not in education, employment or training — crowd.) The recently elected president Moon Jae-in also made pledges during the campaign to address youth concerns, as did other presidential candidates.
But as one critic of the adult rhetoric calling for systemic salvation of the wayward young says, attributing wasteful spending to youth poverty reduces young people to helpless "beings on whom adults must bestow compassion." Using sibal biyong and tangjin-jaem to mobilize help for the young generation only ends up reducing them to victim status and robs them of agency.
I, for one, refuse to believe that sibal biyong or tangjin-jaem will disappear once young people become wealthier or find stable jobs. In this wired nation full of smartphone users and social media addicts, there has been a decisive shift toward valuing now over later. With fewer children on the nation's horizon, ephemeral joy is in, and delayed gratification is out. In doing what they please and showing off, the young create a semblance of meaning in their lives. Even if adults don't approve of this preoccupation.
Cover Image: A claw machine shop in central Seoul (Se-Woong Koo/Korea Exposé)
Become a subscriber to access all of our content.