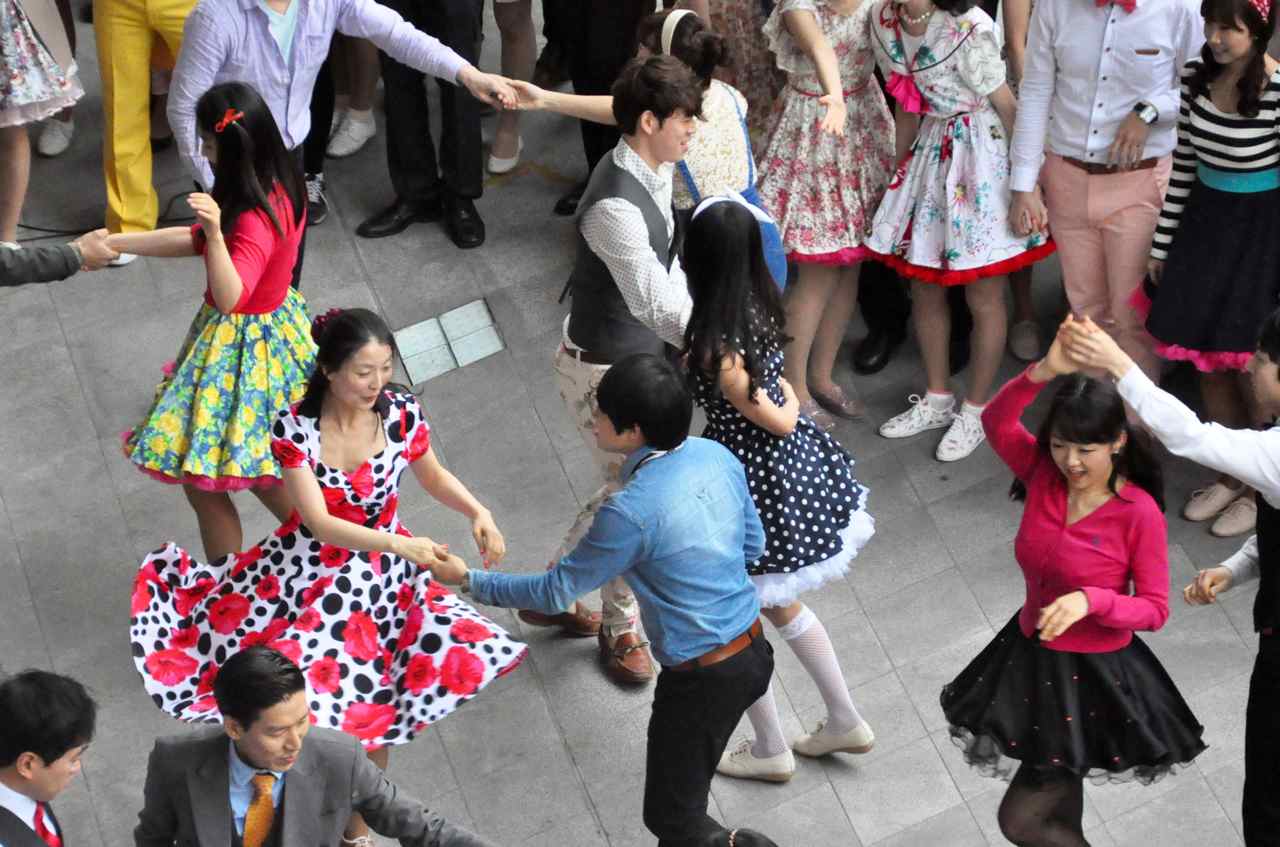 Seoul: The Swing Capital of the World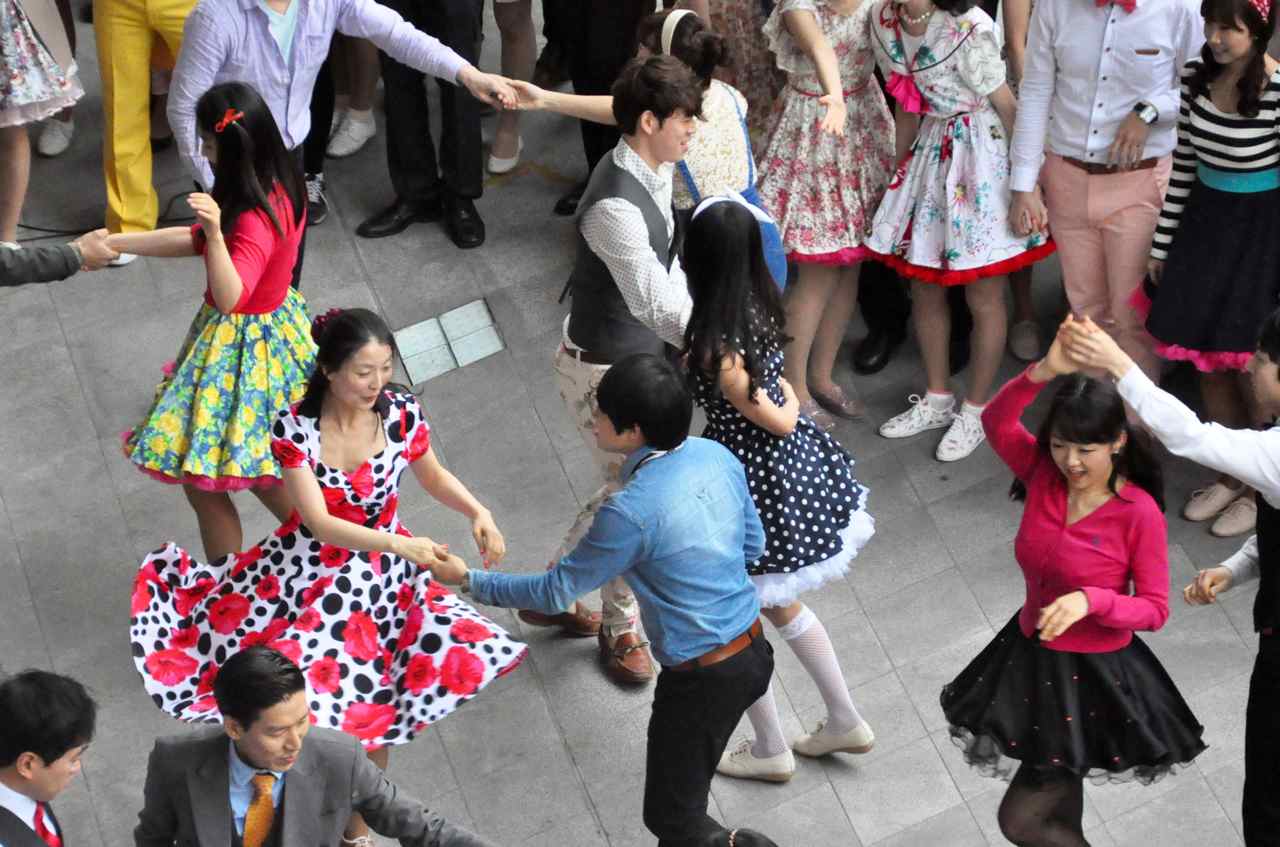 Seoul has garnered a global reputation for its mobile wired-ness, public transportation, and binge-drinking culture. But it holds another #1 spot: the world's largest swing dance scene.
As things are wont to in South Korea, swing suddenly and improbably erupted in popularity in the past decade. The size of Seoul's swing community has overtaken those of New York City, swing's birthplace, and other U.S. cities; Seoul is one of the few cities in the world with several swing clubs open and bustling any day of the week. About 15 clubs are currently in operation in the Seoul area. And it doesn't stop there: Daegu, Daejeon, Jeju, Gwangju and Busan boast their own local clubs.
Estimates vary, but there are anywhere between 5,000 and 8,000 active swing dancers in Seoul today. Seoul is also home to one of the world's biggest annual swing camps: Camp Swing It which draws some of the world's best swingers.
Swing is often considered an alternative scene as far as nightlife goes and it's a decidedly less rigid genre than ballroom or even salsa and tango. This undoubtedly can be traced to its history: Swing was born out of the jazz scene in Harlem in the 1920s and 1930s; it was the revolutionary dance form of its time. Originally, it was called Lindy Hop, named for Charles Lindbergh's trip across the Atlantic, which incorporated the Charleston, jazz, tap and "breakaway." Swing was eventually accommodated into white culture and gave way to style variations like Boogie Woogie and West Coast Swing among others.
Swing's rise and fall can be correlated with that of American jazz music, but swing never truly died even after jazz temporarily fell out of favour. It saw resurgence in the 1980s and then again in the late 1990s alongside Brian Setzer Orchestra's hit, "Jump, Jive & Wail". (Some might remember this music as a soundtrack to a Gap commercial.)
In the late 90s, a Korean-American named Alex Nah ignited Seoul's swing scene. He introduced a six-count style to already-skilled sport dancers in the city and created the first local swing communities — Swing Kids and Sweety Swing.
Swing isn't only for grown-up 90's alterna-kids though. As far as subcultures or alterna-scenes go, swing in Seoul is pretty inclusive. You'll see dancers of all sizes, of indeterminate classes, with tattoos peeking out of shirtsleeves or ankle socks. The young are the most visible age group in the scene, but graying swingers are out there as well.
Expats in South Korea are a swing minority on the rise. Some South Korean swing instructors welcome foreigners into their classes, but American dancer Omar Myers recently began teaching classes in English, getting more and more expats to embrace Seoul's massive scene.
Seoul's swing clubs are jam-packed; the action goes until 11pm most weekdays so you can burn the candle in a different way after a long day of work. Although no alcohol, only soft drinks, are served, the scene is loud, boisterous even. Due to the crowding there's a great deal of slamming into other couples, apologizing, gasping, laughing. Swing clubs are a haven for letting loose in a city famous for its onerous workweek.
Seoul's swing scene has its defining quirks. It's not uncommon for the crowd at a swing club to take a break from partner-to-partner dancing for one or two "line dances." These are jazz/tap style dances (think Fred Astaire) that dancers learn in their swing classes so that they can all dance it out in unison. "Performance nights" involve a cohort from a local swing class performing certain numbers together at clubs for the audience. Sometimes a choreographed K-pop number is thrown in, too.
Taking in the room at any given swing club, one might initially observe a picture of South Korea as a heteronormative hive, men and women pairing off to cut a rug to music that's tame, even dowdy, by today's standards. Maybe that's what made swing take off in the first place — the dance harkens back to a simpler, niftier time (one that South Korea never truly got to have in its development rush).
However, swing is also an inherently liberating dance. Look closer and you'll see that swing does nothing to celebrate conventions or romance — you aim to dance with as many partners as you can. The aim is to keep dancing, change partners, to get better, wilder, and more creative. The scene is so large that dance partners are often anonymous to each other. It's one of the great aspects of swing and social dances in general: Looks, occupation, family background, age, accumulated stress and pain, all these are abandoned on the dance floor. In still-conservative South Korea, that freedom is enough cause for popularity.
Omar Myers's blog Ringopop Swing is a good resource for expats or others interested in information on lessons in English and other aspects of the scene. The Swing Dance page of Dance in Seoul Meetup is helpful for finding clubs and also has a useful FAQ.
Become a subscriber to access all of our content.