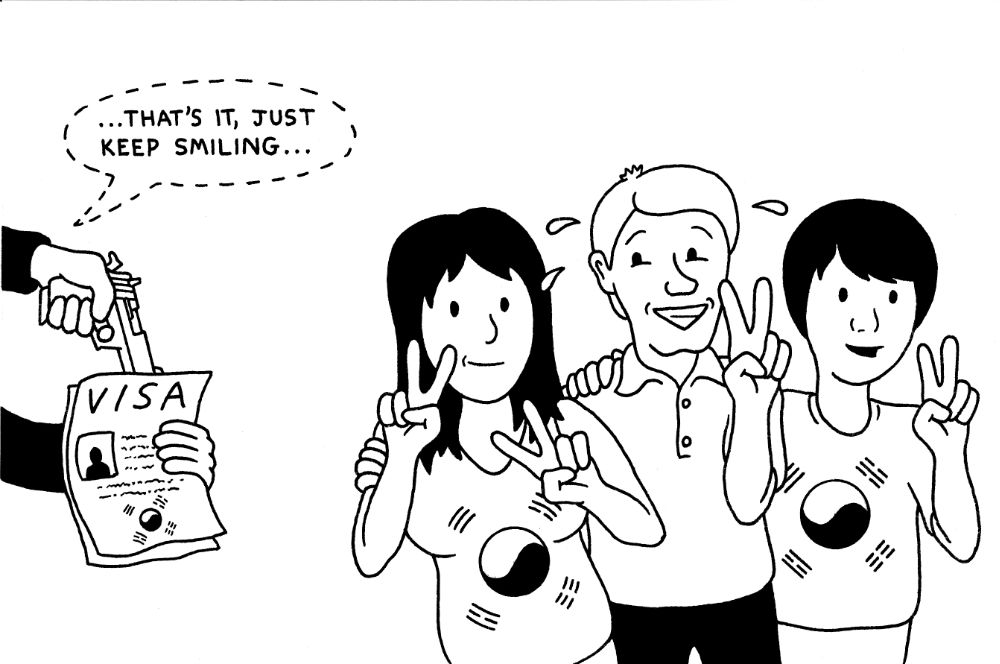 Say You Love Kimchi, And Nothing Else If You Want in
When a Palestinian student — an avid K-Pop fan at the time — said to me some years ago that she wanted to visit South Korea, I told her she should just videotape herself in her usual hijab and abaya gushing "I love Korea. I love kimchi".
Then the government would surely send her a round-trip ticket for a little tour of South Korea, a great center of culture and innovation beloved by the world, which she, a young Muslim woman with her telltale signs of otherness, would represent on some publicity material produced by the state.
She just rolled her eyes at me, saying, yes, she knows the South Korean government loves it when foreigners say they like this country, but no, she doesn't want to be yet another one of those people who end up looking like delirious K-Pop addicts on South Korea's official channels.
Like her, even those who have never visited notice how much South Korea is invested in appropriating non-Koreans to burnish the image of this country. From parading Korean-speaking foreigners on TV to putting them in adverts endorsing some aspect of local culture to obsessively monitoring what august Western media organizations (e.g. the New York Times, the Wall Street Journal, and le Monde) write, South Korea is constantly looking at what foreigners say and can be made to say about itself.
It is with that in mind I viewed last week's development in South Korea: the expulsion of Shin Eun-mi, a Korean-American who faced accusations of being jongbuk — 'pro-North' — for holding public lectures and saying positive things about North Korea. Deemed to have violated the National Security Law which forbids spreading pro-North propaganda, Shin will be denied entry into South Korea for a minimum of five years.
The merit of the charge against Shin — the author of a book on North Korea once recommended by the Ministry of Culture — is still being debated in the domestic media, but this is not the first time the South Korean government has removed from its sovereign territory a foreigner who says things it does not like.
Four years ago, the Korea Immigration Service ordered the expulsion of Michel Catuira, former president of the Seoul-Gyeonggi-Incheon Migrant Trade Union (MTU), because it alleged Catuira was in a false employment relation with his factory and thus in violation of the terms of his work visa.
But as Amnesty International pointed out, Catuira's active advocacy on behalf of migrant workers like himself might have played a greater role in this decision than his employment status. Although the immigration authorities' order was stayed pending a court ruling, the South Korean government barred Catuira from re-entering the country anyway when he briefly went to the Philippines to check on his family. The reason: He was under the "suspicion of posing a threat to Korea's national interest".
South Korea has become 'global' in more ways than one in the last decade. More people here speak foreign languages, more foreigners walk the streets, and I feel ever-increasing warmth toward this place in people I meet in different countries. But for all its posturing as a global nation, South Korea is deeply suspicious of foreigners who say or do things against the official agenda.
A powerful tool for censoring foreign residents is the Immigration Control Act, Article 11 of which states that the Justice Minister has the power to keep out of the country a "person who offers sufficient reasons to recognize that he or she may act in a way that harms the interest of the Republic of Korea or public safety".
Article 17 adds: "Foreigners who reside in the Republic of Korea are not permitted to participate in any political activities except when specifically allowed by this law or any other law".
While it is Article 11 that has facilitated the expulsions of Shin and Catuira, Article 17 can be equally threatening to outspoken foreigners, having first come into effect in 1977 under the Yushin constitution of General Park Chung-hee, the father of the current president, with the aim of suppressing foreign journalists and missionaries who were disseminating abroad information about the state's repressive anti-democratic tactics in the 1970s.
Given its vague wording of "political activities", the law remains a curious relic of an authoritarian era with the potential to make criminals of any foreign resident of South Korea — now more than 2 percent of the country's rapidly diversifying population.
Ironically, it is the South Korean state itself that actively cajoles foreigners into supporting its various political aims and lend it international credibility. Besides the usual "I love Korea" propaganda, what comes to mind are the numerous Dokdo-themed speech contests, sponsored by both official and private institutions, where foreigners are asked to profess support for South Korea's claim to the two islets in the Eastern Sea, also known as the Sea of Japan.
There are also the rallies in support of 'comfort women' in front of the Japanese embassy in Seoul that foreign students frequently — and rightly — attend in order to protest Japan's refusal to accept responsibility for its past war crimes and current re-militarization.
But the key point is this: When 'political' and 'active' in manners that conform to the agenda of the South Korean state — whether giving enthusiastic thumbs-up to kimchi or proclaiming Dokdo a South Korean territory — foreigners are encouraged to speak and rewarded for it.
On the other hand, foreigners who openly say critical things of substance about South Korea — by which I mean more than just moaning about some ostensibly irrational aspect of South Koreans — and escape opprobrium, much less find serious engagement, are but a handful.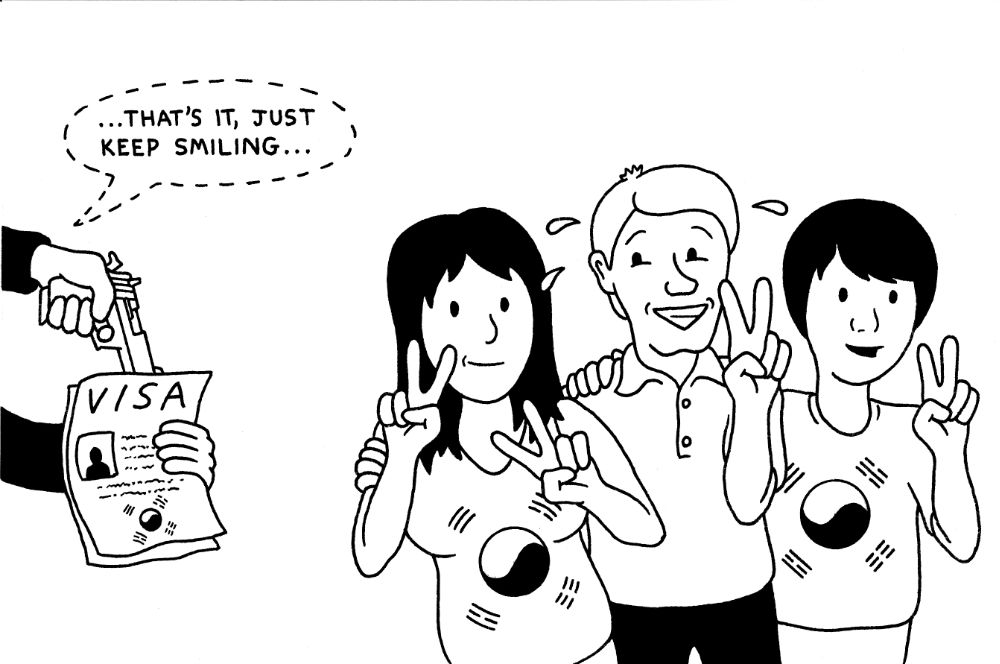 In realpolitik, Article 17 has already been invoked by opponents of free speech to contain an unruly foreigner. Its high-profile target has been Prof. Park Kyung-sin at Korea University, an American citizen whose outspoken defense of victims in the aftermath of the catastrophic oil spill off the coast of Taean in 2007 incensed rightwing ideologues. Those who sought to silence him pointed precisely to the Immigration Control Act, which he was accused of violating as a politically minded foreigner.
Mindful of Article 17's possible impact on his visa status, a foreign student who goes by 'Michael' chose never to real his real name in posting a lengthy English flyer that criticized the government's handling of the National Intelligence Service's interference in the 2012 presidential election and went viral.
He tells me that the climate of paranoia created by the Immigration Control Act among foreign students is real. When he arrived in Korea, he had to sign a declaration that he would not engage in any political activities including "organizing a political party, joining a political party, attending political meetings, publishing political articles and declarations, organizing or participating in demonstrations of a political nature, and so on".
Being found in violation of this agreement may force him to leave the country.
Journalist Andrew Salmon once wrote in an opinion piece titled "South Korea Doesn't Listen to Others": "Whether it is the government or a company, they only trust the voices from within". While Salmon was referring specifically to the sad state of what passes for consulting in this country, which goes to a great deal of trouble of pretending to listen to outside experts at great expense, the same wisdom can be applied to understanding the relationship between South Korea and foreigners as a whole.
Official South Korea is determined to showcase this land as a vibrant, globally oriented democracy welcoming of outsiders, but by withholding even the right to engage in political speech of the kind it does not favour, the government unmistakably signals that its foreign residents are to resign themselves to only being useful instruments intended for performing specific functions: English-teaching, factory-working, South Korea-praising automatons with no thoughts of their own besides "I love kimchi".
South Korea is arguably a repressive country even for its citizens. In addition to the dreaded defamation law which can criminalise a wide spectrum of speech, social norms and fear of ostracisation in this tightly knit and still largely homogeneous society work to muzzle rebellious mouths and break wayward pens. The National Security Law that the government used to bring down Shin Eun-mi, a foreigner, is applied even more mercilessly to South Koreans.
And South Korea does not simply monitor foreigners within its borders: Foreign academics specializing in Korea face intense scrutiny from South Korean diplomats who have been known at times to interfere in the affairs of academic institutions abroad. I will spare the details for now, though much more needs to be said on this topic.
This reality means that if you are a foreigner living under the authority of the South Korean government, it makes sense to exercise careful tact and extraordinary self-censorship in public. Say only that you madly love kimchi, K-Pop is the bestest thing on this planet, and South Korea is a shining beacon of democracy and freedom.
I assure you, you will be loved by this state in return.
Become a subscriber to access all of our content.