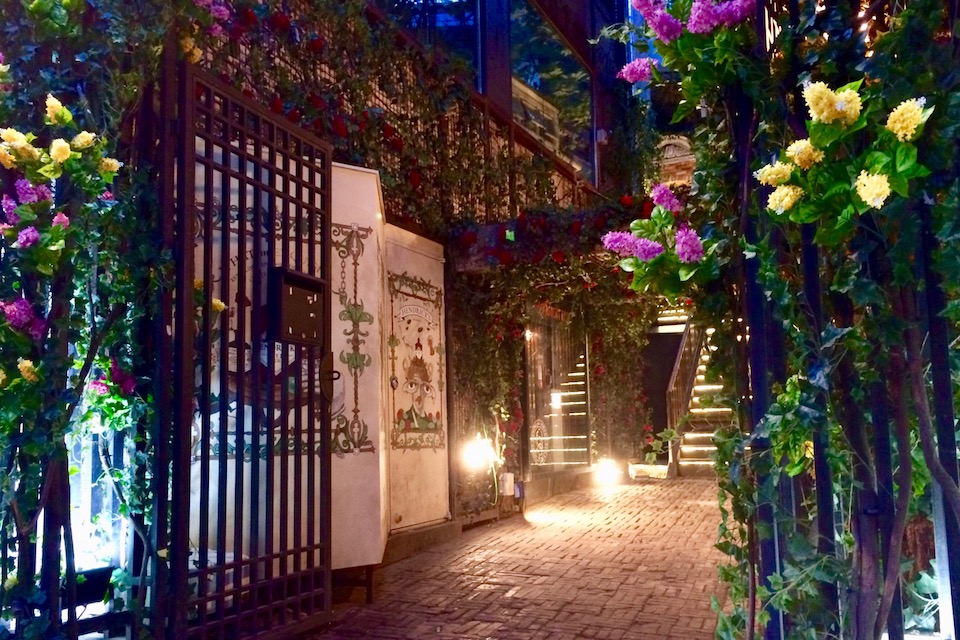 "No Kazakhstan, No Pakistan, No Mongolia, No Saudi Arabia."
When Kislay Kumar headed out on the town on a recent Friday, he had no way of knowing that later that night he would end up being the latest chapter in South Korea's national debate over race and inclusion.
After two a.m., Kumar and a group of friends lined up for entrance at the Fountain, a bar in Seoul's Itaewon area, which is located near a major US military base, and has long been Seoul's hub for all things foreign. As his friends showed their IDs and strolled inside, Kumar was stopped by a bouncer who refused him entry. "No Indians," a bouncer can be heard saying in a video of the incident. "It is a rule. No Kazakhstan, no Pakistan, no Mongolia, no Saudi Arabia and no Egypt. It is a rule," the bouncer continued, without explaining how he had decided on a blacklist composed of these particular nationalities.
Kumar argued his case for a while, his friends came back outside, and they left to go grab drinks at another establishment. The confrontation ended there, but the video of the incident has been viewed online nearly 170,000 times and Kumar hopes the conversation will continue, that his case will spur dialogue and be part of an impetus for a reckoning with the unseemly prejudices that bubble under the surface of South Korean society.
"It is a rule. No Kazakhstan, no Pakistan, no Mongolia, no Saudi Arabia and no Egypt. It is a rule."
"This kind of discrimination is a societal issue that has been normalized here," Kumar said in an interview with Korea Exposé, on the campus of Sogang University in Seoul, where he is in the final semester of study for a Masters in international trade.
Foreigners being denied entry to bars in South Korea isn't a new story. With some regularity, stories pop up of non-Koreans being kept out of public establishments on the basis of their foreignness. In 2011, a woman from Uzbekistan was refused admittance to a public bath house in Busan after staff reportedly told her that as a foreigner there were concerns she would make the bath water dirty. Last year a bar in Seoul refused non-Koreans on the grounds that the bar's staff weren't able to communicate in English (there was no mention of possible exceptions for foreigners who are conversant in Korean).
"This normalizing of social exclusion is going to harm Korea in the end, economically, and it may hurt tourism. Normalization is because of two factors: the lack of any law, and the prevalent culture. You can say it's a lack of exposure, but there's no lack of exposure any more, there are many foreigners here from many different countries," Kumar said.
The notion of multiculturalism in South Korea reached a tipping point in 2006, when then-President Roh Moo-hyun described a multicultural, multi-ethnic future for South Korea as inevitable. It was a shift driven by necessity, in that immigrants were needed so that South Korea could avoid labor shortages, and to allow men in rural areas to find wives, which would prevent the countryside from emptying out.
But the rush to put a multicultural face on South Korea hasn't been accompanied by much discussion of how the country's identity might evolve to encompass these new immigrants, or how foreigners might come to be anything other than temporary stopgaps in South Korea's economy.
There have been attempts to pass legislation that would ban discrimination on the basis of race, sexual orientation, religious affiliation or disability, which has been scuttled by opposition from right-wing religious groups. Civic groups have recently called for another push to pass anti-discrimination laws under the new administration, but so far President Moon Jae-in hasn't pledged to pursue such legislation.
And the national education on multiculturalism, to the extent that there is any, lacks a strong component of teaching South Koreans to embrace an evolving national identity that includes people from abroad. "The problem is that multicultural policy has sought to turn foreigners into Koreans, without a clear plan on what that really means, or how to do it," Yang Kee-ho, a professor of sociology at Sungkonghoe University in Seoul, said.
Professor Yang argues that instead of being handled by the national government, multicultural policies should be left to local governments that are more in tune with local conditions and better able to craft policies that reflect those realities. "The more the policies are led by the central government, the more estranged the foreign populations will become from the mainstream," Yang said.
Nevertheless, Kumar says he isn't bitter, that his affection for South Korea overpowers any rancor from this incident. He has a longstanding affection for South Korea, going back to his time studying for his undergraduate degree in Korean studies at Jawaharlal Nehru University in India. He decided to learn Korean thinking that proficiency in an East Asian language would give him a leg up in India's competitive job market. His student visa is set to run out in September, at which time he will either have to find employment or return to India.
Kumar's case wasn't the Fountain's first bit of bad press. On TripAdvisor, multiple reviews describe the bar's staff as rude, with one person saying the staff have "Zero respect for any of their customers who are spending hard earned money on overpriced, water downed [sic] cocktails," and another calling their time at the Foundation the "worst experience in my life." A phone call seeking comment from the Fountain was not returned at the time of publication.
Kumar doesn't go that far in his criticisms of the Fountain, or South Korea generally. Instead he says he is optimistic. "At first I was angry and disappointed about this, but now I'm energized. I've gotten a lot of support, and I'm glad so many people want to talk about this."
He says he received a Facebook message from the owner of the Fountain, apologizing for how Kumar was treated, and inviting him back to the bar any time. "He said come back, and let him know when we're there," Kumar said. "But I'm in no mood to go there."
Cover image: the Fountain in Itaewon, Seoul (Se-Woong Koo/Korea Exposé)
Become a subscriber to access all of our content.