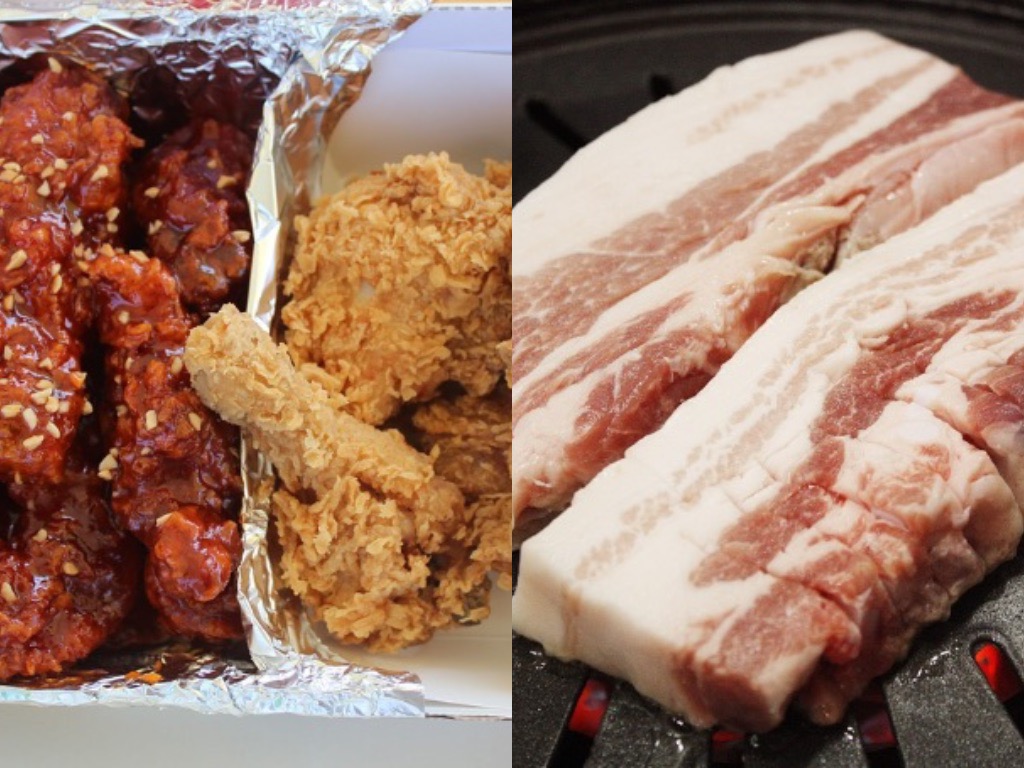 Progressives vs Conservatives: Fried Chicken or Pork Belly?
With just one day left until South Korea's presidential election, many are busy speculating who will lead the country. Meanwhile, some are trying to tackle this incredibly challenging question about the future of the country: What will people eat while watching the post-election coverage?
Spoiler alert: Fried chicken won the poll, but not by an absolute majority.
On May 6, Realmeter released the result of a riveting poll commissioned by TBS radio show host Kim Ŏ-jun, likely as a joke. When Kwon Soon-jung, a Realmeter researcher, reported the poll results on Kim's radio program, Kim laughed so much that Kwon had to tell him to stop. 
Joke or no joke, the poll really happened. Here are its results. 502 respondents told researchers which late-night snack they'd consume on election day. Illogically enough, respondents were categorized by political tendency, supporting candidate, supporting party and age among others (I mean, does your political preference say anything about your love of pork belly?).
Predictably, the most popular choice was fried chicken. South Korea didn't get its nickname, the "Chimaek (fried chicken and beer combo) Republic," for no reason. Other popular Korean dishes, from jokbal (pork trotter) to tteokbokki (stir-fried rice cake with pepper sauce), didn't even come close to fried chicken's popularity.
For the most part, the love of fried chicken seemed like a bipartisan choice. But there was a notable difference between progressive and conservative midnight snackers.
Pork.
Respondents who identified as conservative seemed to opt more for pork than their moderate and progressive compatriots. And this couldn't have been truer when the poll got a little more specific. Check out how the snacks fare for supporters of different presidential candidates:
The biggest mystery is this: Why are there no fried chicken-lovers among Cho Won-jin's supporters? A whopping 56 percent of them opted for grilled pork belly: over six times the average. Don't draw any conclusions, but many of Cho's supporters are also fervent supporters of Park Geun-hye. "We will meet again!" Cho's campaign posters say underneath a photograph of Cho smiling at the now detained former president.
Kwon from Realmeter speculated that the noticeable absence of fried chicken may have to do with a preference for alcoholic beverage soju over beer. "Chicken goes with beer. Pork goes with soju," he said. Of course, this is an unfounded claim. Chicken goes fine with soju.
Don't go away just yet. There's even an age breakdown for the post-election snack poll:
Younger voters generally preferred fried chicken more than their older counterparts. And none of those aged 19-29 chose grilled pork belly as their late-night snack option, while the older age groups (forties and up) leaned towards it. But the future of pigs in slaughterhouses still looks dismal: The young respondents in the same age category chose jokbal (pork trotter) more than any other age group.
By the way, lovers of pig trotters out there might want to be careful. Jokbal is a politically controversial dish. In March, conservative daily newspaper Joongang Ilbo sparked controversy after reporting on Moon Jae-in's supposed penchant for jokbal, which it described as a North Korean dish. (Conservatives often criticize Moon for his supposed pro-North Korean tendencies.)
We hope this article illuminated a critical aspect of South Korean society and the presidential election. One thing is for certain: The future of South Korea may not be as revolutionary or rosy as many of the candidates suggest — but it will most certainly be greasy.
Cover image: Fried chicken and pork belly are popular in South Korea (Source: Pixabay)
*
Read more on South Korea's presidential election, which is happening tomorrow:
Become a subscriber to access all of our content.