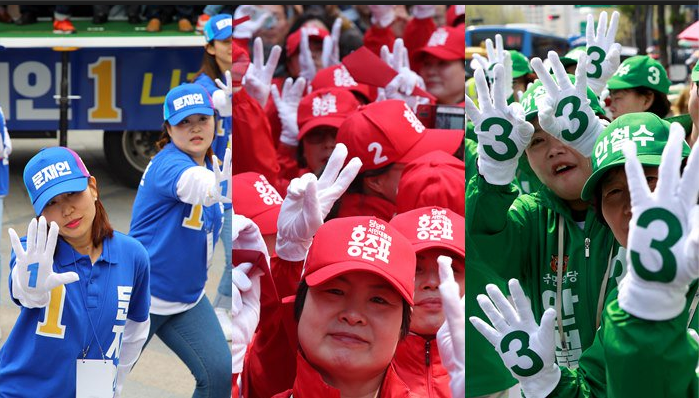 Don't Just Say It, Sing It: South Korea's Election Songs
Another election in South Korea means another season of trucks blaring out deafening campaign songs. Korea Exposé took a look at some of the funniest tunes each candidate is using to seduce voters.
Moon Jae-in, The Minjoo Party
Front-runner Moon has a support rate of 44.8 percent, as of Apr. 17, according to a recent poll by Realmeter. He has 12 different campaign songs, each targeting a variety of ages (and perhaps musical tastes).
"Moon Jae-in! Number one!" a woman chants in the song above, which is in fact a medley of a bunch of other songs. "All together, Moon Jae-in! South Korean president, Moon Jae-in! Let's vote!" Based on the polls, it seems as though Moon will be the most likely contender for the presidency.
This one is based on a classic trot song, "Train to the South." Trot is an older genre of music, typically more popular among those in their 60s and above, but "Train" is highly popular even among younger South Koreans. "Let's save the economy, the common people, and regain our democracy," the lyrics say, while the video shows images of the candlelight vigils that called for the ouster of former president Park Geun-hye, to whom Moon lost in the 2012 presidential election.
Hong Joon-pyo, Liberty Korea Party
"Don't look the other way! No matter what anyone says, choose Joon-pyo, No. 2." The lyrics are cute and upbeat; the music is taken from the popular "Kiyomi Song," or "cutie song." "Promise me with your pinkie fingers that you're gonna make a strong South Korea." Hong is the leading conservative candidate, representing what was once ousted-president Park Geun-hye's Saenuri Party. His current support rate is 10.3 percent.
Unfortunately, Hong's track record is not as cute as his campaign song; it's riddled with scandals — most recently involving a date rape drug — and Hong is notorious for his unfiltered language, which earned him the nickname "Hong Trump" (although his supporters also use this as a term of endearment).
Ahn Cheol-soo, People's Party
https://www.youtube.com/watch?v=-hnnYfZSSQU
"I want to share my many remaining days with you," the song says, as Ahn Cheol-soo holds an old woman's hand in the music video. It's an apt image, showing Ahn frolicking with ordinary South Koreans; after all, his campaign slogan is "For the people."
Ahn is currently the second-placed candidate, trailing behind Moon Jae-in with a support rate of 31.3 percent. Despite his meteoric rise in the polls in the past month (after the two previously strongest conservative hopefuls declared they weren't running), Ahn has been stalling in recent weeks, unable to quite catch up with Moon.
For hip-hop lovers, this campaign song may be more appealing (or not, especially if you love hip-hop):
https://www.youtube.com/watch?v=4oRHqiMw40I
Yoo Seong-min, Bareun Party
"Look at our national security, look at our economy — my heart is going to explode. I don't know, I don't know, our people can hardly breathe, they're suffering." Minor conservative candidate Yoo, with a support rate of 3.2 percent, turns to K-pop for help in one campaign song. "Cheer Up South Koreans!" is based on a hit single by girl group TWICE.
"Shy, shy, shy," the original TWICE hit goes. Yoo changes these English lines to "sah, sah, sah," or number four in Korean. Apart from his low support rate, or maybe because of it, Yoo is going through a rough time, facing internal divisions within his young, fledgling Bareun Party. Earlier this week, his party colleague Kim Moo-sung's abruptly called for a merger with other conservative candidates. Yoo said he will not resign from the race.
Sim Sang-jung, Justice Party
Sim holds a support rate of 3.5 percent (although her party said recently, citing another poll, that the rating had risen to eight percent). Sim's campaign slogan is "labor democracy," reflected in the music video above, which includes past photos of Sim as a prominent labor activist. In the list of accomplishments in her impressive 25-year resume as activist, she was responsible for organizing one of South Korea's famous joint-company strikes in the `80s.
The song is a remake of the popular Lee Moon-sae hit "Red Sunset." "Bold reform, eradication of malicious convention," the song says.
Cho Won-jin, Saenuri Party
Saving the best for last: This video was our personal favorite. Cho may have failed to make into the five leading contenders, but this video definitely makes our top three.
The song is titled "Three Bears," like the famous South Korean children's song. The original song itself is eyebrow-raising: "Three bears live in a house. Daddy bear is fat. Mommy bear is skinny. Baby bear is so so cute."
This is how Cho's new Saenuri Party — which, confusingly, splintered off from what used to be the original Saenuri — changed the lyrics: "Three bears live in Saenuri. Chung-hee bear is awesome. Geun-hye bear is clean. Won-jin bear is loyal."
Cho's party declares allegiance to ousted-president Park Geun-hye and her father Park Chung-hee, who is idolized by conservatives who point to his economic legacy in the `60s and `70s. The new Saenuri Party openly rejects the Constitutional Court's decision to remove Park from office in early March this year.
The election will take place on May 9. Which song moves you the most?
Cover Image: Campaign volunteers for the win. (Source: Youtube)
*
For more on the candidates and the presidential elections, check out:
Become a subscriber to access all of our content.