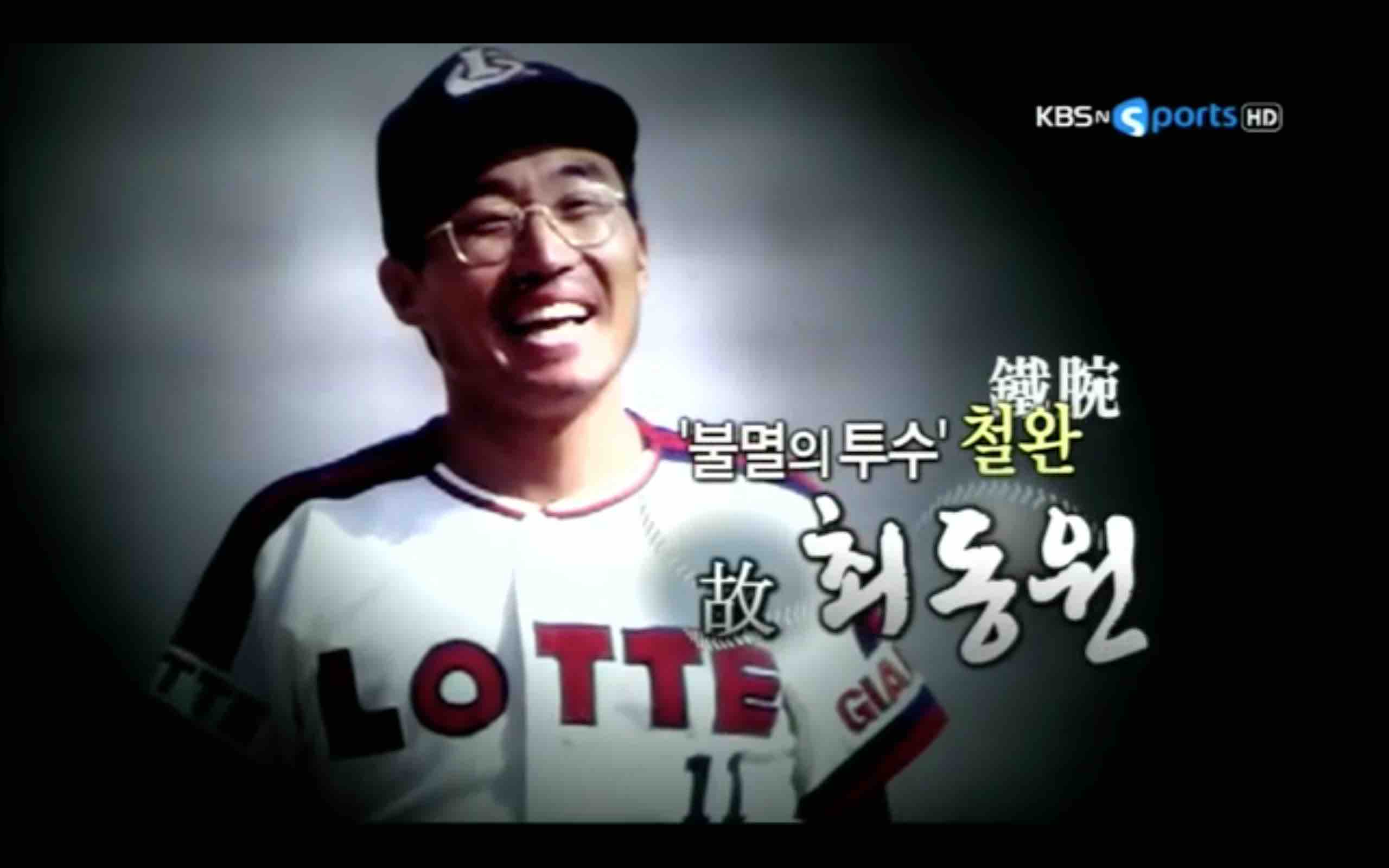 Baseball Hero Choi Dong-won's Legacy Is Felt to This Day
A pair of grainy, low-resolution photographs is going viral, and bringing back memories of a much-beloved baseball star.
In one photo, an elderly lady wearing a bright yellow jacket is looking up at the bronze statue of a pitcher throwing a baseball. In another, she is leaning forward and clutching his hand, as if to shake it.
The statue is of legendary South Korean pitcher Choi Dong-won. The photo went viral, with online commenters speculating that the woman holding Choi's bronze hand is his mother.
82-year-old Kim Jung-ja confirmed the rumors, and told daily newspaper Chosun Ilbo that whenever she misses her son, she takes a 40-minute subway ride to spend an hour or two by the statue.
"I talk to my son in my mind. I tell him, 'I'm having a hard time these days, give me courage,'" she said. "And that lightens my heart and gives me strength."
The late Choi Dong-won was a celebrated pitcher, setting records in South Korea's professional baseball league that remain unbroken. But he was more than just an "iron arm" pitcher that threw balls at the speed of 150 kilometers per hour.
Before the Korean Baseball Organization (KBO) League was founded, Choi played in both amateur and national teams, dazzling audiences in South Korea and abroad. In 1981, fledgling baseball team Toronto Blue Jays scouted him after seeing his performance at the International Cup in Canada. But back in South Korea, the Chun Doo-hwan regime was planning to launch the country's own professional league. It intervened and stopped Choi from heading overseas.
Chun Doo-hwan gave Choi the option of performing his military service, a mandatory duty for most able-bodied South Korean men, and then traveling abroad to join the Blue Jays. He would have become the first-ever South Korean baseball player to join a major league team. Instead, Choi stayed and joined the KBO League when it launched in 1982.
In the KBO League's fabled 1984 championship series, Choi brought unexpected victory to his team, Lotte Giants, which had ranked fifth out of six teams in the previous series. Against stronger competitor Samsung Lions, Choi played in five out of seven games, winning four of them for his team. (Normally, any single player appears in two games at the most.) Choi set the record for both most wins and most innings pitched in one championship series, a feat that was unprecedented in 1984 and remains so today.
Choi was clearly straining his body for the the sake of his team, which was based in his hometown Busan. Perhaps because of this, his professional career was relatively short; he retired after eight years of playing in the professional league, at the young age of just 32. In 2006, 16 years after retirement, he showed no regret. "Even if I could go back to that day, I would still pitch from the first to the seventh game. Why? Because that's Choi Dong-won," he said.
At the height of his career in 1988, two years before retiring, Choi was faced with disaster. As South Korea's best-known baseball player at the time, he had organized an association to fight for players' rights and welfare. Angry team owners intercepted and disbanded the association. Choi was thrown out of his team for mobilizing other players, and was traded with another player from Samsung Lions, a competitor that wasn't welcoming to Choi. During his two years with the team, Choi's performance faltered and he retired without any ceremony. More than a decade after Choi risked his career to establish it, the Korea Professional Baseball Players Association was founded in 2000.
Choi died of colon cancer in 2011. Until his untimely death at 53, he actively promoted baseball in South Korea, managing a minor league and children's teams. Two years after his death, a bronze statue of Choi pitching a ball was put up by Sajik Baseball Stadium in Busan. Many fans who still revere and remember Choi's integrity and tenacity visit the statue; this, of course, includes his mother.
On Apr. 12, online magazine SisaIN prompted criticism by appropriating the story of Choi's mother in a satirical political cartoon. In the illustration, Moon Jae-In, the struggling front-runner in this year's presidential election campaign, is holding the hand of the now-eliminated candidate Ahn Hee-jung, who stands as a statue in close approximation of the Choi memorial in Busan. In the cartoon, Moon says, "Please come back." Many of Ahn Hee-jung's supporters are now supporting Ahn Cheol-soo, who is Moon's most threatening competitor.
Cover image: "The late Choi Dong-won, an immortal pitcher." (Source: Johyunhaeng on YouTube)
Become a subscriber to access all of our content.