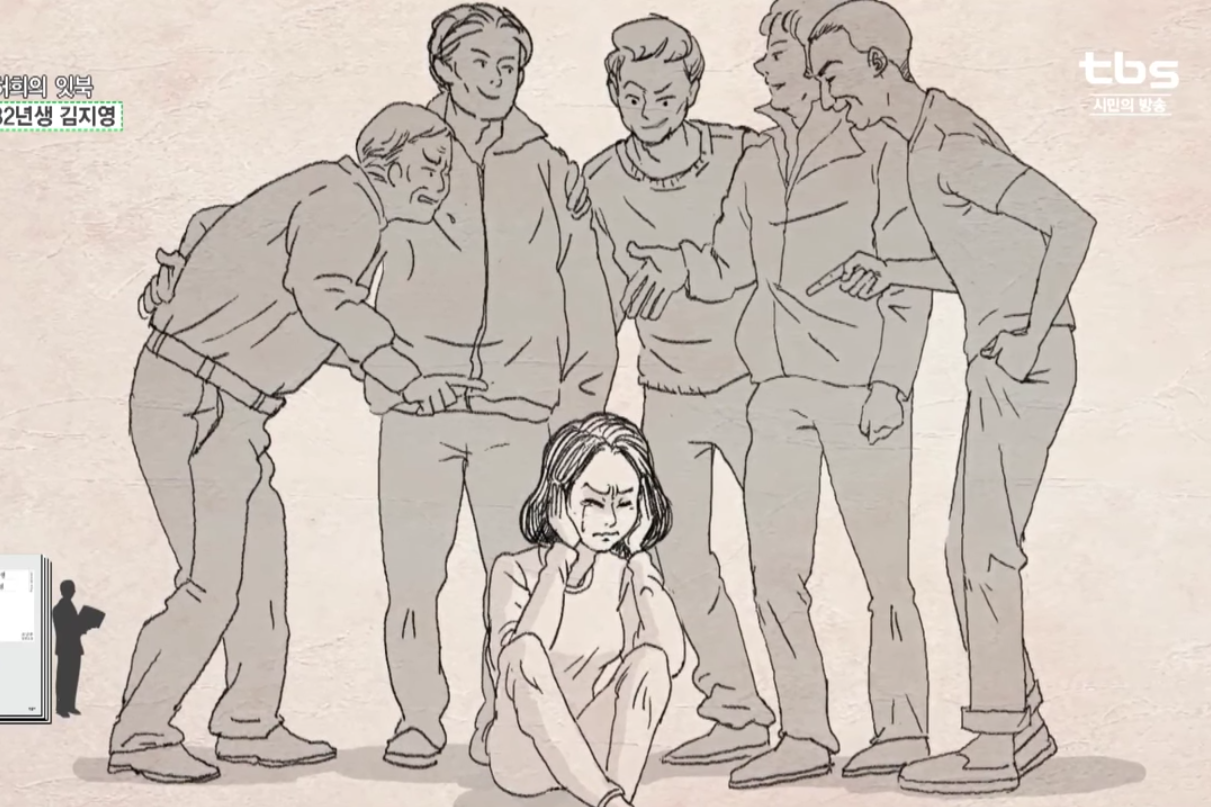 'Parasite Moms' Vs. 'Meat Shields': A Novel Prompts an Online Spat
34-year-old Kim Ji-young sits outside a café with her baby daughter in a stroller beside her. Out of the blue, she overhears young men talking about her: "I wish I could drink coffee with my husband's money too. Must be so easy to live like a Mom-chung."
"I gave up on my life, my career my dreams to raise my child, and now they call me a 'parasite mom,'" Kim fumes later, telling her husband about the incident.
This is a scene from a novel, Kim Jiyoung, b. 1982. Published last October, the work is written by author Jo Nam-ju and loosely based on real-life episodes of misogyny in South Korea. "This book is a feminist novel that shows how deeply rooted gender inequality is in South Korean society," said Park Hye-jin, an editor from publisher Minumsa.
Mom-chung, or "parasite mom," is a derogatory term often applied to housewives, who allegedly live off of their husbands' incomes and exploit their motherly status to become public nuisances, by demanding free products, openly changing diapers in restaurants, and so on.
"Why must these mothers, these women, be criticized in this way?" said editor Park. Kim Ji-young represents women who were born in the early `80s, when it was still legal to abort fetuses for being female. By the time these women were adults, gender equality in South Korea had at least statistically improved; there were even more women entering college than men. Kim Ji-young, born in 1982, is the woman who experienced significant cultural changes, but is still subject to explicit and subtle misogyny in everyday life.
"I cried so many times reading this book," tweeted one reader.
But the response has not been entirely welcoming. Recently, a Facebook page called "Liberalism" posted a parody of Kim Ji-young. The parody was a fictional portrayal of misandry (hatred of men; an antonym of misogyny). "This is the story of Kim Ji-hoon, born in 1992," the story began, playing on the title of the original novel.
In the story, 26-year-old Kim Ji-hoon, currently doing his military service, sits in Starbucks drinking coffee for free, as part of the Free Starbucks for soldiers promotion that launched in 2015 and ended last year. He overhears some women talking about him: "Why are they getting free coffees, those 'meat shields?'" Kim flies into a rage, ranting to himself: "I gave up the most precious years of my life, my early twenties, to protect my country — but women call me a 'meat shield!'"
This parody has received over 5,000 likes on Facebook. Numerous comments, mostly from younger men, decry "reverse discrimination" against men.
"We wish more people would sympathize with Kim Ji-hoon, the male protagonist," said Liberalism, which has over 120,000 likes on Facebook and calls itself a news outlet.
The problem is, unlike in the case of mom-chung, it is hard to verify if the "reverse discrimination" portrayed in the parody is even real. "I'm curious, has anyone actually heard the word 'meat shield' in real life?" Facebook user Han Yun-soo commented. "Can 'meat shield' really be compared to mom-chung, which is used nationally?"
https://twitter.com/witchlella/status/847370740928192512
A Twitter user commented: "In my life I have seen zero woman use that word, gogibangpae (meat shield). I have seen a lot of men use it."
At the core of the "parasite mom" vs. "meat shield" battle is the word "feminism" — and what a dirty word it has become in South Korean society. Men's obligatory military service is an argument that many men use to discredit feminism, citing men's contribution to the country and how little society in return rewards them for it. By contrast, women, especially married women who do not work outside home, seem to have easy lives.
But beneath some men's use of the label "meat shield" to refer to themselves lies not only anger at women, but also dissatisfaction with the military system itself, which is notoriously rife with corruption and abuse.
Cover Image: A TBS show introduced the book Kim Ji-young, b. 1982 with an image of men ganging up against a woman. (Source: TBS)
Seohoi Stephanie Park wrote this radar report.
Become a subscriber to access all of our content.