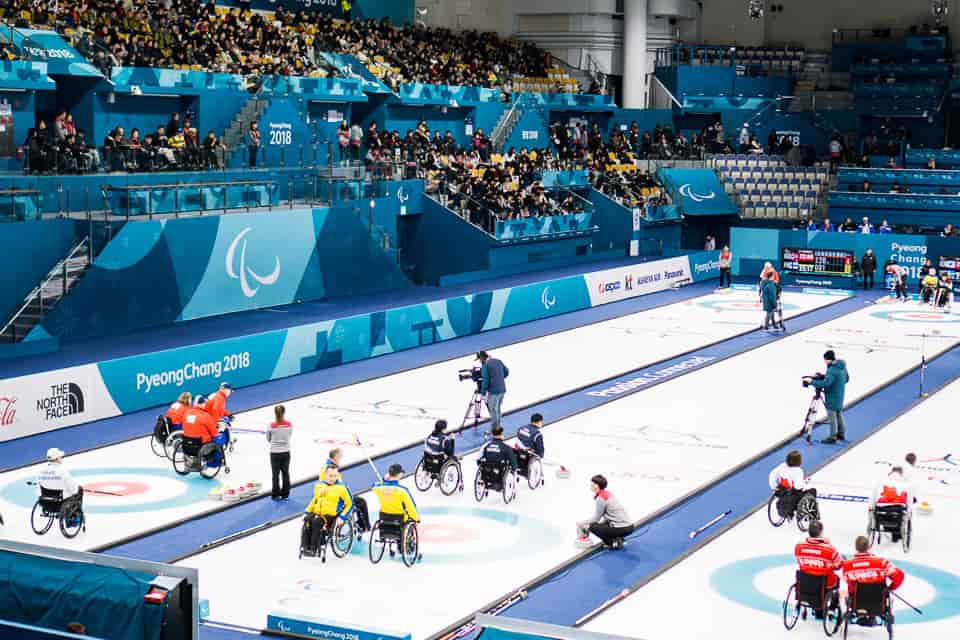 Let Everyone Shine: South Korea To Abolish Decades-Long Disability Rating System
The Winter Paralympic Games, ending on Sunday, Mar. 18, have received generally positive, albeit less, fanfare than its Olympic counterpart. But outside the Paralympics, interest in the actual quality of life for disabled people is still low.
Recently, the South Korean government finally proposed to remove the long-contested rating system for disabled people, which grades applicants based on a purely medical criteria.
Classifying disability is a contentious topic in many contexts. In the Paralympics, classification procedures have been criticized throughout the years for their "humiliating" nature by athletes like Hannah Cockroft, a five-time Paralympic champion wheelchair racer. She told the BBC that she had to go through various physical tests, such as having electric shocks sent down her spine to "show that you are not standing there pretending to be disabled."
The Paralympics Athlete Reference Guide states that it is "not questioned whether or not you have impairment, but whether or not your impairment leads to significant activity limitation to participate in that Para sport."
Whereas such Paralympics classifications have little bearing outside the context of sports, rating systems resting simplistically on medical criteria — excluding environmental factors — have determined the lives of millions of disabled South Koreans since 1988.
The soon-to-be abolished "disability rating" has served to determine whether or not their impairment merits certain levels of government aid.
Lee Hyung-sook was one of the many activists who protested against this system for exactly 1,842 days. Her five-year sit-in at Gwanghwamun station ended last year on Sep. 5, when the Moon Jae-in government first agreed to abolish the system.
Read "A Small Victory for South Korea's Disability Rights," about one of South Korea's most prominent, simultaneously oft-forgotten, protest for disability rights.
Lee, who lost mobility in her legs due to polio at age three, was graded in 1988 when the system was first created. Out of shame, she had asked her doctor to diagnose her with a level 3 to deliberately downgrade her disability. Many years later, she was reclassified to get proper state benefits for her condition.
In 2016, there were roughly 2.5 million people with registered disabilities in South Korea, which is about five percent of the national population. Disability ratings go from one to six, with one being the most impaired.   
What constitutes "disability" is often affected by our material and social conditions. The World Health Organization, whose classification includes both medical and environmental factors, states, "Disability is thus not just a health problem. It is a complex phenomenon, reflecting the interaction between features of a person's body and features of the society in which he or she lives."
Critics have long argued that it is a bureaucratic oversight to define each person's needs based on just their physical condition. Two people with the same condition may require vastly different forms of aid depending on the city, class, or family status. Disability scholar and honorary professor at Sydney University Trevor Parmenter told Korea Exposé that South Korea's current system seems to be "an oversimplification of disability."
"Disability is a complex phenomenon, reflecting the interaction between features of a person's body and features of the society in which he or she lives." WHO
On Mar. 5, the South Korean government announced that it would "create by the first half of 2018 specific guidelines for removing the disability rating system and enacting a new comprehensive assessment criteria, and to implement these by July 2019."
This announcement was part of the "5th General Disability Policy Proposal," a five-year plan to achieve 70 specific goals across five sectors: health and welfare, education and culture, income and economic participation, advancement of general rights, and social participation.
"So many people have called me and asked how excited I was at the proposal to remove the ratings system," said Lee. "But the change means little if it cannot help those who have been in need for so long."  
Read "KÉ Interview: A Disabled Person's Day Is 12 Hours Long, Not 24," the story of a mother trying to make the Seoul subway more accessible for her disabled daughter. 
Lee, speaking on behalf of the other activists, said, "Though we welcome the proposal, we need to secure immediate funding for disability pensions and hold the government accountable for providing definite plans."
From 2012 to 2016, the government had nearly doubled its funding for disability benefits, but had not done so for pensions. Disability pensions support those with ratings of one or two. Disability benefits are provided to people with disability ratings from three to six. 
Lee also added that people with a rating of three had been sidelined for many years, because many cannot subsist on disability benefits but have been ineligible for disability pensions.
Only 39.4 percent of disabled Koreans participate in the economy, according to the Health and Welfare Policy Forum. The average income for disabled households is 60 percent of nondisabled households; 72.6 percent of disabled Koreans feel like they are discriminated against, and cases of abuse against people with disabilities has been rising annually.
The torch relay slogan for the 2018 Paralympics was "Let Everyone Shine." The opening ceremony featured the "sphere of coexistence," and symbolized a "scene of disabled and non-disabled people living together without boundaries."
The Paralympics provides many non-disabled people with the opportunity to revel in various fantasies: the power of determination, the transcending of physical limitations, the worldwide support for the lives of the disabled. After the festivities come the real work of fighting for change.
Cover image: South Korea vs. Sweden in the 2018 Winter Paralympics in Gangneung. (Ho Kyeong Jang/Korea Exposé)
Become a subscriber to access all of our content.