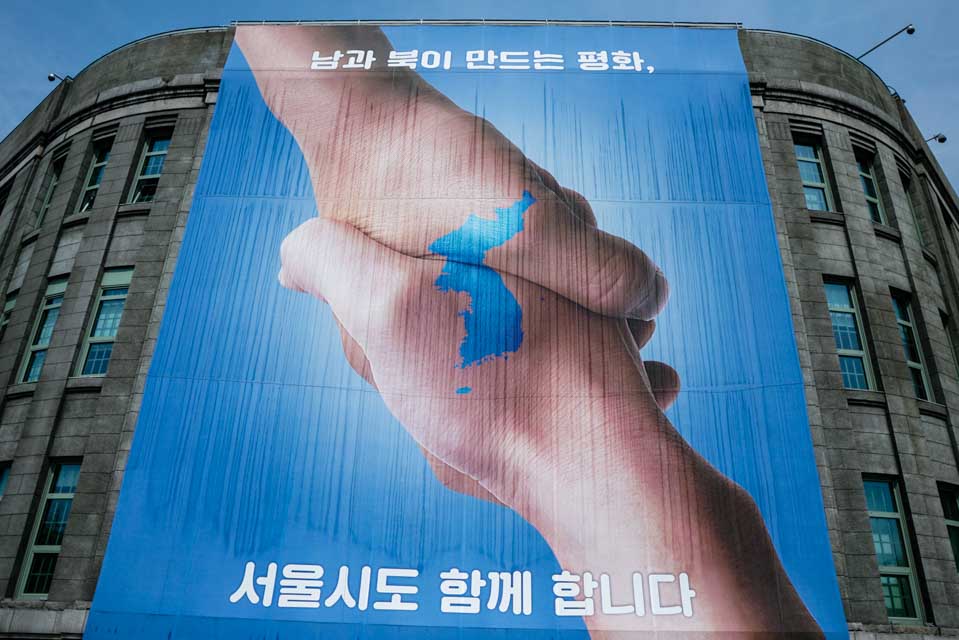 Moon Jae-in wore a blue tie for the occasion, the color of the Korean Peninsula on the unification flag. Kim Jong-un stepped over the thin strip of concrete dividing North and South Korea inside the demilitarized zone. Sand on the North Korean side, pebbles in South Korea. He stepped onto the pebbles, the first time a North Korean leader had ever set foot on South Korean soil in nearly 70 years. The two men shook hands, turned to the cameras and, according to South Korea's presidential Blue House, Moon asked Kim, "When do I get to visit the North?"
Kim answered, "Why don't you just come over to the North side now?" And in an unscripted moment, Moon Jae-in stepped over the border and landed on the sand. North Korea. For a few moments, they shook hands in North Korea, before coming back. All of this happened within minutes, around 9:30 a.m. on Apr. 27.
Around 50 km south of the border in central Seoul, a modest screen was set up by the government in front of City Hall. When the two Korean leaders shook hands, viewers started clapping and cheering. The small crowd, mostly journalists and Seoul employees, stood watching the iconic scene, which would surely be repeated and broadcast endlessly in the years to come. This was a moment we would all remember.
This was the first inter-Korean summit between two Korean leaders since 2007. "It has taken 11 years for this to happen," Kim Jong-un said before a morning meeting with Moon Jae-in and other representatives from the South. "Walking here, I wondered why it has taken so long…. I felt a flood of emotions, crossing the demarcation line."
All those nuclear tests and missile launches probably had something to do with the meeting taking 11 years, but Kim didn't elaborate.
"It seems that relations between North and South Korea are thawing and it's a step towards unification," said Kwon Ji-yoon, 30, who works for Seoul City. "I came out of the office to watch this historic event."
"I came to see this moment together with others," said Heo Bong-moo, 53, an office worker in Seoul. "This is the beginning of exchanges that until now were at a standstill. It's very emotional. I hope the two sides get along."
"I brought my children out today to witness this historic moment together. I hope they will be able to live in a unified country where they can catch a train all the way to Europe," said Kim Dong-soo, 40, who came to watch the meeting with his family.
Unification — the Korean dream, as the song goes.
It's a dream that has started to pale in recent years, as the Korean War recedes into the background and younger generations struggle to remember why the dream is even a relevant one. Even Pyongyang's missile and nuclear tests — which increased in frequency after Kim Jong-un came to power in 2011 — didn't seem powerful enough to shake most South Koreans out of their indifference toward North Korean threats.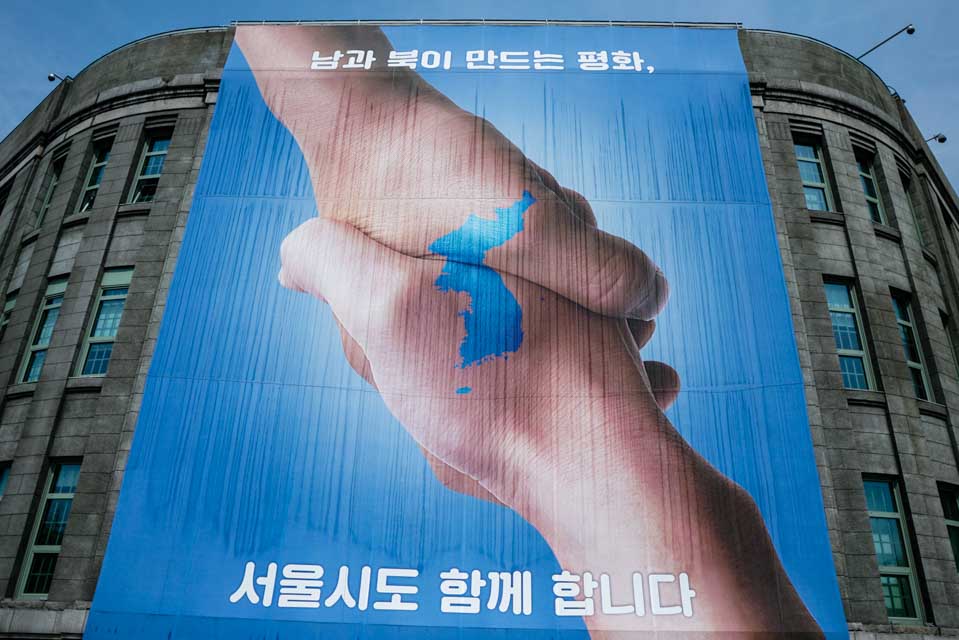 Can the powerful optics of Kim and Moon shaking hands, laughing and taking solitary walks make Koreans care more? Can it make that unification dream more relevant? At least for today, North Korea seems to be on many people's minds, as headlines about the Moon-Kim summit dominate social media, search rankings and hashtags.
Why does this summit matter? Read "North Korea Summit and the Elephant in the Room"
ATAM, an audience measurement company, told Korea Exposé that the TV viewership at the moment of the handshake — between 9:29 and 9:30 a.m. — was higher than usual in the Seoul area, at 34.06 percent.
Kim Jong-un said he wanted good discussions with a "frank, sincere and honest attitude." He joked that he wouldn't interrupt Moon Jae-in's sleep with any more missile launches. He brought over Pyongyang naengmyeon (cold buckwheat noodles) as a gesture of goodwill — a gesture that seems to be great PR for Pyongyang naengmyeon restaurants in South Korea.
So many great optics, so many challenges ahead. There are an uncomfortable number of elephants in the room. Notably, what about North Korea's systemic human rights abuses, which Moon Jae-in most likely won't bring up?
Recently, Otto Warmbier's parents sued North Korea for torturing and murdering their son. North Korea claims Warmbier, a U.S. citizen, attempted to steal a propaganda poster while touring and had sentenced him to 15 years' imprisonment. Warmbier was held captive for 17 months, eventually returned in a comatose state to the U.S. in June 2017. He died not long after his return, never gaining consciousness.
"South Korea: Don't sideline [human] rights during the inter-Korean summit," said Human Rights Watch a few days before the Moon-Kim encounter.
Behind the peace propaganda, pushed heavily by the South Korean government, it is highly likely that the talks can fall apart. North Korea hasn't yet made substantial concessions to denuclearize. It's still not clear why, after months of provocations and verbal warfare with Donald Trump, Kim Jong-un has suddenly decided to push for peace. A matrix of complicated interests, including those of China and the U.S., are involved in the precarious peace talks.
In spite of my better skepticism and reason, symbols of peace, like a handshake between two Korean leaders, like this giant unified Korea on the lawn of Seoul City Hall, are still powerful and memorable.
On the morning of Apr. 27, amid a crowd of other journalists, I maintained a placid expression, but started breathing more quickly when I saw Moon and Kim together on TV. It wasn't just the political significance of the moment; it wasn't just the implications the summit may have for peace and denuclearization.
I thought of who they are, where they come from: Kim traces his family lineage back to South Korea; Moon Jae-in's parents come from North Korea. I thought of my grandfather, who still remembers a Korea before division, and my aunt's husband, whose family comes from the North. I thought of the unification song that I had to memorize in elementary school.
Kim Jong-un is leaving South Korea in a few hours, around 12 hours after he arrived. He wrote in a visitor's book at the Peace House, "A new history begins now." Moon Jae-in said in a joint declaration, "There will be no more war on the Korean Peninsula…[Kim] and I have confirmed that our mutual goal is to realize a Korean Peninsula free of nuclear weapons."
Words like these are just symbols, but why can't I help breathing a little bit more quickly when I read them?
Jieun Choi contributed reporting.
Cover image: "Seoul City stands together with South and North Korea in creating peace." (Jieun Choi/Korea Exposé)
Become a subscriber to access all of our content.