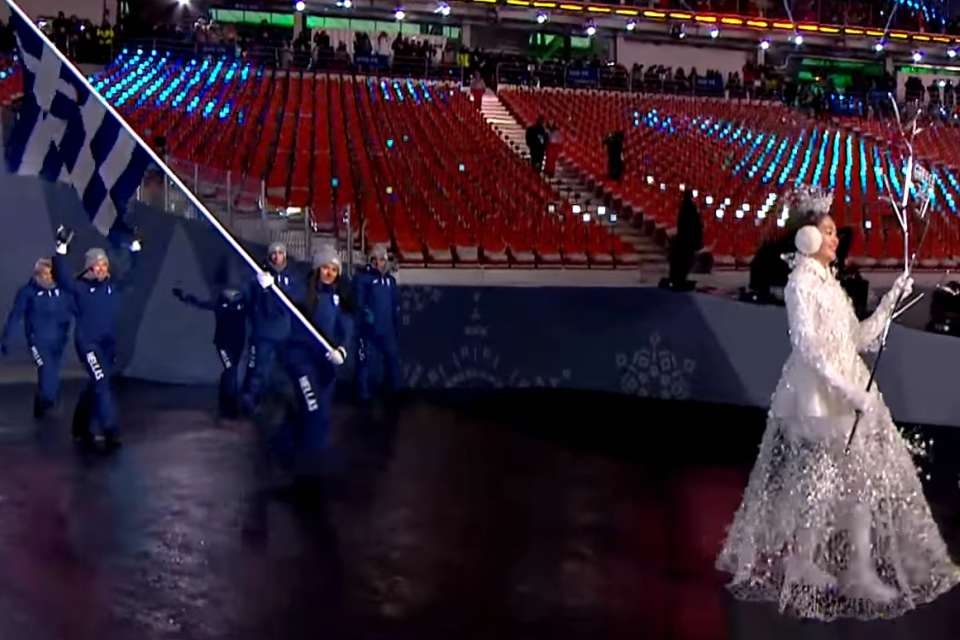 "Olympics Fairies": Do the Faces of S. Korea Need to be Pretty Women?
South Korea's young female placard bearers, officially labeled "placard agents," made quite an impression at the opening ceremony of Pyeongchang Winter Olympics on Feb. 9.
Their conventional good looks, with tall, slim figures and spectacularly designed dresses got plenty of social media users excited. Local media eDaily described them as "snowflake fairies," in an article headlined, "'They're Pretty Even on Second Look'…Pyeongchang Fairies 'Placard Girls' A to Z."
The debate on social media showed mixed perspectives: Some praised the use of the term "placard agents" as opposed to the formerly habitual "placard girls." Others regarded it a a superficial way of covering over the fundamental problem of using only slim, beautiful women to carry in the placards.
The placard bearers, it turns out, aren't beautiful by coincidence. Having the right appearance seems to have been a basic requirement for the job:
A Twitter user posted the recruitment ad for the 30 placard bearers; the requirements were quite specific.
D. Requirements

Sex: Female

Students: Those majoring in modeling, air service or related areas

Non-students: Those with modeling experience
An official from the ceremonies team of the Pyeongchang Olympics Organizing Committee (POCOG), speaking on condition of anonymity, told Korea Exposé, "We recruited students from those departments because they're trained in how to conduct themselves on ceremonial occasions and on how to wear appropriate facial expressions."
The official denied that the students were selected for appearance alone, saying, "You can't just say that you're selecting people based on their faces."
Beautiful models — especially women — are used so often to represent various events, not just in South Korea, that often it's hard to notice there's even a problem. Some sports have abandoned the practice, like Formula 1 car racing and darts.
The POCOG official argued that using female placard bearers had been standard practice at previous Olympic ceremonies too. This appears to have been the case at the London Olympics in 2012 but not at Rio de Janeiro in 2016, which featured several male and transsexual placard bearers.
Multiple attempts to reach the Cheil Worldwide consortium and its promotional manager in charge of recruitment of the placard agents were unsuccessful at the time of publication.
Emphasis on personal appearance in job recruitments is not without precedent at official functions. In June 2016, Paris-based South Korean student Chloé Kim took to social media to express her anger at how organizers of KCON, an annual "Korean wave" convention then held in Paris and attended by then-president Park Geun-hye, were insisting on "good appearance" when recruiting interpreters.
According to Kim's Facebook, a KCON employer asked via a messaging app, "Please send me your height, weight, and full-body shot if possible." When Kim, sounding confused, asked the employer if she was applying for the right translation job, the employer answered, "Yes…. But all the other positions are full. There's one vacancy, where appearance is important."
In a screen-capture of a spreadsheet showing the list of hires, most translating positions are marked with the following descriptions: "appearance important," "someone pretty," "clean appearance."
Addressing issues beyond her own translating position, Kim wrote on Facebook: "If you're a hanbok model, are you not allowed to wear it if you're not pretty? Can only people with nice figures and pretty faces wear hanbok and stand in front of foreigners? Do ordinary people not deserve to promote hanbok? Is this the face of the country?"
Cover image: Placard bearers walked in with athletes from different nations. (Source: SBS)
Become a subscriber to access all of our content.