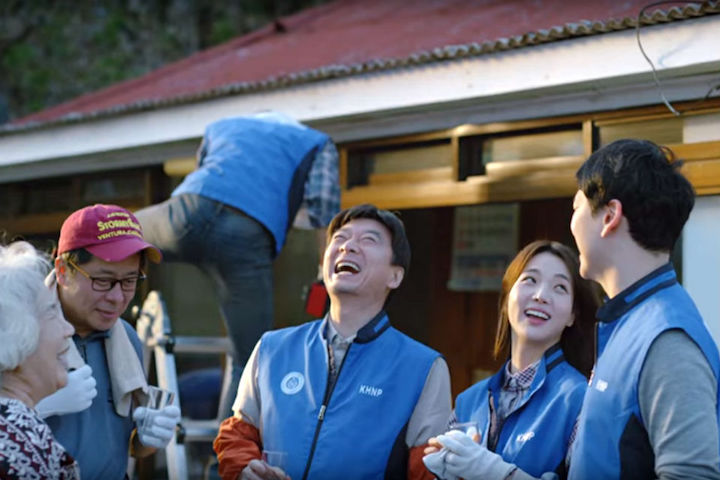 Praise for Nuclear Industry Grows. Guess Who Is Paying for It.
As Moon Jae-in's government looks for ways to implement its promised move away from nuclear power, publicly-owned Korea Hydro & Nuclear Power (KHNP) appears to have dramatically upped its spending on pro-nuclear publicity.
Data obtained by independent lawmaker Yoon Jong-o and the Korean Federation for Environmental Movement (KFEM) and released on Jul. 12 indicates that KHNP spent a total of 20.4 billion won (18 million U.S. dollars) on advertising in print media, broadcast media and support for local projects from 2014 to 2016. Advertising expenditure by the corporation in 2016 was double that in 2014.
What makes the spending potentially problematic is the fact that KHNP is a wholly-owned subsidiary of Korea Electric Power Corporation (KEPCO), a public corporation and South Korea's largest electric utility. Anti-nuclear campaigners are now questioning why KHNP is spending so much on advertising — a tool commonly used to indirectly buy positive coverage in actual news or opinion articles from the same media outlet — that effectively undermines the new government's energy policies.
Among Moon Jae-in's key manifesto pledges was the scrapping of plans for two new reactors, units 5 and 6, at Shin-Kori nuclear power complex in the south-eastern city of Ulsan. He also promised to increase the country's share of renewable energy to 20% by 2030 (the figure in 2016 was just 1%).
"We made the information request to KHNP in order to reveal how much it's spending on advertising, as the government is going to form a public debate committee [to discuss the future of Shin-Kori units 5 and 6]," said Choi Wan, a secretary in the office of lawmaker Yoon. "The electorate has endorsed Moon Jae-in's campaign pledge to move away from nuclear power and increase the share of renewable energy, so it would be more appropriate for KHNP, as a public corporation, to spend its money promoting renewable energy."
Yoon's office has not yet obtained data about KHNP's advertising spending so far in 2017.
A media relations official at KHNP, who insisted on anonymity, told Korea Exposé that the data did not represent an exceptional increase in expenditure, saying, "We spent less than usual in 2014 because of certain circumstances, then our expenditure rose back to normal levels in 2016." The official refused to say what the circumstances in 2014 were, and claimed that no 2017 advertising spending figures had been calculated so far. He then added that KHNP had no official position on the matter.
Though it's impossible to prove the link between advertising and unpaid content, typical pro-nuclear power media coverage includes claims that it is safe and cheap, and that a rushed move away from it could lead to unstable power supply and increased greenhouse gas emissions.
Cover Image: KHNP employees have a delightful time helping North Gyeongsang Province natives in a still from 'The Strength of North Gyeongsang,' a 2016 TV commercial run by the company. (Source: YouTube)
Become a subscriber to access all of our content.