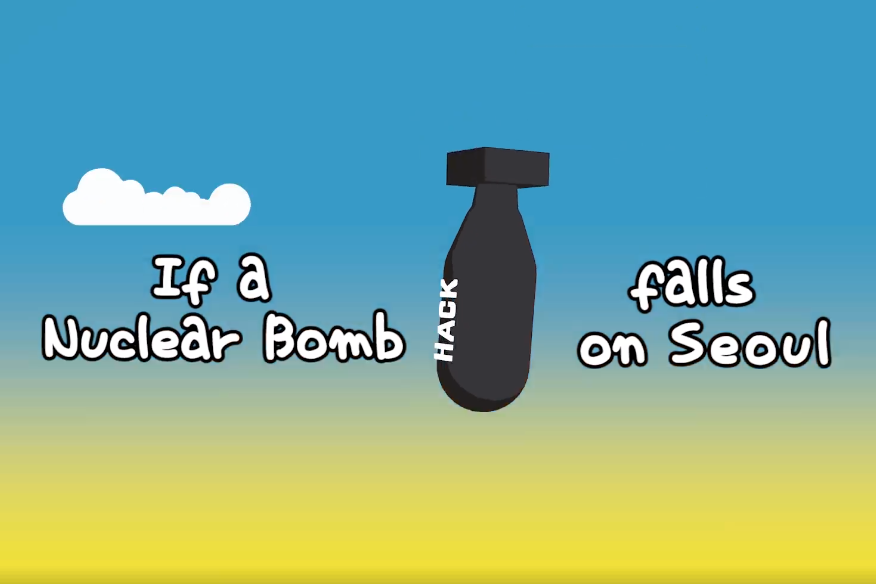 If a Nuclear Bomb Falls on Seoul, Where Do You Cook Pork Belly?
"If a nuclear bomb falls on Seoul, where do you cook pork belly?"
How are South Koreans talking about North Korea's nuclear threats? This is another question we get asked very often. Here's a rather ingenious take from a South Korean start-up, Geekble. They call themselves a "collective of geeks," aiming to inform the public about the joys of science and engineering — and occasionally on the side, about North Korea's nuclear threats.
For a much slower version of the video above, go to our Facebook page.
The latest and sixth nuclear test Pyongyang conducted was Sep. 3, 2017: a hydrogen bomb estimated to be 17 times more powerful than the atomic bomb that hit Hiroshima in 1945. "Tensions are ratcheting up," as media reports often say, as Donald Trump and Kim Jong-un exchange verbal fires about decimating the other.
Just yesterday, the country's foreign minister told reporters in New York that Pyongyang could test another hydrogen bomb over the Pacific Ocean. His not-so-veiled threat was in response to Trump's UN speech on Sep. 19: "The U.S. has great strength and patience but if it is forced to defend itself or its allies, we will have no choice but to totally destroy North Korea," he said in front of the General Assembly in New York.
It's been a long week. Let's go eat pork belly. Indoors. And pray that we never have to cook pork belly outside when a nuclear bomb drops in Seoul.
Cover image: "Sillious questions." (Source: Geekble)
Become a subscriber to access all of our content.