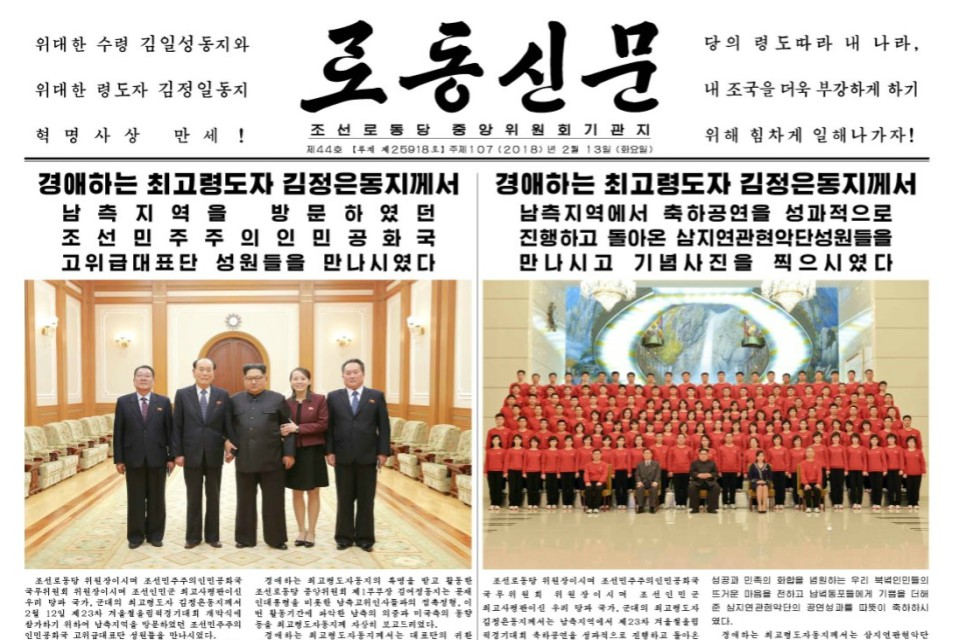 What is North Korea Saying About the Olympics?
South Korea's news outlets have had plenty to write about in the last few days. On top of the drama of the Pyeongchang Winter Olympics, North Korea's last-minute decision to send a delegation, including none other than Kim Jong-un's sister Kim Yo-jong, has led to a flurry of speculations on what the surprise visit could mean for inter-Korean relations.
While it's hard to keep tabs on all of South Korea's 18,563 registered newspapers, North Korea has a slightly smaller number: 13, according to South Korea's Ministry of Unification, of which only three are national rather than regional.
Of these three publications, Minju Joseon appears to be available on-line only via the North's Korea Central News Agency (KCNA) website. None of its listed on-line articles mention the Pyongyang delegation's visit to Pyeongchang. Another national daily, Cheongnyeon Jeonwi, does not appear to have an on-line presence at all.
That leaves the Rodong Sinmun, North Korea's best-known national daily newspaper and the official mouthpiece of the Central Committee of the Workers' Party of Korea (despite all of this, its print version is only six pages long). Rodong Sinmun does have its own website (links below).
On Feb. 11, two days after the Olympics opening ceremony, the Rodong Sinmun's website ran two articles reporting news of the North Korean delegation's visit to Pyeongchang.
The first was titled inauspiciously, "High-level Democratic People's Republic of Korea Delegation Met South Korean President at the Blue House." Democratic People's Republic of Korea is North Korea's official name, while the Blue House is South Korea's presidential office. Using its habitual practice of printing leader Kim Jong-un's name in bold at every mention and using honorific language only when referring to Kim, the article gave a short, factual account of the delegation's visit to the Blue House.
The second article, even shorter, was titled "High-level Democratic People's Republic of Korea Delegation Watches Women's Ice Hockey Joint North-South with South Korean President." This, too, was a largely factual account detailing VIP attendees at the ice hockey match and featuring various photos of Kim Yong-nam and Kim Yo-jong with Moon Jae-in.
The Rodong Sinmun articles are interesting for their omissions as well as their content: There is no mention of Kim Yo-jong's family connection to Kim Jong-un. There is no mention of Mike Pence, who was in South Korea at the same time, or of the U.S. itself — even though North Korean media rarely miss a chance to denounce its archenemy, especially members of the Trump administration.
There were no angry allegations that Moon was "Donald Trump's lapdog" (which North Korea has been known to say). There was no contextual information about the Olympics themselves. And there was nothing about Kim Jong-un's invitation to Moon to visit Pyongyang — a message that his sister Kim Yo-jong delivered at the Blue House last Saturday.
The Rodong Sinmun does not seem to make any mention of Kim Yo-jong's family connections. A search of the paper's website yields 24 results under her name, dating back to Jan. 20, 2016, when she reportedly attended an "on-the-spot-guidance" visit by Kim Jong-un to a "youth movement history center." Here, too, she is referred to simply as "comrade Kim Yo-jong." Most subsequent mentions of her are equally unrevealing.
Later, on Feb. 13, the Rodong Shinmun's top front page article described Kim Jong-un's welcome for the returning delegation. In the group photo, Kim Yo-jong stands close to her brother and holds his arm with both hands, in a striking display of affection.
The article indirectly quoted Kim Jong-un as having been impressed by the hospitality shown by the South, and expressing his thanks.
According to the paper, Kim "said it was important to carry on elevating the good atmosphere brought by the strong desire and shared will of the North and the South at these Olympics, to produce more wonderful results." The North Korean leader reportedly "gave specific instructions for improving North-South relations in future and powerfully ordered relevant departments to come up with working-level policies to this end."
Non-specific comments, perhaps, but the difference in tone from the threats and tension just a couple of weeks ago is dramatic.
Also striking are several articles in Rodong Sinmun and by KCNA denouncing the crimes of impeached former president Park Geun-hye (to whom it undiplomatically refers as a "bitch"), her confident Choi Soon-sil and chaebol bigwigs such as Samsung vice-chairman Lee Jae-yong. As such, the North appears to be attempting to draw a line between the old, corrupt South Korean regime and the new(ish) government of Moon Jae-in.
Why? Speculations abound, ranging from the more optimistic analyses hoping for increased engagement, to vigilant skepticism against the North's possible efforts to drive a wedge in the U.S.-South Korea alliance.
Until now, North-South efforts at rapprochement have often been undermined by the fact that each Korea fundamentally considers the other to be illegitimately occupying half of the peninsula. In the absence of a regime collapse or other non-violent change on one side of the border, the only way both Koreas can meaningfully improve relations and ease tensions is to agree to recognize each other and coexist as two neighboring states, on friendly terms.
In the coming weeks, months and years, we will find out if this is really what they both want. Meanwhile, South Korea's Unification Ministry has released an eight-page statement concerning the recent North Korean delegation. "Although the first step toward a peaceful resolution of Korean Peninsula issues has been laid, discrepancies in the positions regarding the North Korean nuclear issue still remain," the statement says. "If there is certain progress to set the conditions for denuclearization, a full-fledged progress in inter-Korean relations will become possible."
Cover image: The front page of Rodong Sinmun on Feb. 13, 2018. (Source: Rodong Sinmun website)
Become a subscriber to access all of our content.