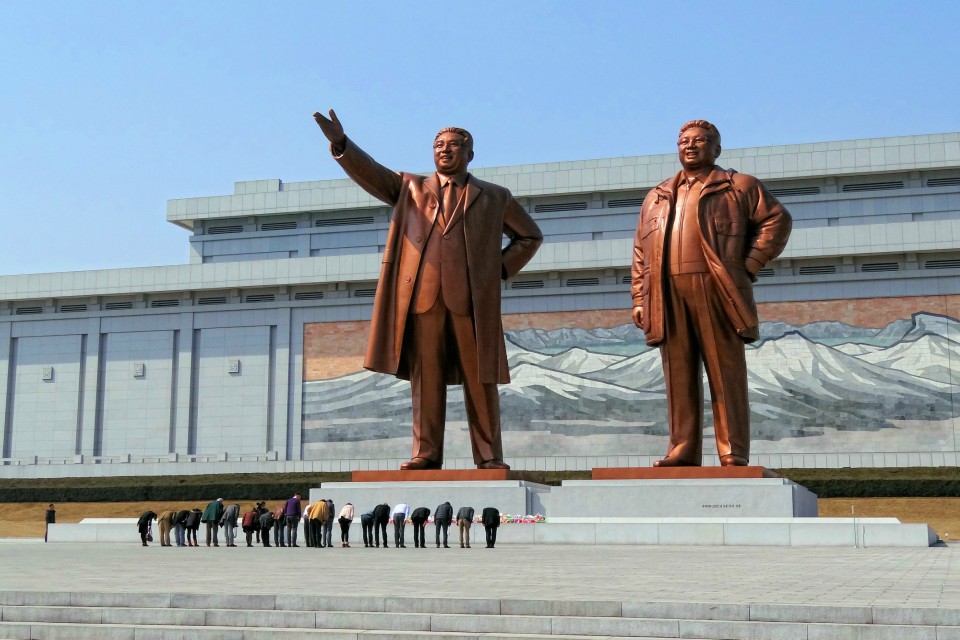 N. Korea's Olympics Proposal Undermines U.S. Hawks
At a scholarly conference on international politics and security I attended early December in the U.S., many an opinion was proffered on the state of geopolitics in Northeast Asia. But one dominant view, expressed at least privately by a number of scholars, was that the Donald Trump administration is hell-bent on going to war with North Korea.
This wasn't surprising for me to hear, considering the amount of rumbling from Washington about the perceived need to 'neutralize' Pyongyang before the latter acquires the full capability to strike the continental U.S. with a nuclear weapon. Various American experts reportedly have weighed in with their estimates of the possibility of conflict. (20 to 25 percent! 40! 50!)
The latest American big whig to project doom and gloom is Adm. Mike Mullen, a former chairman of the U.S. Joint Chiefs of Staff, who told American network ABC on Dec. 31, "I don't see the opportunities to solve this [North Korean nuclear issue] diplomatically at this particular point."
In case anyone in South Korea is rattled, it's too early to think about evacuating just yet; Washington may just be bluffing to intimidate Pyongyang. The U.S. also has something to gain from frightening South Koreans and extracting concessions, especially as the two allies prepare to renegotiate who pays how much of the cost of stationing American military on South Korea soil. (The current bilateral agreement over cost division expires at the end of this year.)
The only rational thing the South Korean government under president Moon Jae-in can do — and has been doing — is call for avoiding war at all cost given the potential destruction it would entail. A report from the U.S. Congress's research arm concluded that even without use of nuclear arms, war on the peninsula may kill 300,000 just in the first few days of fighting. Condoning an American invasion of North Korea would lead to devastation of South Korea, too.
That is what makes North Korean leader Kim Jong-un's offer of an olive branch in his New Year's address so significant. Kim, while maintaining his insistence on North Korea's right to possess nuclear arms, expressed interest in having his country participate in the Pyeongchang Winter Olympics next month.
"As for the Winter Olympics Games to be held soon in South Korea, it will serve as a good occasion for demonstrating our nation's prestige and we earnestly wish the Olympic Games a success… We are willing to dispatch a delegation."
This was the opening that Moon has been waiting for since becoming president in May 2017.
In a bid to replace the impeached conservative Park Geun-hye, currently undergoing a criminal trial for corruption, Moon pledged during his election campaign to "stimulate social, cultural and athletic exchanges between the South and North" and "utilize all means at our disposal, such as sanctions and dialogue, to effect North Korea's denuclearization." But Moon, now in power, has his work cut out for him considering how much inter-Korean relations have deteriorated over the past decade under two conservative administrations in Seoul.
The Mt. Kumgang tourism project (a resort in the North that South Koreans could visit by ship) was halted after North Korean soldiers shot a South Korean tourist in 2008. The North was implicated in the sinking of a South Korean military vessel, ROKS Cheonan, in March 2010. (Pyongyang, Beijing and Moscow have disputed the report that the North torpedoed the ship.) In November of that same year, South Korea conducted an artillery exercise in the area, and North Korea responded by bombarding Yeonpyeong Island, a South Korean territory.
And Kaesong Industrial Complex — the most visible symbol of inter-Korean cooperation — was unilaterally shut down by then-South Korean president Park Geun-hye as punishment for North Korea's launch of a satellite (suspected by Washington and Seoul of being a missile test) in February 2016. Moon promised to reopen the Kaesong venture but has not been able to do so.
For the last several months, the confrontation between Pyongyang and Washington has only worsened. North Korea's missile tests have taken on increasing frequency. Its latest nuclear experiment shook the peninsula in September. U.S. president Donald Trump repeatedly threatened aggression in response. And the incoming American ambassador to South Korea will be none other than Victor Cha, a hardliner who served in the George W. Bush administration and pushes for a so-called "trilateral alliance" between the U.S., Japan and South Korea as a joint military defense arrangement against North Korea. (China is very much opposed to the possibility, believing that it is the ultimate target of containment, and South Korea has publicly rejected the idea of joining such an arrangement.)
Between visible progress in Pyongyang's weapons development and the election of Trump, who is quick to issue threats and openly hostile to Kim Jong-un, Moon has had little choice but to capitulate to the hardline policyline of the U.S. THAAD deployment has proceeded even though he seemed to be on the fence about it before the election. More military exercises and spending have followed.
Trump didn't waste time taking credit for North Korea's peaceful overture on Jan. 1 by saying, "Sanctions and 'other' pressures are beginning to have a big impact on North Korea."
Sanctions and "other" pressures are beginning to have a big impact on North Korea. Soldiers are dangerously fleeing to South Korea. Rocket man now wants to talk to South Korea for first time. Perhaps that is good news, perhaps not – we will see!

— Donald J. Trump (@realDonaldTrump) January 2, 2018
He can think whatever he wants, but most experts believe that neither sanctions nor shows of military prowess have put any damper on North Korea's continued pursuit of intercontinental ballistic missiles with nuclear warheads that can reach the continental U.S. North Korea has its own reasons for wanting to participate in the Olympics, and they are far more likely to do with seeking legitimacy on the international stage than fearing Trump's moves.
Now that North Korea said it is interested, South Korea has been quick to respond with enthusiasm. Unification minister Cho Myoung-gyun held a press conference only one day later, on Jan. 2. "We are proposing to the North a high-level inter-Korean consultation concerning the Pyeongchang Winter Olympics on the 9th of this month at Panmunjom [a location in the demilitarized zone]."
On Jan. 3, South Korea confirmed that it had received a call from the North for the first time in two years, signalling the reopening of official communication channels between the two countries.
Will this engagement policy prevent war on the Korean Peninsula? Nobody can answer with certainty. But what's clear is that now the two Koreas have vested interest in working together to reduce tensions, for neither side wants to be obliterated by an American invasion. It also means the U.S. is now at odds with South Korea over how to deal with the North, and the chasm between the two allies will only deepen the more America ramps up its warmongering.
Already, hawkish U.S. Republican senator Lindsey Graham — the same man who has talked time and again about how eager Trump is to attack North Korea — has come out publicly to reject any scenario of North Korea participating in the Olympics, going so far as to say that if the North sends a delegation, the U.S. should boycott the games.
Allowing Kim Jong Un's North Korea to participate in #WinterOlympics would give legitimacy to the most illegitimate regime on the planet.

I'm confident South Korea will reject this absurd overture and fully believe that if North Korea goes to the Winter Olympics, we do not.

— Lindsey Graham (@LindseyGrahamSC) January 1, 2018
That some in Washington want to attack North Korea is understandable. Pyongyang has on numerous occasions made a point of calling the U.S. a target. But as far as South Korea is concerned, it makes every sense to take the path of peace and dialogue, even if it means ending up in bed with such an unpleasant bedfellow as Kim Jong-un. Because Seoul's priority should be protecting its own people, not kowtowing to American hawks. 
Cover image: Statues of Kim Il-sung and Kim Jong-il, North Korea's former leaders, in Pyongyang. (Source: Bjørn Christian Tørrissen via Wikipedia, CC BY SA-3.0)
Become a subscriber to access all of our content.