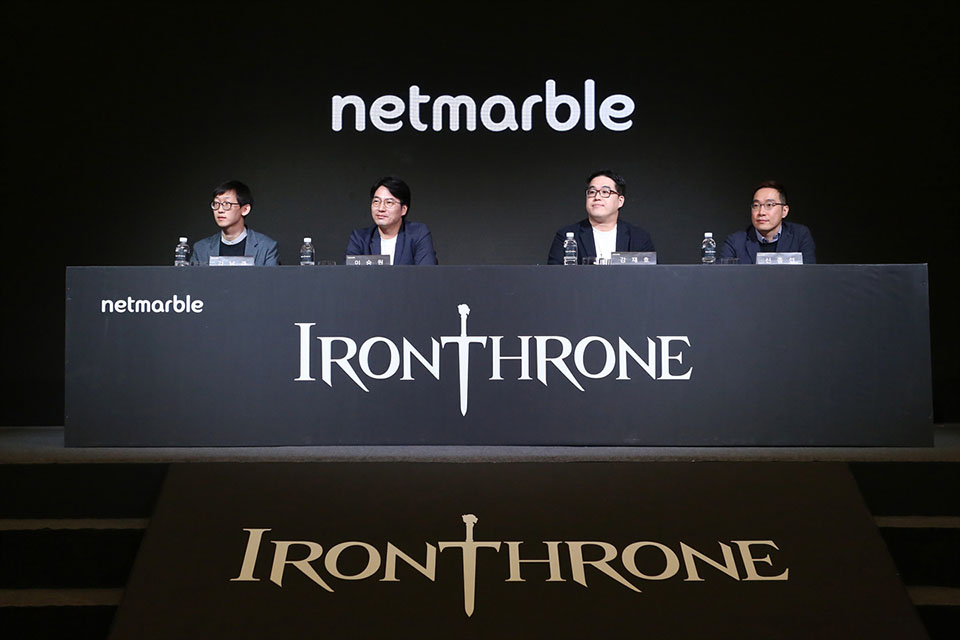 Netmarble Launches First Mobile MMO Game 'Iron Throne'
Prominent South Korean game publishing company Netmarble has announced a major new move on the global mobile gaming scene with the coming launch of Iron Throne, a new strategy MMO (Massively Multiplayer Online) game.
Strategy MMO as a genre accounts for 22 percent of the international gaming market, having grown by 38 percent from 2015 to 2017.
"With changes in the global strategy game market and its expansion in Asia, this launch signals a great opportunity for Netmarble," company vice president Lee Seung-won said at a press conference on Apr. 19.
Iron Throne is produced in conjunction with 4Plat, a game publisher that joined forces with Netmarble in July 2015 for the project.
At the same press conference, Netmarble and 4Plat announced the beginning of pre-registration for the game ahead of its launch in May.
While Netmarble is a rapidly growing player in the international gaming industry, with 54 percent of its 2017 sales taking place in overseas markets, Iron Throne marks a new milestone as a foray into the mobile MMO genre.
"[The success of] Iron Throne will play an important role in solidifying a new game genre in Netmarble's business portfolio," Lee told Korea Exposé.
Netmarble is a partner of Chinese internet service portal Tencent and a shareholder of NCsoft. In a bid for global expansion, it recently invested in game developer JamCity, second-biggest international player in the 'casual' and 'puzzle' genres, and acquired global mobile game leader Kabam.
In 2017, Netmarble company was the world's third biggest mobile publisher in terms of sales, becoming the first South Korean company to rank in the top ten.
Iron Throne pioneers a new genre of mobile game by combining the qualities of strategy games and RPGs. The all-encompassing result allows users to customize their own heroes while choosing from a wide range of battle genres.
"New battle genres allow users to enjoy the game for a longer period of time," said 4Plat CEO Kang Jae-ho. "By providing new battle types and depths that don't exist in other strategy games, our goal is to keep users engaged with Iron Throne for one or even two years."
Cover image: Netmarble and 4Plat executives at a press conference on Apr. 19. (Source: Courtesy of Netmarble)
Become a subscriber to access all of our content.