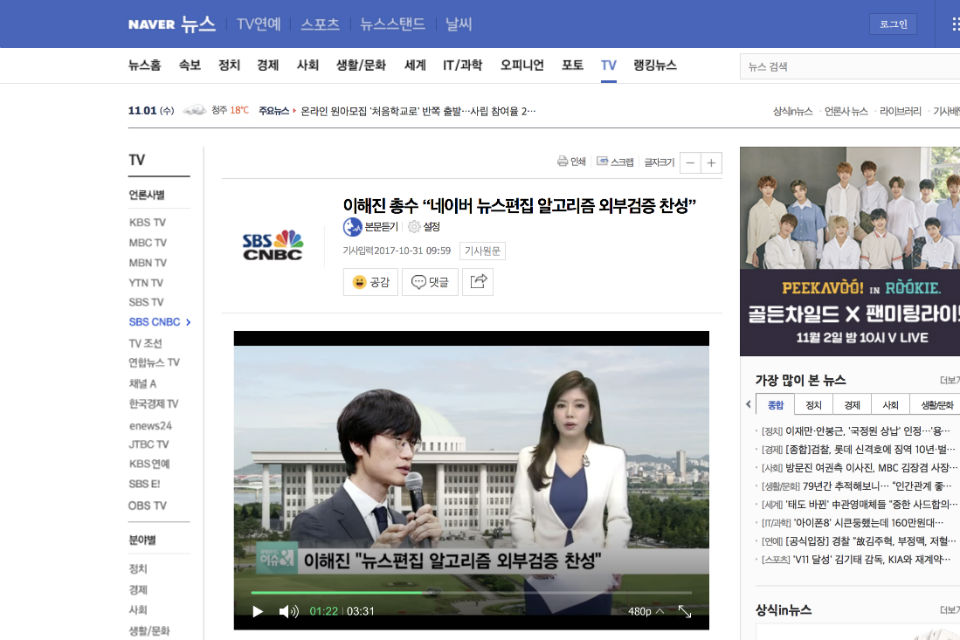 Does Naver Qualify as a News Company?
If you ask a South Korean where they get their news, they're likely to answer, "From Naver."
Naver, a popular search engine and web portal, dominates the distribution of news on the Korean language internet, though it is not, as its founder insisted during a National Assembly hearing on Tuesday, a news company.
Naver founder Lee Hae-jin was grilled by lawmakers early this week over allegations that the company gives priority to some kinds of news while excluding others, and that it auctions off preferable positioning in search results.
The debate over Naver is similar to the conversation unfolding around Facebook, which has become a source of news for a majority of U.S. adults, and as such an immensely powerful presence in the news market. Facebook, like Naver, denies that it is a media company.
Facebook was criticized for not more stridently policing fake news related to last year's U.S. election and the early October mass shooting in Las Vegas. By denying that it is a media company, Facebook seeks to absolve itself of responsibility for keeping misleading content off its platform.
There is one noteworthy difference in how news is consumed on Naver and on Facebook: When a Facebook user clicks a link to a news article, he or she is taken directly to the original source's website, but Naver users are taken to a page hosted by Naver. At the top of that page, the media outlet that did the reporting and wrote the story is identified, but the user technically remains on Naver, with the page's graphics and URL still the same. It therefore becomes more difficult for users to tell where the content they're viewing originated.
The most serious matter that Naver founder Lee had to address in the legislature this week was the removal of a news article criticizing South Korea's professional soccer league, at the company's request. Lee apologized for the removal on Monday, according to Yonhap News Agency.
Korea Liberty Party lawmaker Song Hee-kyung also accused Naver of distorting the way user comments end up being voted up or voted down. Song criticized Lee for not disclosing the algorithm Naver uses to determine how comments are rated. Lee said Naver would investigate the comment system and release the results of its probe, Yonhap reported.
A phone call seeking comment from Naver's PR team on Wednesday afternoon was not immediately returned.
Cover image: Does Naver qualify as a news company? (Source: A screen capture of Naver News)
Become a subscriber to access all of our content.