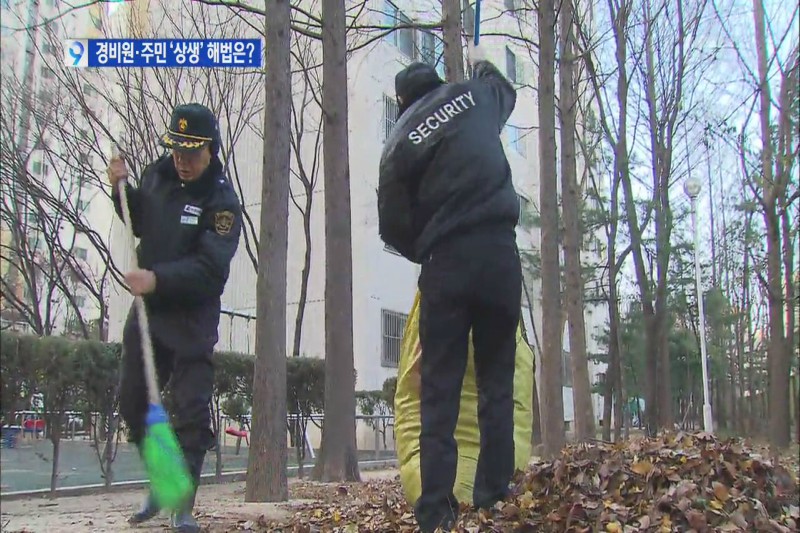 Misfortunes of South Korean Security Guards
A few years ago, I saw a notice up in the elevator of my apartment in Seoul. It was about replacing security guards — at least fifty in all seven buildings of the compound — with machines. The resident representative announced that a "new security system" would curtail management expenses.
The security guards visited each household, pleading the residents to sign a petition against the decision. Eventually, most residents rejected the proposal, because money wasn't an issue for them, and they preferred having the guards over more technologically advanced gates and cameras. With the support of the residents, the guards were able to stay.
Security guards being replaced by unmanned security systems — this has become routine in South Korea. The guards' future looks uncertain everywhere. This February, almost 300 security guards at an apartment complex in Seoul faced a mass dismissal. Asking for mercy, the guards proposed to cut the employment cost by downsizing their own team and freezing their wages in the coming year, despite anticipated legal hikes in minimum wage.
In many apartment complexes in South Korea, including mine, two security guards take turns serving 24-hour shifts at each building. On top of guarding the site, they are expected to serve as all-purpose problem-solvers: handymen, general cleaners, gardeners, porters and even valets (in some extreme cases). On average, security guards earn just above minimum wage, around 1.2 million won (roughly 1,100 U.S. dollars) per month, according to a 2010 report by the Ministry of Employment and Labor. The report said that security guards on average get fewer than five hours of break during their 24-hour shifts.
Security guards are typically hired on a contractual basis by a labor service agency. Their work is categorized as "surveillance labor," which means security guards don't get paid-vacations and national holidays. There is no legal measure to enforce their break hours during work. They are fired easily; and they don't have a central labor union to fight for their interests.
On Mar. 21, a revision to the Apartment Administrative Act was implemented to add legal protection for security guards. A clause now prohibits employers and residents from ordering the guards to do tasks not specified as their "pertinent duties." But this clause is more symbolic than effective; there is no mention of penalties.
The prevailing perception of security guards is just as problematic as the lack of legal protection they get. Considered a low-level job requiring little expertise, the security guard position — held mostly by middle-aged and elderly men — receives little respect.
In late 2014, a security guard at an apartment complex in Seoul set himself on fire in the parking lot. He had been repeatedly abused by a resident for months, both verbally and physically. The abuse included being hit with rotting food and urged to eat it. Lee Man-soo, the 53-year-old guard, died a month later from the burns. Just a few weeks ago, the Seoul Central Court ruled that the resident in question and Lee's agency must pay his family 25 million won (roughly 22,500 dollars) in compensation.
Around the same time, I moved to a new place in Seoul that runs on a security system without human guards. It feels a bit odd and even unsafe to enter the unmanned entrance, guarded only by cameras. I know technology is likely to replace many of South Korea's security guards in the future. But as long as the occupation exists, I hope legal protection can improve to guarantee better lives for these men.
Cover image: (Source: KBS)
Jieun Choi wrote this radar report.
Become a subscriber to access all of our content.