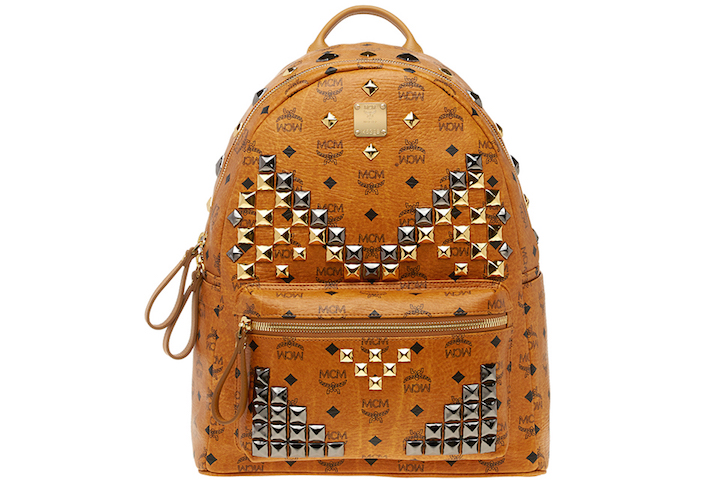 MCM: Pretty on the Outside, but Maybe Not the Inside
Like it or hate it, MCM and its flashy, repetitive designs are almost impossible to miss in the world of handbags and high-end streetwear. At least in South Korea — which, according to The Guardian, joins the ranks of China and Japan in each contributing about a third of MCM's revenue — the studded leather goods have become increasingly popular over the past decade.
The biggest shift came in 2005, when Sungjoo Group CEO Sung-joo Kim bought out the brand, which had become nearly defunct after its heydays in the 1980s, to become the chief visionary officer of MCM Holding AG. After establishing luxury designer fashion, from Gucci and Sonia Rykiel to Yves Saint Laurent, in South Korea, she moved on to turning the German-born brand into a domestic powerhouse.
But Kim is now making headlines, and this time not for any good publicity.
MCM is under fire for allegedly receiving compensation from suppliers for defective products at up to 1.1 times the retail price, and then reselling some of these products to its employees to further increase profits, for about 10 years. According to an article published in News1 on June 26, two suppliers accused Sungjoo D&D, Kim's company, of not only reaping profit from from suppliers, but also failing to return these defective products. Without receiving them back, there was no way of knowing whether claims of "loose stitching" or "stains" were even true, they said.
Though both sides confirmed these practices have not continued during the past year, Shinhan Invitation CEO Yong-gil Kim said in the article that Sungjoo D&D "did not return most of the products between 2005 to 2012 even after filing claims," and that they slowly began to return them more and more frequently beginning in 2014. A Sungjoo representative said that though products were resold at internal sales — such as "family day" or "second quality" events for employees and their family members — these only included defects incurred during the retail process.
This is not the first time Kim has courted controversy. In 2014, the now disgraced president Park Geun-hye appointed Kim as the Korean Red Cross' youngest and 28th president. In the midst of significant criticism — many accused Park, on whose election committee Kim served in 2012, of cronyism — she took the seat and now has four months to go in the position.
With a fashion dominion so large, Kim is an international figure. According to The Guardian, she calls MCM "a global baby incubated out of a Korean cradle," and the brand has become undeniably Asian. When Kim first acquired the company, she shut down many of its global stores other than those in South Korea, and focused her efforts on the domestic market.
But MCM is also global, far more so than it was when Kim saved it from struggling founder Michael Cromer München. According to Sungjoo Group's website, it began selling in London's Harrods department store in 2012 and in Swiss department store Jelmoli in 2014, and opened a New York Soho flagship store in 2015.
As the Fair Trade Commission (FTC) approaches investigations into Kim's case, an anonymous ex-employee of Sungjoo D&D said that "as I remember it, defective goods were re-sold only after returning delivery costs to subcontractors," and that there should not be any problems if this were the case.
The case, however, has spurred angry reactions online, with one Twitter user tweeting, "What an evil business owner. Everyone around Park Geun-hye is like this." Another said, "Was she actually a vampire feeding on suppliers, one that disguised herself as the Red Cross head?" The practice, if true, is especially outrageous for the South Korean public given the prevalent but much criticized culture of gapjil, whereby big companies take advantage of the weak bargaining position of suppliers to extract unfair concessions.
The FTC said official investigations began two weeks ago when it received data about the case, and met with the complainants — who first filed reports with the FTC in March — on June 21, according to another News1 article. Kim is to be investigated by the FTC on June 27.
Cover image: MCM is well-known for its premium leather goods garnished with its black lettered logo and flashy sequins, such as this "Stark Backpack in Cognac Visetos." (Source: Tomatodaum on Wikimedia Commons, CC BY-SA 4.0)
Become a subscriber to access all of our content.