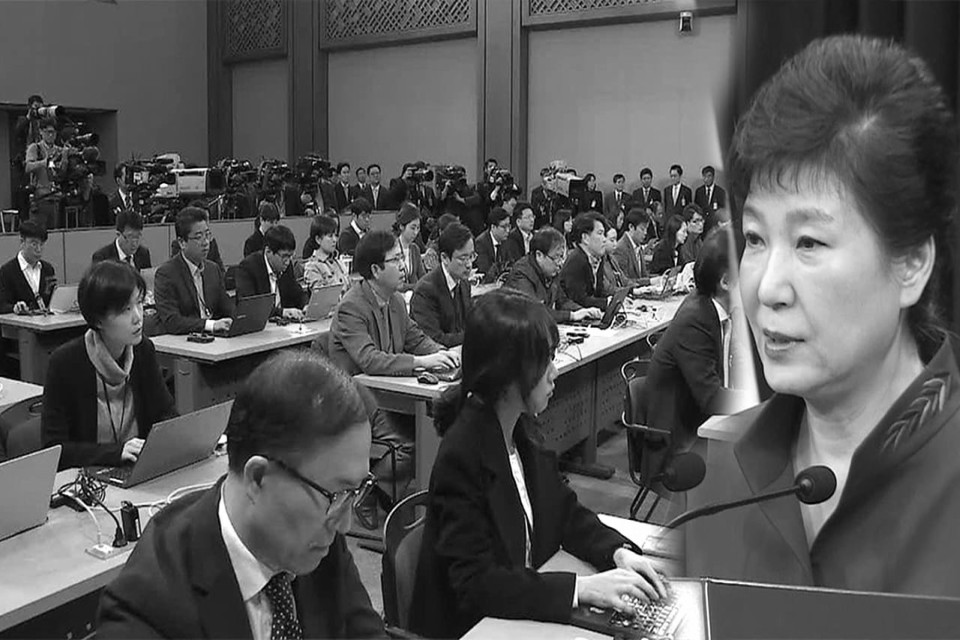 Can S Korea's Blue House Reporters Ask More Questions Now?
On his first day as president of South Korea, Moon Jae-in held a press conference in Chunchugwan, the Blue House's press building. After talking for a little less than 10 minutes, Moon left without a Q&A session. His top aides stayed behind for nearly 20 minutes to answer questions, unscripted, from the presidential press corp.
This seemingly unremarkable gesture at communicating with the press was enough to surprise those who had grown accustomed to Park Geun-hye. AFP reporter Hawon Jung tweeted:
Park had only 1, scripted presser a yr. Moon held presser on his 1st day at work wt his spy chief answering Qs from journos. Am I dreaming?

— Hawon Jung (@allyjung) May 10, 2017
Park Geun-hye, removed from office on Mar. 10 following a massive corruption scandal, was notoriously uncommunicative with the press. During her four years in office, her rare "press conferences" were scripted, from order of questions down to exact wording. The Blue House press corps, a highly prestigious workplace among South Korean journalists, was often perceived as submissive, ineffective and helpless.
My impression of White House press corps vs. Blue House press corps pic.twitter.com/PtCLOfpOXp

— Sam Kim 김혜성 (@samkimasia) November 4, 2016
Under Park, Blue House reporters were severely limited from getting information. For example, during the conservative Lee Myung-bak administration that preceded Park's, presidential reporters had access to the contact information of hundreds of Blue House staff. Under Park, even this access was no longer available.
"Blue House reporters couldn't find out what was happening inside the Blue House," journalist Song Suk-geon said in an interview with online news Media Today. Song has been a correspondent at the presidential palace for over nine years, since the Lee administration. "Reporters didn't have access to information that even the cooks knew."
Until the Kim Dae-jung administration (1997-2002), South Korea's first liberal government, press freedom within the executive office was severely limited. Previous presidents could intervene in selecting reporters; under Roh Tae-woo (1987-1992), the Blue House picked the reporters, excluding anyone with relatives in North Korea. Kim Young-sam (1992-1997) rejected journalists with experience in anti-government protests.
Blue House press activity blossomed during the two liberal administrations: Kim Dae-jung and his progressive successor Roh Moo-hyun reportedly held over 100 press conferences over their five-year terms (on-the-record meetings with Q&A). Lee Myung-bak, the succeeding conservative administration, held 20. Worse still, Park Geun-hye attended approximately five, including a meeting with Blue House journalists a few weeks after her impeachment in December that she used to claim to reporters that she was innocent.
(Incidentally, the Blue House couldn't confirm the exact numbers of presidential press conferences held by past administrations.)
Press freedom in South Korea began to decline under the Lee Myung-bak administration. Freedom House, a U.S-based democracy watchdog, downgraded South Korea in 2011 from "free" to "partly free," citing an increase in official censorship. This status remained unaltered throughout Park Geun-hye's administration. Last year, the watchdog cited Park's continued efforts to "suppress criticism" and introduce "regulatory measures that could curtail freedom of the press." This year, South Korea is still "partly free," ranking 66th out of 199 countries in Freedom House's Freedom of the Press Report.
Around 400 journalists are currently registered at the Blue House, some 100 of whom are foreign. Around 70 of registered reporters are permanently stationed in Chunchugwan (none of them foreign).
"I say with confidence that you can expect a dramatically changed Blue House," Moon Jae-in told the presidential reporters on Wednesday.
Moon promises to be more communicative, and physically closer to the people — which is why he vows to move the executive office from the Blue House, a restricted area, to Gwanghwamun, overlooking an open square in downtown Seoul about one kilometer south of the current presidential palace.
"Not communicating with the press means not communicating with the people," said Song, the veteran Blue House reporter. Hopefully, under Moon, the president's reporters can be more informed than his cooks.
Cover image: Park Geun-hye was notorious for her infrequent, scripted press conferences. (Source: Newstapa)
Become a subscriber to access all of our content.