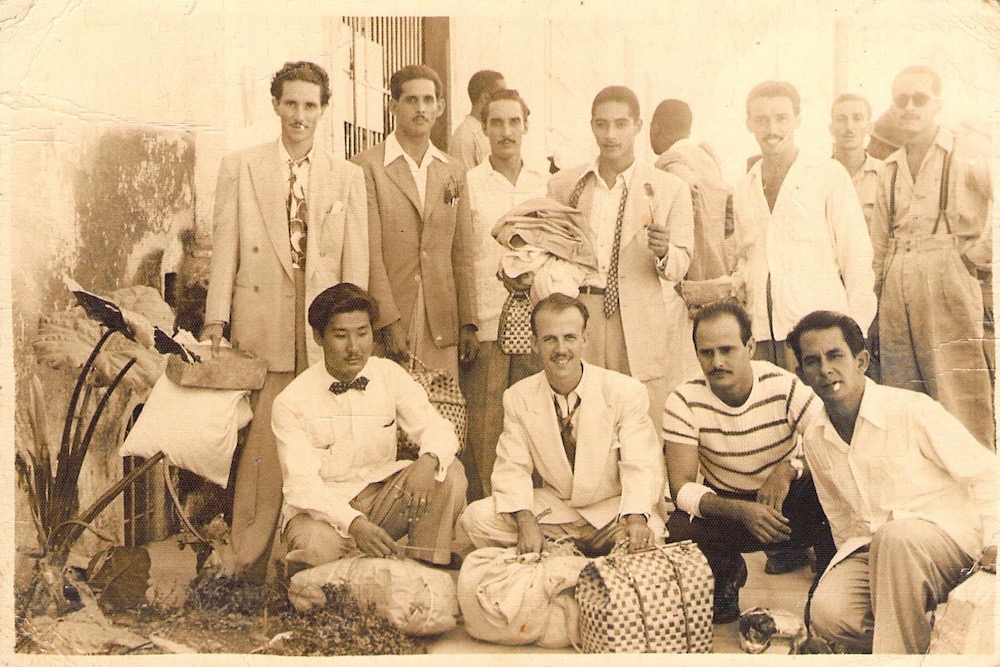 In Search of Koreans in Cuba: A Tale of Jeronimo Lim
On Dec. 28, 2015, I boarded a flight in Toronto bound for Havana, Cuba. It was one of those trips you grant to yourself as a reward for having worked hard that year. I had no particular agenda other than observing how people live in a communist nation, going to the beach, and, of course, wanting to try a lot of Cuban cigars.
After landing and clearing customs, I walked out of the gate, looking for the driver from my hostel. To my surprise, it was a middled-aged Asian woman.
When we jumped into her decades-old, beat-up Russian sedan, I asked her, "So, would you happen to be Chinese?" To which, she replied, "Haha, no, I am fourth-generation Korean."
Right there and then, I knew this trip was meant for something much greater than mere tourism.
She continued, "my grandfather came to Mexico technically as a Korean slave, and my father fought for the Cuban Revolution."
Coreanos Cubanos!
After consulting multiple academic, governmental and literary sources, including writer Kim Young-ha's novel Black Flower, I would learn the history behind her story: In 1905, 1,033 Koreans boarded a ship in a port city Incheon, believing, mistakenly, that they were headed to a land of opportunity.
In truth, they were being sold to work in Mexico as indentured servants.
At the request of Yucatan Plantation Owners' Association in Mexico, English broker (or, to put it more bluntly, slave trader) John Meyers conspired with Japanese associates to establish the "Continental Settlement Company," which actively recruited Korean laborers.
Describing Mexico as "Heaven on Earth," the company published blatantly false advertisements across the Korean Peninsula, promising financial fortunes, an "elevated" social status in Mexico, and the option to return to Korea four years later.
Korea was effectively under Japanese control at this time, and its ruling family lacked both the power and courage to protect its people. The 1,033 Koreans that signed up came from a variety of different social classes: poor peasants, homeless people, orphans, fishermen, retired soldiers, failed royalty, priests, shamans, and eunuchs.
After crossing the Pacific for 50 days, during which two died, the thousand-odd Koreans found themselves standing in the middle of a bleak plantation. They were sold to owners of 30 different plantation farms that cultivated henequen, an agave species grown for rope fiber. Contrary to their wishes, none of them ever returned to their motherland. Instead, in 1921, 300 emigrated to Cuba in search of a better life.
Jeronimo Lim: El Coreano Revolucionario
Yes, Patricia, the first Cuban I met in Havana that day, was descended from some of the 1,033 Koreans who left for Mexico 110 years earlier. Talk about serendipity. She then invited me to meet her family the next day. I not only met them but spent a whole day with them in their humble abode in Havana. Later we drove to a coastal town called Varadero to meet other extended family members.
[ngg_images gallery_ids="17″ display_type="ds-nextgen_royalslider"]
Although some sources indicate their average salary being as high as 200 U.S dollars a month, the official average salary in Cuba is mere 25 dollars a month. Whether one is professor, engineer, lawyer, doctor or janitor, unless one is involved in commerce or tourism business, most of the Koreans I met lived in relative poverty. What they lacked in possession, however, they had in abundance at heart. They prepared a plate full of kimchi and Korean-style fried rice for me and offered me hand-rolled cigars.
Patricia's 87-year-old mother, Cristina, is ever-resilient, passionate, and compassionate. She sat me down, brought out dozens of photo albums and shared epic tales of her family history and her late husband, Jeronimo Lim, with me.
Jeronimo was a legendary fighter in the Cuban Revolution. He went to law school with Fidel Castro and later worked with Che Guevara in the country's new government. Prior to the revolution, however, most of Koreans still worked on plantations and were subject to anti-foreigner law that discriminated against ethnic minorities. Whether one was for or against communism, the Cuban Revolution upended the existing order and benefited the Koreans there. Finally, they were equal with others.
Although Jeronimo served in the communist Cuban government for years, he is remembered as a non-ideologue who worked solely for the betterment of his people. He was a disciplined idealist, putting human values over self-interest and ideology. Jeronimo dedicated his early years to the well-being of the Cuban people, while his later years were spent rebuilding the local Korean community.
I might venture to label him "Cuba's Ahn Chang-ho," after the great independence activist of colonial Korea.
Jeronimo's father, Lim Cheon-taek, was among the 1,033 Koreans that boarded the ship for Mexico, carried by his single mother. He grew up in Mexico until he was 18, then moved to Cuba in 1921 along with 300 others. Cheon-taek worked on plantations for most of his life to make ends meet for his wife and nine children, while saving what little money was left over to send to the Shanghai-based Provisional Government of the Republic of Korea, to support his country's independence movement.
In recognition of these efforts, Lim Cheon-taek's name appears in Baekbeom Ilji, the autobiography of renowned politician and freedom fighter Kim Gu. After his death in 1997, Lim received the highest presidential honor in South Korea; his body is now buried at the Korean National Cemetery in Daejeon.
So there is the Lim family history: A grandmother working on a Mexican plantation as an indentured servant; a father collecting funds to support the Korean independence movement; and a son fighting in the Cuban revolution. Unbelievable is the right word. Imagine hopping into a complete stranger's car and unexpectedly entering a forgotten chapter of Korean history.
Jeronimo the Documentary
I remember lying on my bed at the hostel the night I met Patricia's family for the first time. I couldn't fight back tears as I tried to make sense of what had just happened — a powerful and profound experience. If I were to regard this as just a cool travel experience and let it evaporate, I would be doing a disservice not only to the Lim family and other Koreans in Cuba, but also to my friends in the U.S., South Korea and elsewhere.
A few months after leaving Cuba, I started acting on something that had formed inside me from that first day in Cuba. I summoned the courage to quit my job as a lawyer so that I could make a feature-length documentary about Jeronimo and other Koreans in Cuba.
A preliminary trailer for "Jeronimo the Documentary"
To raise funds, I made a short video with the footage I had shot in Cuba and launched a Kickstarter campaign with a target of 10,000 U.S dollars. People reacted with excitement, providing over 22,000 U.S dollars via Kickstarter and other channels. With my new funding and much gratitude, I returned to Cuba in the summer of 2016 with five friends who worked in the film and media industries. In the span of two weeks and across four cities, we met over 100 Korean Cubans and interviewed 35 of them. Needless to say, it was a life-changing experience.
As I approach the midpoint of the project, my goal remains the uncovering of Jeronimo's heroic yet humble tale and give the Koreans in Cuba the voice they have long deserved. If my documentary achieves this, I will have done my part. At a time when oppressive and xenophobic sentiments against immigrants run high, I believe the epic story of unsung heroes in Cuba who had no choice but to survive against insurmountable obstacles has a few things to teach us.
When I came across Jeronimo, I felt he had settled fully into his environment all while holding on to his culture and sense of pride. He was 100 percent Cuban and 100 percent Korean. Jeronimo fully embraced both identities, and the resulting affirmation and empowerment inspired him to serve others and live for causes larger than himself.
I've long searched for answers to the many questions revolving around my Korean identity. To me, the challenges that Jeromino and his family faced, and continue to do so — as members of an ethnic minority in a strange land — was as inspiring as it was familiar.
Joseph Juhn's second kickstarter campaign to raise funds for post-production can be found here.
Become a subscriber to access all of our content.