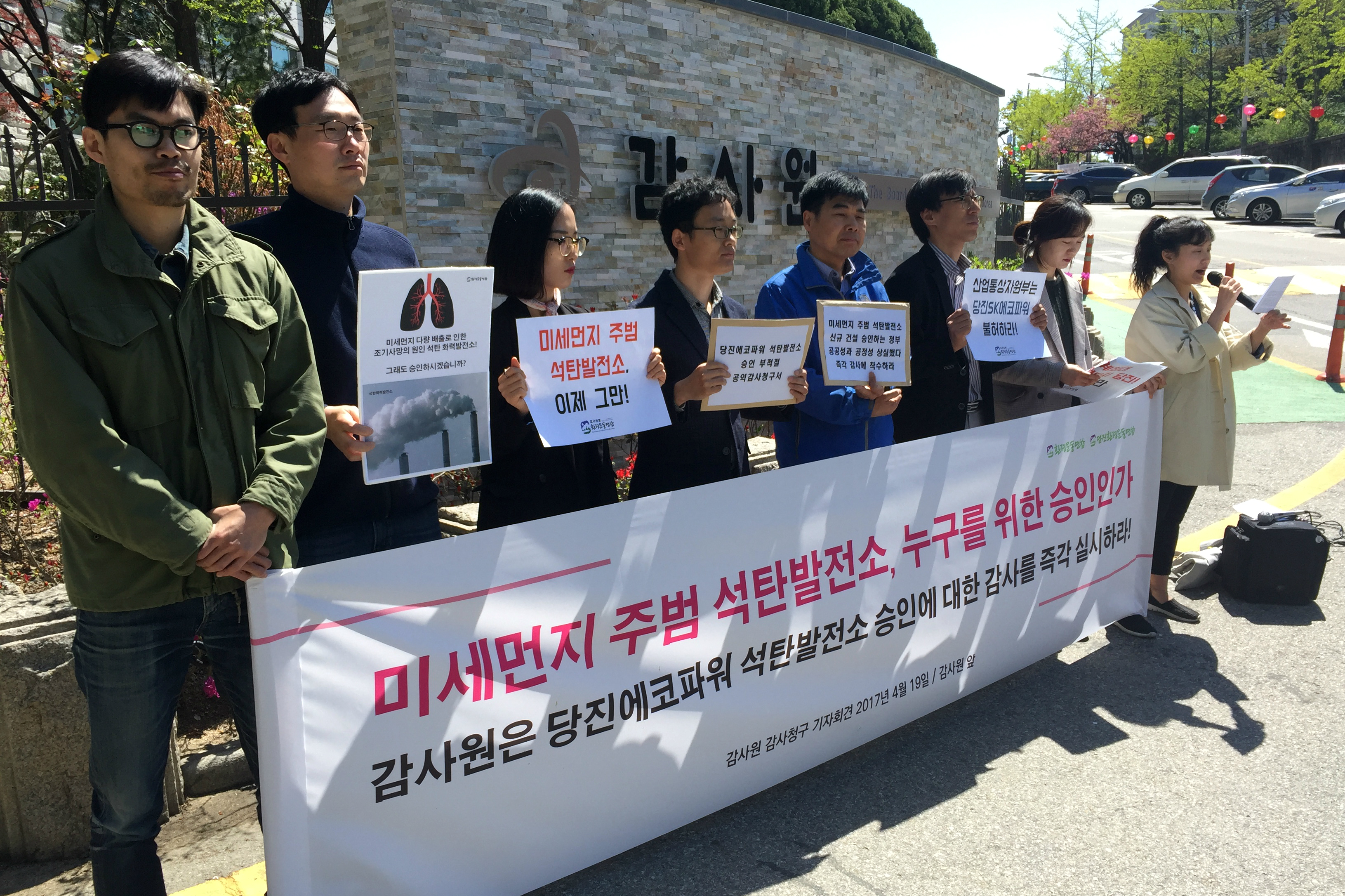 More Bad News for Environment: Another Coal-Fired Power Plant Coming to S Korea
Residents of South Chungcheong Province and environmental campaigners reacted angrily on Wednesday after the South Korean government granted last-ditch approval for a new coal-fired power plant in the city of Dangjin.
Representatives of Korea Federation for Environmental Movements (KFEM) held a press conference outside the Board of Audit and Inspection (BAI) in central Seoul and submitted an official request that the board investigate the government's decision.
The request came after the Ministry of Trade, Industry and Energy (MOTIE) called a meeting of its power generation project committee on Apr. 3 and approved the plan for the Dangjin Eco Power plant.
South Korea's coal-fired power plants have recently been in the spotlight due to the country's fine dust pollution problem. Campaigners nationwide and local politicians in South Chungcheong, where more than half of the country's coal-fired plants are concentrated, have repeatedly demanded that new plants not be built.
Until now, it appeared that the coming presidential election offered a chance to renew the country's energy plans. Several leading candidates had pledged to deny permission for the four planned coal-fired power units that are not yet under construction. (Two of these units comprise Dangjin Eco Power.)
"Most Koreans are against this power plant, so you can't help but ask who benefits from it," said Lee Ji-eon of KFEM. "51% of Dangjin Eco Power is owned by SK Gas. There's no [other] way of justifying the plant, so the only way to explain [its approval] is the protection of corporate profits."
Lee told Korea Exposé the investigation request to the BAI was partly aimed at determining if the approval was indeed granted in the interests of big business and at the expense of the public.
The MOTIE website makes no mention of the committee's Apr. 3 decision to approve Dangjin Eco Power. An official at the ministry told Korea Exposé that such decisions are not normally announced on the website. He confirmed that the only remaining stage after such decisions was final approval by the minister.
KFEM's investigation request disputes MOTIE's claim that the ministry is obliged to approve the plant as part of the Fifth Basic Electricity Supply Plan. The organization argues that the ministry still has the authority not to issue final approval if the project goes against the public interest.
Cover image: On Apr. 19, representatives of Korea Federation for Environmental Movements stood outside the Board of Audit and Inspection to protest approval of the Dangjin Eco Power Plant. (Ben Jackson/Korea Exposé)
Become a subscriber to access all of our content.