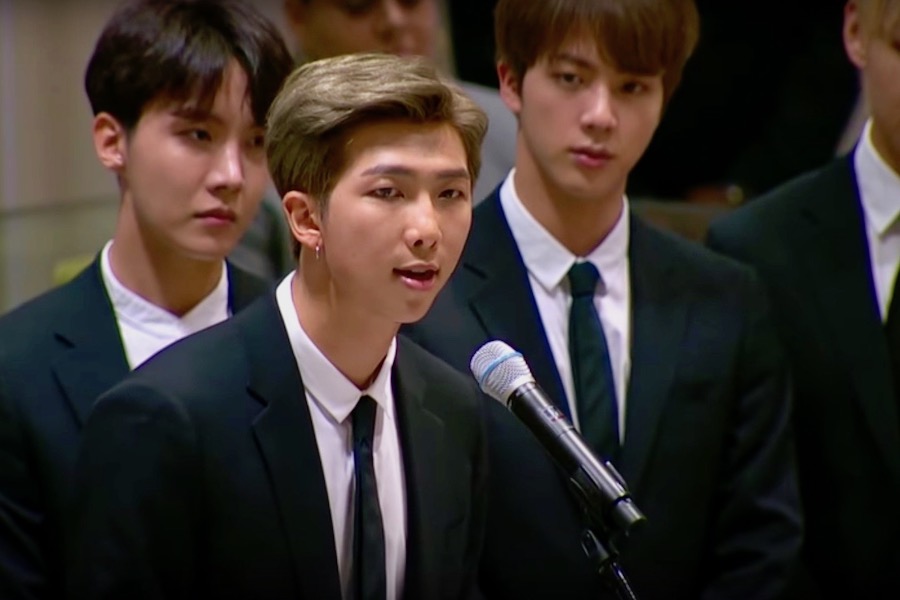 BTS: Generational Icons or Misogynists?
On Sep. 24, South Korean boy group BTS gave a speech on empowerment and love at the United Nations headquarters in New York City. The event marked the launch of "Generation Unlimited"—a partnership between the UN and UNICEF that aims to promote education and empowerment for young people.
The choice of BTS, also known as the Bangtan Boys, appeared sensible. They are widely recognizable figures with a global following as well as recent winners of Golden Disk and Billboard Music Awards. They also serve as UNICEF Goodwill ambassadors.
Many South Korean feminists, however, condemned the choice. To them, BTS is representative of the misogynistic music scene in their country. They contend that BTS, like many male musicians in their South Korea, objectifies and degrades women with their lyrics and comments.
"They have been controversial figures for a long time, but this issue has never gotten wide public attention. I think international fans are not aware of how the group is perceived by Korean feminists," said Uh Hye-sun, a 23-year-old South Korean student and self-identified feminist.
***
BTS arguably has become the most visible face of South Korea's music industry—often called "K-pop" in English—which has achieved phenomenal growth in recent years. Psy's "Gangnam Style" music video, for example, has notched more than 3 billion views on YouTube since its release in 2012. Big-name South Korean groups such as Twice, Black Pink and EXO routinely sell out concerts not only in South Korea but also around the world.
And this means big business. According to Korea Creative Content Agency's (KCCA) 2018 Content Industry Forecast report, the total value of South Korea's cultural exports, which includes music, games and movies, increased by 8.8 percent in 2018, creating a total of $7.5 billion USD in revenue. The South Korean music industry alone grew 7.2 percent that same year.
But the music scene has a dark side, not least its long history of exploiting musicians and culture of misogyny. Signed by major management agencies, aspiring stars can toil for years under unequal contracts that compel them to give up a bulk of their future earnings and personal freedom.
And its depiction of under-aged girls—who perform under the label of "idols"—has come under fire for encouraging pedophilia. A performance by Bonusbaby, a South Korean girl group, last year had members wear pink bibs while dancing to a song entitled "If I Become An Adult." Jeon So-mi, from I.O.I., another prominent all-female K-pop group, revealed during a 2016 interview that the stage outfits they wore for some of their performances were in fact children's clothes.
BTS's seven members, though, appeared to show the industry can evolve. Unlike most South Korean music stars who often sound and look as inoffensive as possible, they have not shied away from speaking about or advocating social issues since their debut, such as ending violence against children and promoting self-love. At times they even seemed to reach out to the country's beleaguered LGBT community.
Yet BTS isn't free from controversy. On Nov. 9 of last year, its TV appearance in Japan was cancelled over a T-shirt worn by the group's member Jimin. That particular piece of clothing celebrated South Korea's independence from Japan and featured a photo of the atomic bombing in Hiroshima. It invited criticisms from not only Japan but also segments of South Korean media, with left-leaning Hankyoreh paper saying, "There is criticism that using a photo of an atomic bomb attack, which was a tragedy for humanity, as a symbol of independence isn't appropriate."
And only two days later, on Nov. 11, another member, RM, was denounced by the Simon Wiesenthal Center, a nonprofit Jewish human rights group, for a fashion shoot during which he wore a hat that displayed the Nazi swastika. Aaron Breitbart, senior researcher at the center, told me that although he "does not think that RM was trying to promote Nazism," RM "should have been more careful."
More worryingly, the group has made certain comments that many South Korean feminists say reflect the country's traditional expectations toward women. When asked about ideal women, J-Hope, yet another member, answered that his was someone who is good at naejo—literally "domestic support"—which refers to doing various household chores that a stay-at-home wife performs to support her husband's career.
The group's vocalist, V, told entertainment site Star News that his ideal was "a woman who spends wisely the money I bring home." On one of the tracks on BTS's 2013 album "2 Cool 4 Skool," the members discuss their childhood dreams, and Jin, the oldest of them, says, "Just like my dad, I wanted to go to work at 7 am and come home at 6 pm to eat the meal that my wife cooks for me."
Then another member chimes in and adds, "I also thought that would be the best [life]. … What is hip hop good for anyway?"
Even the group's official twitter account (@BTS_twt) has shown indifference to women's rights. One tweet, dated to Feb. 9, 2013, went: "Girls have got to dress cold [and show skin] both in winter and summer. That's how men would like them."
@glare_u 헐 누가그래.. 팀킬이다. 제가 알려드릴게요 여자는 겨울에도 춥게 여름에도 춥게입어야해요 알았죠? 그래야 남자들이 좋아해요.

— 방탄소년단 (@BTS_twt) February 9, 2013
"Are women mannequins and not human beings?" a user replied to the group's post. "We are neither sexual objects nor born to be your eye candies."
BTS never responded.
In replying to a comment from another Twitter user (@minj0213), the BTS account tweeted that she should "turn her cheek" so that they could "punch it with a fist."
@minj0213 민정양 뺨 대조영 죽빵을 꽂아줄거야 하하하

— 방탄소년단 (@BTS_twt) January 18, 2013
Many fans defended BTS and claimed the remark was a joke, but some feminists say the group's attitude toward women should not be overlooked in a country where domestic violence is pervasive. The Korean Institute of Criminology's 2015 report shows that 71.7 percent of women in South Korea had experienced physical or psychological abuse from their male partners at one point in their lives.
Most importantly, the group's lyrics seem to not only ignore gender inequality in South Korean society, but also go so far as to perpetuate and even encourage them. Several of BTS' songs, for example, have been accused of expressing misogyny and sexism.
"Joke," released in 2015, came under fire for the following lyrics, which RM wrote: "Yeah, you're the best woman, the best vagina [gapjil] / So good are you at doing it, the best vagina / But now that I think about it, you were never the best / I will stop calling you best and instead call you gonorrhea [imjil]." (The Korean word for vagina—jil—rhymes with the Korean word for gonorrhea—imjil.) Feminists interpreted the lines to mean that for South Korean men like RM, a woman's sexuality is a reason for them to both want and despise her at the same time.
[Editor's note: In some online English translations of the song's lyrics, the word gapjil is rendered as "being bossy" likely because it is normally used to refer to abuse of power in social relations.]
***
On July 7, 2016, BTS' agency, Big Hit Entertainment, apologized in a statement to "everyone and many fans who felt discomfited by BTS's lyrics and SNS contents." But South Korean feminists like Jang Yoon-jeong expressed doubt over whether the group and its agency truly understood the perspectives and criticisms of women who felt the lyrics were misogynistic.
Jang, who also happens to be a BTS fan, said that she was disappointed when BTS released its song "Not Today" just a few months after the apology, in February 2017.
The song was criticized for the phrase "Just break the glass ceiling that imprisons you," because it seemed deliberately engineered to counter the criticisms about BTS's past stance on women without being specific on how the group had been wrong. It implied the group supported women and minorities that were wrongfully stopped from achieving the success they deserved, even as it failed to acknowledge or explain the group's past objectification and denigration of women.
"If celebrities really want to advocate social issues, they have to proactively bring up arguments [that are central to the issues]. However, BTS tries to attract the public with abstract messages," said Kim Sun-hee, a visiting professor of philosophy and keen K-pop observer at Ewha Woman's University in Seoul. "It is a commercial strategy, but also society's expectations [towards BTS] are way too high."
The question of whether BTS is espousing misogyny led to online disputes between South Korean feminists and the fans of BTS who refer to themselves as ARMY—which stands for "Adorable Representative Master of ceremonies for Youth"—and are famous for their passionate defense of the group. On Twitter shortly after BTS spoke at the UN, some feminists pointed out the irony of BTS encouraging the youth to love themselves when the group itself has a record of sexism. Those who spoke out against the group's controversy, however, became targets of a fierce backlash.
One South Korean feminist who asked to be unnamed for this piece reached out to me privately to share her experience of being cyberbullied for publicly criticizing BTS on Twitter on the grounds that the group did nothing for the LGBTQ community in South Korea and yet used its pro-LGBTQ image as a marketing strategy to appeal to international fans.
"[When I did this] ARMY said things like 'go kill yourself' and 'what have you done that is better than BTS,'" she said, explaining such harsh reactions from BTS fans were the main reason why she was hesitant to publicly disclose her name in this article.
Another feminist on Twitter lamented, "The one who spoke at the UN has a reputation of acting misogynistically." She added that "only Koreans know that the group has such reputation."
***
With the South Korean state's explicit backing, BTS's global success has transcended concerns within South Korea. The government in Seoul, for one, has championed BTS as yet another successful example of the so-called "Korean Wave"—diffusion of South Korean pop culture on an international scale.
The Moon Jae-in administration has actively promoted K-pop before global audience. During the PyeongChang Winter Olympics last February, for example, the government invited K-pop groups and singers to perform at the opening and closing ceremonies. In May, President Moon even sent out a tweet that congratulated BTS when the group topped the Billboard 200 chart.
"Young people around the world have received comfort and courage from BTS's song, dance, dream and passion," said Moon in his tweet. And just after the group's UN speech, Ko Min-jung, deputy spokesperson for South Korean first lady Kim Jung-sook, told the country's largest newspaper Chosun Ilbo, "Ms. Kim Jung-sook is proud of BTS and congratulates them wholeheartedly."
The UN seems to have been woefully ignorant of BTS's background before they issued the invitation for the group to speak.
When questioned about BTS's speech, two different spokespersons for UN Secretary-General António Guterres, who spoke at the event and launched "Generation Unlimited," responded with "who is BTS?" and "what is BTS?" Even after hearing an explanation of who BTS was, the spokespersons continued to repeat "who is BTS?" and "what is BTS?"
Georgina Thompson, media consultant at UNICEF New York, refused to answer questions regarding the group's previous misogynistic controversies. UNICEF Korea, which organized BTS' appearance at the United Nations at least according to one Korean news media outlet, failed to return my multiple requests for comment over the span of a week.
"If the UN and UNICEF were aware of BTS' typical anecdotes, they should have known that the group was not a good choice for a speaker to help launch the program," said Park Ju-young, a South Korean student at Barnard College and avid K-pop fan.
That comment illustrated the difference in the ways that the BTS is perceived—by its international fan base, the South Korean government and international organizations such as the UN and UNICEF on the one hand; and by South Korean feminists on the other.
"Discrimination against women exists in our daily lives in Korea," said Kim Kyung-min, a 17-year-old South Korean ARMY who, despite liking BTS, thought having the band speak was a poor choice by the UN.
"I felt deceived [during the speech]," Kim continued. "I asked myself, 'Why is he speaking?' I could not support seeing a group that has a controversial reputation for being misogynistic giving a speech to encourage the youth to love themselves."
Cover image: Surrounded by his group members, RM spoke at the United Nations on Sep. 24 to support the launch of Generation Unlimited. (A still from a video uploaded by UNICEF on YouTube)
Become a subscriber to access all of our content.