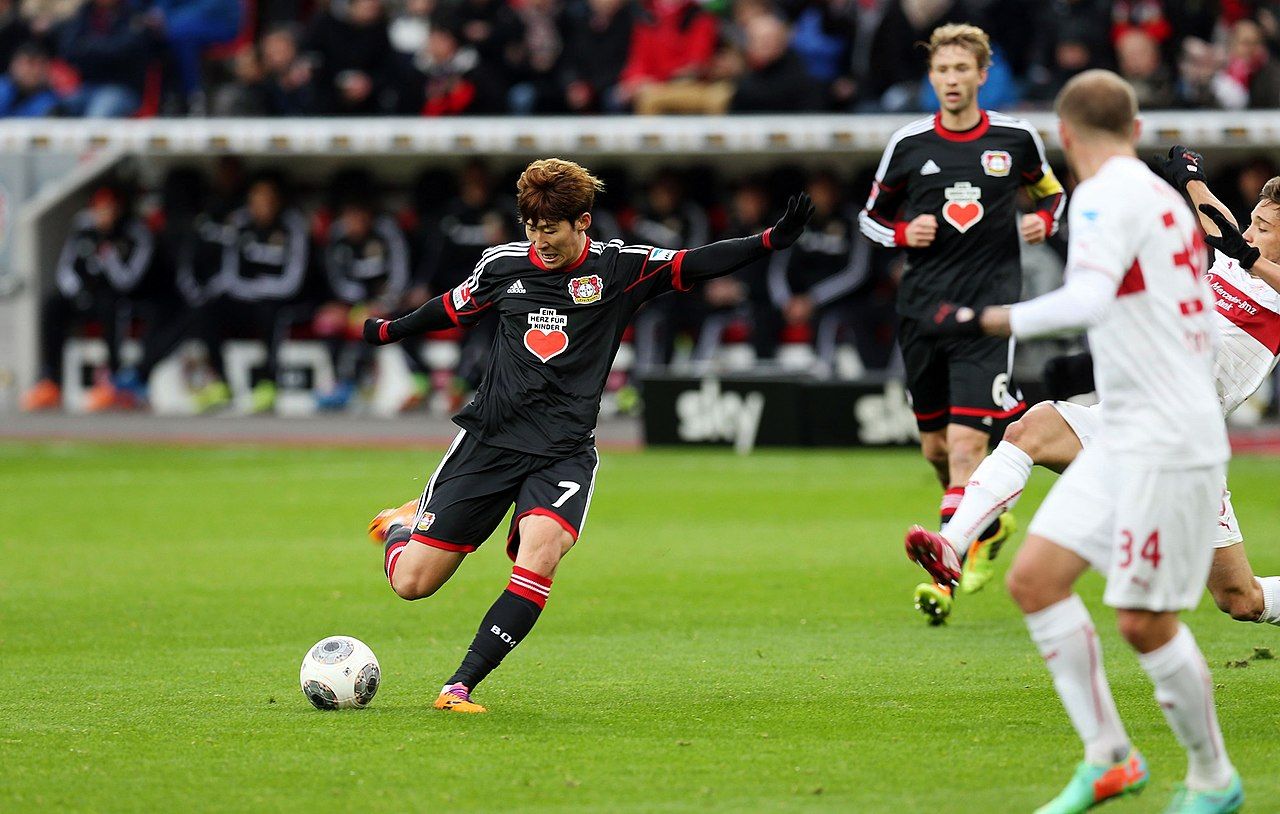 Behind South Korean Football Star Son Heung-min, There Is His Father
On neatly cut green, artificial turf, 25 teenagers were hard at practice. "Faster, faster!" yelled their coach, Son Woong-jung, while forcing his charge to count out loud the number of times they dribbled their balls. The kids, breathing heavy, alternated dribbling with push-ups and lunges throughout the session. Sometimes, Son scolded or praised students by shouting their names. It also had the effect of keeping them focused.
Son is the father of Tottenham forward Son Heung-min, who also happens to be South Korea's biggest football star. During the 2018 World Cup, Heung-min lived up to the country's lofty expectations. Although Team South Korea eventually crashed out of the group stage, Son showed tremendous grit even when he and his teammates were trailing Mexico 2:0, scoring a goal during injury time. He was also one of South Korea's two scorers during the match against Germany, knocking the defending World Cup champions out of the games.
But unlike most soccer standouts, Son, now 26, never played a match until he was 14. And he has openly credited his father's unconventional training method with his own successes, telling Evening Standard in March: "He gave me my attitude, helped me with so many things. He still lives with me and comes to every home game."
Today, Son Woong-jung, 50, runs a popular football academy in the relatively small city of Chuncheon, about 75km east of Seoul. But long before Heung-min's 41 goals in Bundesliga and 30 goals in the English Premier League, Woong-jung coached a local elementary school team, training his two sons Heung-min and Heung-yun in between. As a former professional footballer in South Korea, Woong-jung blames his own lackluster career on thinking too much about winning and not enough about fundamentals. That problem, he says, is shared by many South Korean players. He retired in 1990 after becoming injured, and he didn't want his sons to make the same mistakes.
Rather than pushing them to win as many matches as possible, Woong-jung decided to apply a radically different approach to his two sons, whom he drilled relently in basic skills. "Obsession with winning at a young age naturally leads to excessive training [beyond what young players can handle]. This will ruin their careers," he said. "This is also the reason why famous national players like Park Ji-sung and Ki Sung-yueng suffer from knee problems."
In 2010, when Heung-min was already a celebrity playing for Hamburger SV, South Korean broadcaster SBS aired a segment about his early training. It showed that everything went according to the senior Son's own timetable. His two sons were not allowed to move on to learning a new skill until they mastered an old one to the extent that their father required. Practice sessions were limited to two hours at a time, to prevent overtraining and injury, but Heung-min also spent three or four hours a day only on ball lifting. He often lost his toenails. When his sons became a little lazy, Woong-jung was not hesitant at all to land blows on them. "I hit my sons a lot because sometimes it's necessary. I know Europeans don't understand this though," Son told me and a Dutch journalist I accompanied to his academy.
But perhaps thanks to this rigorous regimen, Heung-min belongs to a select group of footballers who can truly play with both feet. (Citing research done at the London School of Economics in 2009, The Telegram proclaimed in 2015: "only 18 percent of the players in the top five European leagues are comfortable on either side.")
The elder Son's close—some might say borderline abusive—attention to his children is not unusual, at least in the context of South Korean sports. Pak Se Ri, the country's first and the world's youngest golfer ever to be inducted into the World Golf Hall of Fame (in 2007), was, in a manner of speaking, also made by her father, Pak Joon-chul. According to his 1998 interview with The New York Times, Joon-chul made Se Ri train "every day that she was not in school … regardless of whether there was a heat wave or freezing cold. … Sometimes, in the cold, icicles would form in her hair while she practiced." An anecdote about how he left his young daughter alone in a cemetery to develop "her bravery" has become a national legend. (In a recent interview, Joon-chul said that the story had become exaggerated over the years.)
Another South Korean sports star, figure skater Kim Yuna, is as famous for her talent and success as she is for her mother's dedication. National daily Donga Ilbo said, "In Kim Yuna's conquest of the [2006] World Junior Figure Skating Championship, her mother [Park Mee-hee]'s support behind the scene was essential." (A 2009 New York Times profile noted the influence of such parables: "However extreme that may sound, Ms. Park's achievement in producing a high-achieving child—and similar accounts of parental devotion behind other Korean athletes and performers—inspires thousands of other Korean mothers.")
Son Woong-jung certainly shares that parental devotion, while emulating the emphasis on basics in a sport South Korea is known for excelling at: archery. After a South Korean archery coach, Lee Ki-sik, agreed to train USA Archery from 2006, Don Rabska, an American coach who worked with Lee, described to Reuters what he found out about the typical South Korean training regimen: "First they spend months learning the proper stance. Then it's months learning to raise one arm, then both arms for a couple of months." He marveled, "Those kids have six months intensive training before they shoot their first arrow."
That said, Son Woong-jung's curriculum cannot be called entirely South Korean. In designing it, Son says he watched training videos of the famous Ajax Youth Academy for young footballers, based in Amsterdam, Netherlands. "When we see well-developed countries or companies, they invested a lot of time and effort in the basics in every way. Football is the same," Son said.
At the academy he now runs, Son Woong-jung applies the same training regimen he used with his sons, attracting believers like Jung Hee-sook. Moving her family to Chuncheon from another city 63 km away, she enrolled her son, Ryu Dong-wan, 16, in Son's program and sits in the sun every day with other mothers to watch him and 24 other football hopefuls repeat basic maneuvers. (Except on occasional overseas trips for training, the kids never play a real match.)
"At other places in the country, they mainly play matches and there is no time and environment to learn the basic techniques. Here you can get training according to the coach's philosophy and the children's age," said Jung, who "gave up her everything" to see her son train at Son's academy. "This place aims to cultivate global talent, and some trainees go abroad for testing or get scouted outright. In fact, some who started here are now playing overseas."
Son Woong-jung conceded that training is not everything. About his other son Heung-yun, who is now one of the coaches at the academy, he stated coldly, "He just had no talent." But he is also proud of his ability to discern raw talent so that right people get the right training. "Believe it or not, I have a trained eye with which I can make a snap judgment of a young player's talent when they first come to see me, and it's 70-percent accurate."
He is now starting an entire education system for prospective footballers, complete with a school where older pupils can learn English, reading and other "life skills" that they might need should they not become professional players. It is to be located just a two-minute drive from the elementary school Heung-min attended, in a park that will also contain football fields, futsal grounds, a club house, a gym and a museum dedicated to Heung-min.
With Woong-jung's ambitious plan, Heung-min's successes as a South Korean football player abroad might not end up being a one-time miracle.
Cover image: Son Heung-min, playing for Bayer Leverkusen, participates in a 2014 charity match sponsored by LG Electronics. (Credit: LG Electronics, licensed under the Creative Commons Attribution 2.0 Generic license)
Become a subscriber to access all of our content.