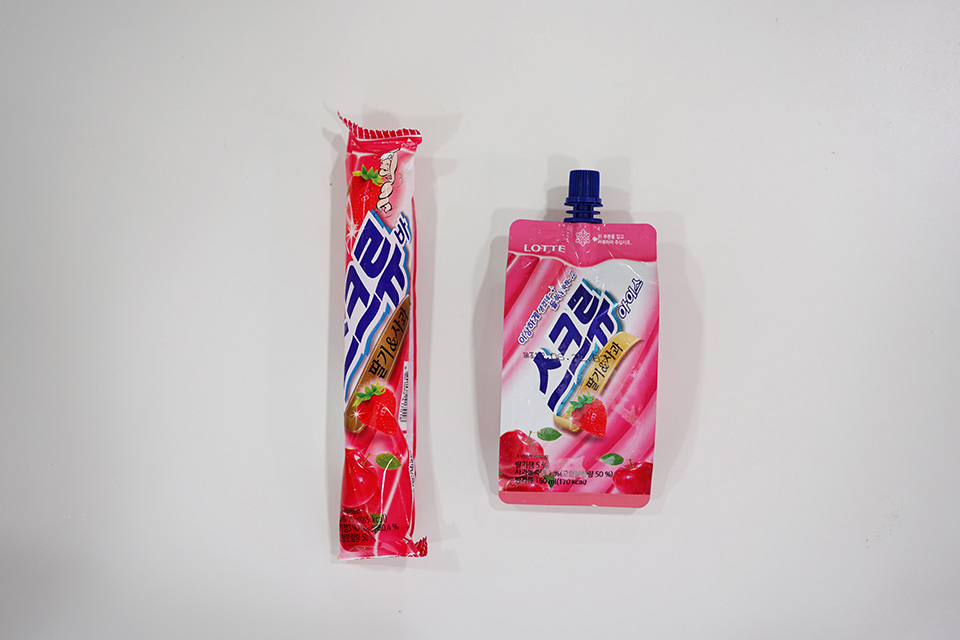 Coping with the Heat? South Korean Frozen Treats to the Rescue
There comes a certain type of trust with tearing open the same exact ice cream package you've had for decades, and being able to predict its exact flavor. For most South Koreans, this is standard business — convenience store ice creams that were a staple of childhood are still around today, evoking a sepia-colored nostalgia.
The nation's ice cream craze started in the 1950s with nothing but sugary water frozen on a stick. A decade later came mass ice cream production in the form of Samgang Hard, which gave rise to the term "hard," pronounced hadeu, to describe ice cream bars. Since then, the country has seen no end to the hype about frozen treats — from Bravo Cone to Together, the first South Korean pint ice cream, and Jjoo Jjoo Bar, wrapped in squeezable plastic packaging — with the continued longevity of these products almost part of a national identity.
With the summer heat reaching its peak, ice cream sure would come in handy. But if you're not South Korean and are struggling to decide on a flavor, here are some reliable classics and their latest twists, tasted and reviewed by the team at Korea Exposé.
Bungeo Ssamanko
Company: Binggrae
Release: 1991
Original: Carp-shaped crust filled with vanilla ice cream and a hint of red bean
The sweet potato version — which does not have the standard layer of red bean — left us thoroughly unimpressed by the cheap taste of the vanilla ice cream filling, made even worse by sweet potato syrup. The Korea Exposé team was largely critical of the overwhelming chestnutty flavor: An ice cream should be light and fresh, but this was "even heavier than drinking a sweet potato latte at a café."
Green tea didn't fare half bad. The ever-so-slightly bitter green tea ice cream and sweet red bean struck a nice balance. But ultimately, neither version could live up to the original.
"They taste like something you would try once after seeing in the grocery store," one taster said. "But after you have it, you realize the original is still the best."
Sweet potato: ★★☆☆☆
Green tea: ★★★☆☆
Original: ★★★★☆
A 2013 Bungeo Ssamanko advertisement
Melona
Company: Binggrae
Release: 1992
Original: a green, rectangular bar on a humble popsicle stick, with an artificial yet refreshingly fruity taste
Melona is a quintessential South Korean treat — not for flavor or quality, but because it stands for summer in many people's minds.
But ironically enough — considering the name literally refers to a melon flavor — Binggrae has made the same mistake it did with Bungeo Ssamanko, trying to capitalize on its original success with a range of new flavors but failing miserably.
None come remotely close to garnering the same fanbase, but Korea Exposé took a chance with the banana flavor. And, needless to say, it was sorely disappointing, leaving us with little to say. One taster described it as "frozen banana milk." It is boring, lacks nuance and maintains the same, artificial flavor one might expect from any such snack.
Original: ★★★☆☆
Banana: ★☆☆☆☆
Nougat Bar / Nukeu Bar
Company: Haitai, Lotte
Release: 1974, 2013
Original: a smooth, vanilla ice cream bar covered in a thin, hard layer of milk chocolate
Nougat Bar (pronounced Nugaba), the oldest among our selections, is easily recognizable, with its neutral-toned wrapping proudly boasting "since 1974." It offers a refreshing, clean vanilla flavor with a touch of caramel.
But the Nougat Bar has a fearsome opponent now: the Nukeu Bar. When Lotte first released Nukeu Bar, Haitai which created Nougat Bar claimed it constituted copyright infringement. (I mean, just look at Lotte's packaging.)
For us, this was the one "spinoff" ice cream that beat out the original. While stealing every element of the original, Nukeu Bar chose to embed peanuts in the outer layer, which staff writer Jieun Choi described as "adding more depth" to the bland sweetness of the Haitai version.
Nougat Bar : ★★★☆☆
Nukeu Bar: ★★★★☆
Screw Bar
Company: Lotte
Release: 1985
Original: a white, apple-flavored core wrapped in hard swirls of strawberry flavor
When the hot pink Screw Bar — more a popsicle than ice cream — was released in the mid-1980s, its manufacturer and Binggrae's fearsome competitor Lotte described it as twisty and "fun to eat." But despite Screw Bar's firm association with the spiral shape, the company upped its marketing game earlier this year with new pouch packaging.
Putting ice cream in a plastic pouch first became popular in 2003 with the release of Seolleim ice cream, which comes in the same packaging style. And when Lotte chose to revisit the trend with Screw Bar Ice and two other classics this year, the move proved to be wildly successful.
Though the flavor remains the same, the change did offer a new eating experience. One taster commended the new packaging's convenience — "I don't have to worry about it melting" — while another said she still preferred the original popsicle stick, if only for the delightful sensation of biting into something hard and frozen on a muggy summer day.
Original: ★★★☆☆
Screw Bar Ice (in pouch): ★★★☆☆
A 1998 Screw Bar advertisement
Cover image: Lotte hit it big with a repackaging of its classic Screw Bar, 32 years after its initial release. (Jieun Choi/Korea Exposé)
Become a subscriber to access all of our content.