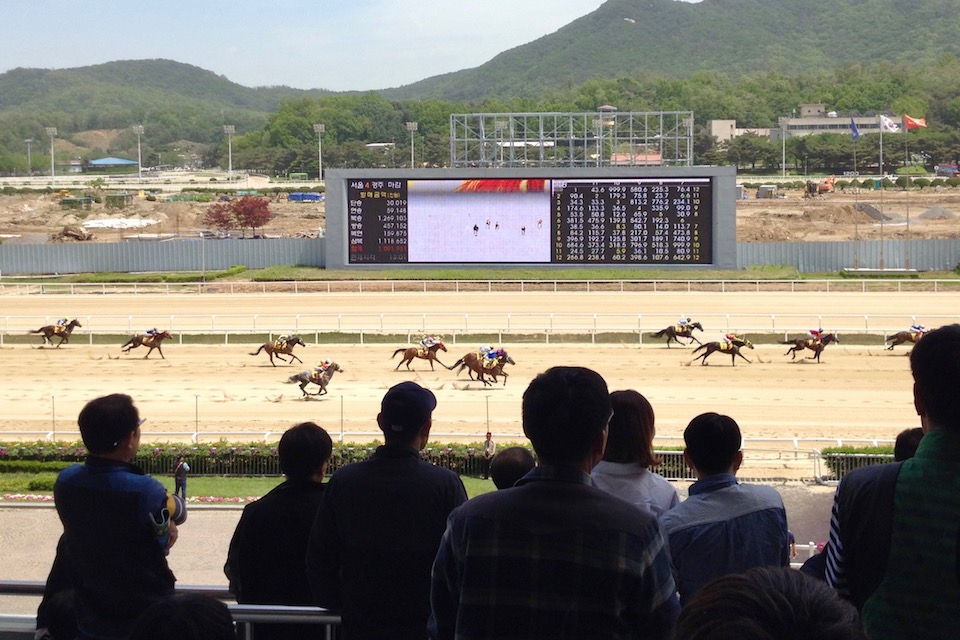 Just before a race begins, loudspeakers pipe in bouncy music suggestive of a military procession. The hundreds of spectators rise from their seats, waving programs and yelling encouragement to the horses as they break from the gates.
"Giddy up!" one elderly men yells in heavily accented English.
As the horses hit their stride, a roar of excitement and anxiety grows from the crowd — almost entirely men between the ages of 40 and 70. They have money on the race. Several men yell full-throated expletives; the racing park appears to be one of very few places in South Korea where open use of foul language in public is tacitly accepted.
Seemingly in a flash, the horses race past the spectators, one reaches the finish line before the others, and the race is over. The winner is announced, and a massive screen shows a slow-motion replay of the close finish.
"I won! I won!" said Kim Joon-kyun, a middle-aged man, as he bounces up and down with delight.
Kim said he comes to the races at Let's Run horse racing park one or two Sundays a month, whenever he doesn't have a social engagement like a wedding to attend, and isn't too tired. "It's just fun, that's all," Kim said of his attraction to horse racing.
Is the fun watching the horses run fast, or the prospect of winning money? "It's both," Kim said with a smile before scampering indoors to collect his winnings at one of many booths.
***
In principle, gambling is illegal under Article 246 of South Korea's Criminal Act. For the most part, gambling is not permitted, ostensibly to prevent families from financial ruin. Until the 1990s it wasn't uncommon for the evening news to carry footage of police raids on illegal gambling dens (made up of middle-aged men and women playing cards). In the 2000s many a crackdown targeted an arcade game called Bada Iyagi, modelled on Japanese pachinko. But there are exceptions to this law, as casinos operate in South Korea (mostly catering to foreign nationals), and various forms of betting on sport are legal. The exceptions are generally made in the name of fostering domestic industries and improving options for leisure and recreation.
Recent years has seen an uptick in officially counted gambling expenditures in South Korea. Sales of lottery tickets are at an all-time high, and gambling sector revenue has grown more than seven percent each of the last two years. These trends are taking place in a country where more and more people are finding it impossible to get ahead through the conventional channels of education and employment. Perhaps more South Koreans are rolling the dice, hoping they can win themselves a higher standard of living through a lucky hand.
Horse racing is sometimes called the "sport of kings", but there's little that's regal or luxurious about Let's Run. The park is a sprawling complex nestled into a mountainous landscape on the southern fringes of Seoul. The presiding Korea Racing Authority has worked to erode the facility's association with gambling, and to build a more family-friendly image. To foster this cleaner image, smoking and drinking in the stands were prohibited years ago. The park features swathes of green space, several restaurants and spaces with seating where patrons watch live feeds of horse races in other cities.
As individual bets are capped at 100,000 won by the South Korean government, there aren't huge sums being won and lost by each bettor. Nevertheless, horse racing in South Korea is still a significant business: According to the Korea Racing Authority, betting turnover is the seventh largest in the world, and the third largest in Asia after Japan and Hong Kong.
Inside, the complex looks a lot like a bus or train station, where instead of departure and arrival schedules, assembled crowds peer up at monitors with betting odds and race schedules. The horse race track is also unique in South Korea as a place where paper still reigns over screens. In the downtime between races, almost all patrons pore over broadsheet betting guides, sold by the entrance to the racetrack. The program's inside pages are something one rarely sees anymore: broadsheet pages covered almost entirely with small text, and almost no images. They detail reviews and predictions for all the horses racing that day.
On weekends, the tracks in Seoul and Busan time their races to take place twenty-five to thirty minutes apart, so as to avoid overlap. In between races in Seoul, many patrons scurry indoors to place bets on the next race in Busan, and then watch the proceedings on televisions inside.
In understanding South Korea's strict gambling laws, it is helpful to refer to Spanish philosopher Miguel de Unamuno's concept of the 'tragic sense of life.' Unamuno described this sense as a close awareness of one's own limitations, and a constant awareness of death. The future isn't guaranteed and everything could go wrong, in short. Life comes with the unshakeable risk of tragedy.
Public administration in South Korea comes with a generous helping of paternalism; the government often doesn't trust its citizens to behave responsibly, and enacts laws that limit discretion over, say, how someone might use their own money. There is also a sense that the state exists to create virtuous, morally sound individuals, and legislation is necessary to stamp out vice (adultery was a crime in South Korea until 2015).
Among the older generation, those who remember living through the Korean War (which, as the international media is duty bound to remind us, is technically ongoing), have experience of poverty and economic hardship and often don't assume continued prosperity. To many of them, there is a sense that the country's economic success was hard fought for, and must be fiercely protected.
Lee Hyung-soo, an attorney at HMP Law in Seoul, says that South Korea's strict gambling regulations are intended to protect regular citizens from the threat of gambling addiction. "Some people are intoxicated by gambling, and it leads them to ruin their life and family and everything they have," Lee told Korea Exposé.
"There is no specific threshold, but the courts make exceptions, permitting things that are in line with Korean customs, and where only moderate sums of money are involved. Men betting on races or sports is generally considered okay," Lee said.
***
"It's just a hobby," said Hwang Seung-cheol, a man in this 60s, as he stared at his program through a pair of thick bifocals. Hwang's program was covered in notes he had made in pen, with certain facts about each horse underlined or circled.
In between races, Hwang explained that he retired a few years earlier from his job at a logistics company, and said he finds retirement somewhat boring. He is still in touch with former colleagues, and some friends from his university and high school days, but said they don't manage to get together more than two or three times a year. "I have a son and a daughter, but they're both grown up and very busy."
He said what he enjoys most is the intensity of the races, which only last a few minutes each, the speed and power of the horses, under the control of skillful jockeys. But he does still bet on each race. "That's just to make it a bit more interesting," he said. "I know I'm not going to get rich."
Cover Image: Spectators stand up to watch horses gallop toward the finish line at Let's Run horse racing park in Gwacheon (Se-Woong Koo/Korea Exposé)
Become a subscriber to access all of our content.