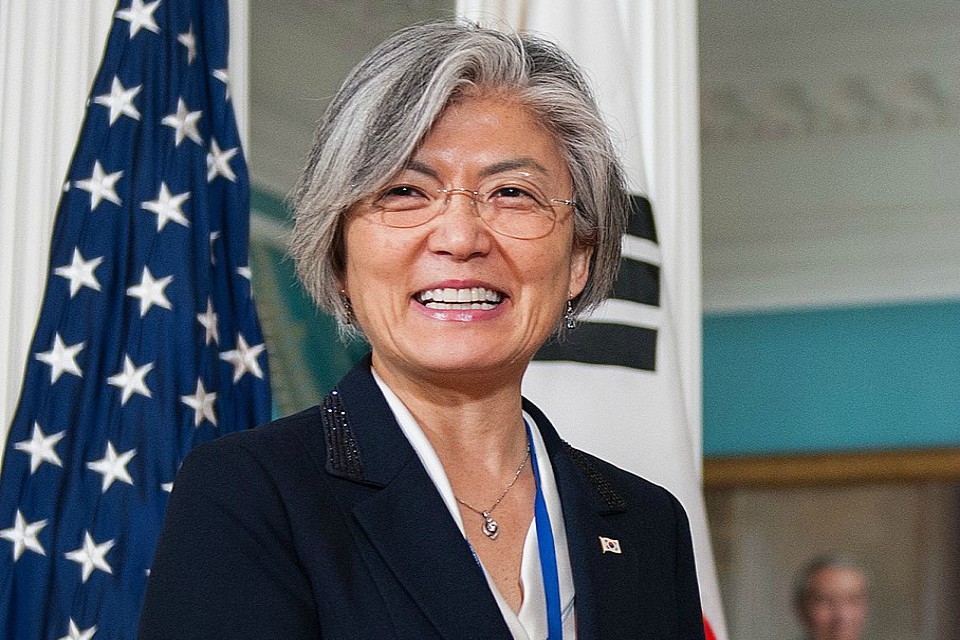 S. Korea Has a Female Foreign Minister. But "Women Are Still Inferior."
Segye Ilbo reporter Kim Ye-jin was having dinner on Sep. 14 with fellow journalists covering the foreign ministry. A high-ranking ministry official was also present. This wasn't unusual; it's typical for journalists reporting on government ministries to dine with officials. But unusually, Kim wrote about the dinner and the anonymous official, in an article on Segye Ilbo labelled as "exclusive": "Out of the blue, he said, 'Women are inferior…. In my time, women didn't even go to school because they weren't good at academics. How did they turn the table?'"
Kim wrote that this wasn't all. The official, who is identified only by his position — "bureau chief" (gukjang) — reportedly criticized women's sense of entitlement. "In five years, women will naturally get managerial positions [within the foreign ministry]. What more can we do for them? … These days, women have the power." Simultaneously, the man seemed to gravely misunderstand the plight of working women. "If women have babies, they should raise them," he said, according to Kim. "Nurturing children is a joy but women are too possessed with a victim mentality."
It's not clear who this official is, and it's likely he let his mouth run under the assumption that the meeting was off-the-record. This is not the first time a high-ranking official was called out by the media for being ridiculously offensive, and disturbingly at ease about acting so. Last year, Na Hyang-wook, former chief of the Education Ministry's policy planning bureau, told reporters at an off-the-record dinner, "The masses are like dogs and pigs and should be treated as such. It's just enough to feed them and keep them alive." He was soon fired, but his spirit — of deep-seated prejudice and discrimination, packaged in arrogance and a sense of entitlement — apparently lives on.
Kim Ye-jin told Korea Exposé that the official's remarks during the dinner were not off-the-record. "His remarks were, to me, a type of verbal abuse," she wrote in an e-mail. "During the dinner I questioned his statements numerous times and asked him if he was joking. I explained to him why he shouldn't say such things…. But instead of correcting himself, apologizing or stopping [the behavior], he asked me if I'm not being too sensitive."
If her reporting is true, it is highly disturbing that a man of his stature so uncritically and comfortably made such misogynistic remarks — in front of a group of journalists no less, even if it was technically at an informal dinner.
The current foreign minister happens to be Kang Kyung-wha, the first woman ever to be appointed to this position. In government, a gukjang belongs to either level 2 or 3 in the pyramid that categorizes public officials by nine ranks. This official is just one or two ranks below Kang.
The foreign ministry was unable to verify the specific contents of the Segye Ilbo report. The ministry's press rep told Korea Exposé, "The minister has instructed the ministry to thoroughly investigate the details of the reporting and the official's specific remarks, and respond with the necessary measures depending on the results of the investigation."
Kim claims to have told the official at the dinner that his remarks were misogynistic. He reportedly answered, "No, they're not. I like women…. Aren't you being too sensitive? You know, I once sat in on an educational session for preventing sexual harassment [at the ministry]. It made me so uncomfortable, I couldn't listen to any more of it. In the middle of the course I told the instructor, 'That's it for me,' and I left."
When Kim called the official for a follow-up, he apologized, "I'm sorry if you felt uncomfortable. I was speaking comfortably because I was around comfortable people. I didn't have bad intentions."
Editor's Note: At the time of publication, on Sep. 18, 2017, Segye Ilbo reporter Kim Ye-jin hadn't responded to Korea Exposé. She responded over e-mail on Sep. 21; the article has been updated to reflect her comments.
Cover image: Kang Kyung-wha, South Korea's first female foreign minister, on a diplomatic mission in Washington D.C. (Source: U.S. State Department)
Become a subscriber to access all of our content.