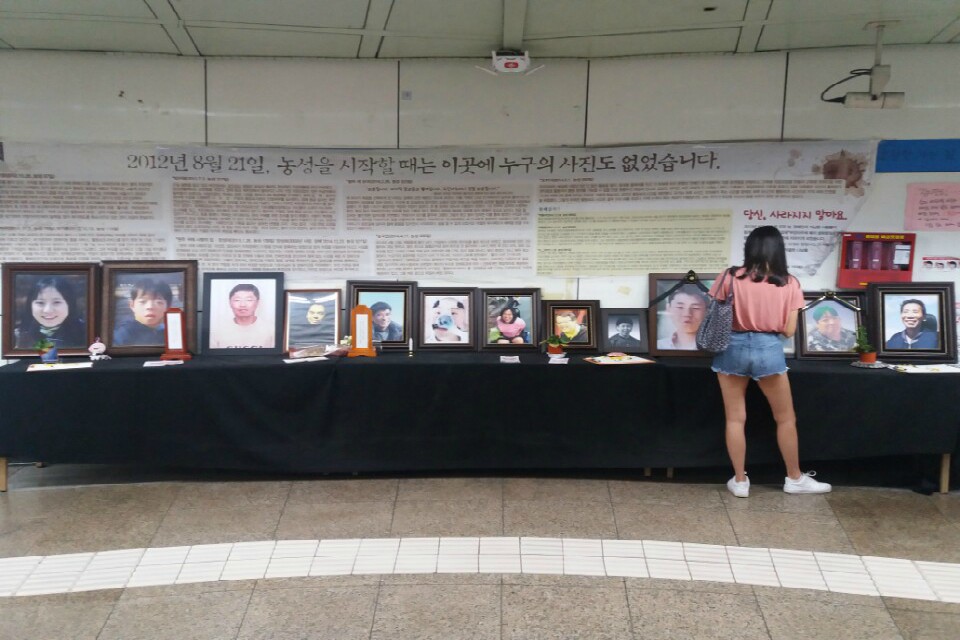 KÉ Journalism School: What the Students Taught Us
One class, Sewoong and I were talking to the KÉ: Journalism School students about how journalists use social media. We were talking about Twitter, showing them the tweets and retweets, why it has been effective, what it means in the world of news.
Then we asked them if they use Twitter. The students, still in high school, shook their heads. None of their friends did. "We use Snapchat," they said. They showed us how they get news from CNN's Snapchat, how they can monitor their friends' current locations on a map 24/7 ("What?! Why?!" the aging editors asked), why they use the platform over others and what that means about the changing behaviors of communication.
This was one of the most valuable aspects about our summer program, from the teachers' perspectives. Tackling topics we think we know, deconstructing them with the students, and reassessing our own assumptions about what news is. After all, it's one thing to read about the "fast-changing pace of journalism and social media," and another thing altogether to dissect this pace with people from different generations. The students got the opportunity to reflect on their own behaviors as consumers of news; the teachers got some schooling in Snapchatting.
The 4-week-long summer program started out intentionally small, with two high school students from Seoul Foreign School. Both of them were part of the school newspaper; both of them had little experience reporting outside of the school. So on the first day of class, we dropped them off in the middle of Dongdaemun and told them to just approach people and find a story idea, any idea. The objective wasn't really to uncover a precious story; it was more to engage them in the very act of talking to strangers, conducting themselves transparently as reporters, and yes, getting plenty of rejections.
"I was like, 'What was going on?'" said Hyeyoon Choi, a participant and a rising senior at SFS. "But we got inspired and got ideas by going out. When we went out, as opposed to just staying inside, we were looking around, observing a lot of things. We were curious about so many things."
"I got to interview people and a lot of things I normally wouldn't ever do. I really liked it, even though it was scary," said Sydney Chun, a rising sophomore. She ended up writing her feature assignment on Dongdaemun, talking to merchants and tourists, researching the history and current tourism statistics.
In addition to the short-term tasks in the classroom — e.g. analyzing different North Korea reports, cold-calling sources, writing articles — the students had to work on a long-term feature. The Korea Exposé editors guided them through the process: solidifying a good story idea, incorporating different perspectives, actually approaching the sources, conducting the interviews, and of course, a lot of editing. Sydney had to return to Dongdaemun multiple times to conduct interviews and verify information.
Hyeyoon went all the way down to Pyeongtaek (about two hours away by car from Seoul) for the feature assignment. She visited the father of Song Hye-hee, arguably the most famous missing teenager in South Korea. Song Gil-yong was kind enough to give us his time even while hospitalized. Hyeyoon went prepared; she had done thorough research of his story and the larger context of missing children. She had her questions and practiced how to weave them in naturally during the actual interview, so that she could have a flowing conversation with him (as opposed to a #1, 2, 3, 4 interrogation).
"For me it was difficult because I didn't know how to reach out to sources, validate everything," she said. "I spent so much time working on one page."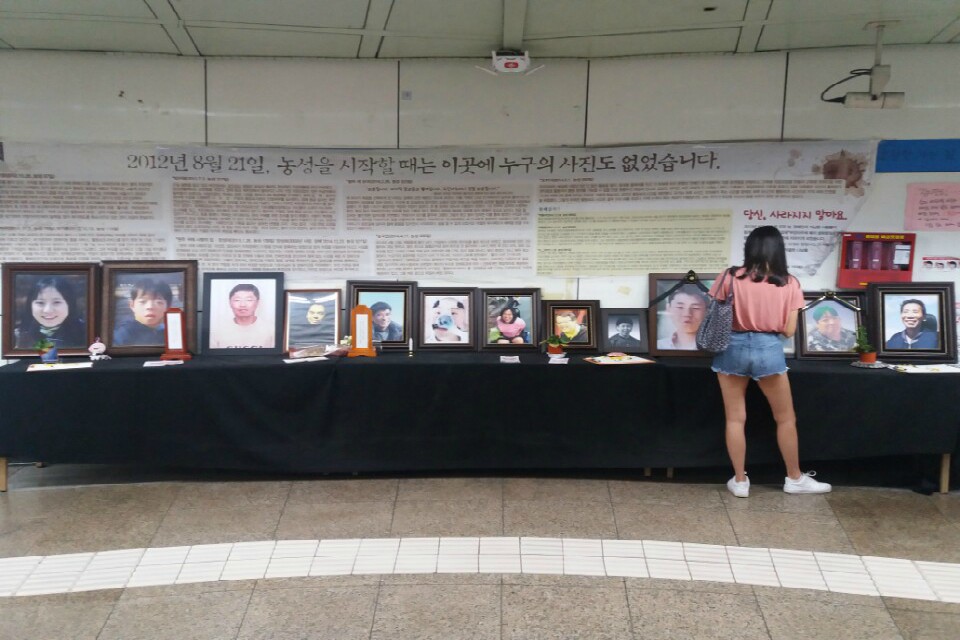 "I think my favorite class was going to Gwanghamun and watching you conduct an interview," said Sydney, referring to the time we talked to activists fighting for the rights of people with disabilities. We had prepared for the interview together, brainstorming questions and researching. "I didn't really know the process of how the interviewing was like. I've interviewed teachers and peers, but it was so cool watching you call [the sources], write notes and just going there to talk."
The key objective of our program was to expose the students to as many settings — and people — as we could, while addressing some basic issues of reporting in South Korea. To help with the teaching, we had the help of many professional journalists and experts in the media world. Their insight was invaluable to the program.
AP reporter Youkyung Lee was one of the guest lecturers. She talked about reporting on the leukemia (etc) victims who used to work at Samsung's semiconductor plants. She gave us insight on how she approached the sources, as well as the difficulties she faced. Before she arrived, the students prepared by analyzing her article, comparing her thoroughness with articles from other outlets, and discussing what made the reporting strong and why.
The preparation helped the students formulate more questions, which they were able to ask constantly, thanks to the intimate setting of the classroom.
KÉ: Journalism School is still in its infancy, but we were fortunate to have motivated students with lots of questions. We are extremely thankful to them for participating. The learning wasn't one-directional; the editors take away as much as we hope the students did.
The next program will most likely take place during the winter, with a slightly different curriculum to adapt to the changing reporting climate of that time. But we hope to preserve the intimacy and diversity, which were the key strengths of the first program.
And by winter, the editors will have mastered Snapchat.
All the photos were taken by Haeryun Kang for Korea Exposé.
*
Check out more on the KÉ: Journalism School program, including what the students produced:
Become a subscriber to access all of our content.