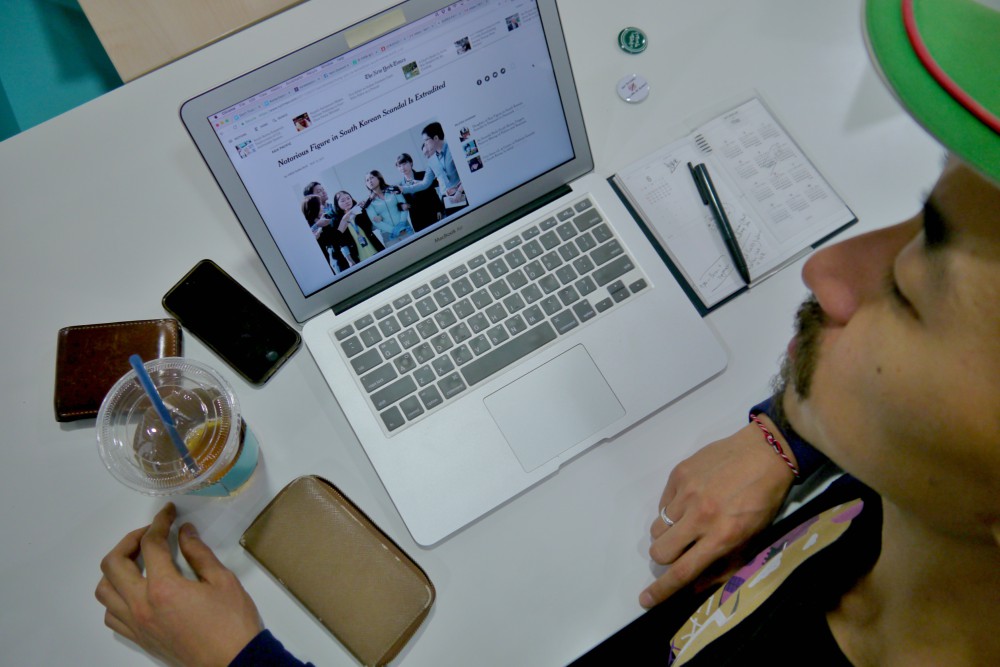 KÉ Weekend Journalism School: 2018 Winter Curriculum
Korea Exposé invites you to join our journalism winter school!
Whether you want to become a serious journalist, whether you want to write about social and cultural issues in English, or whether you just want to improve your English, all are welcome!
YOU WILL GET:
Valuable insights into how English-language journalism operates
A chance to network with working journalists who write for big names in the industry
Know-how of producing news articles
A polished portfolio with journalist feedback
A chance to publish on Korea Exposé
A possible internship at Korea Exposé after the program
No previous experience or education required. You just need a laptop, a reporter's notebook, a smartphone and fluency in Korean and English.
Time: Jan 6, 13, 20, 27 / Saturdays 13:00 – 17:00
Main instructors: Se-Woong Koo, Haeryun Kang
Participants: max. 10 per class
Fee: 500,000 won / 4 classes (payable to Woori Bank,1005-703-169560)
TENTATIVE SCHEDULE AND CURRICULUM
The classes will focus intensively on actual reporting, writing and editing. Students will be expected to approach strangers, talk to sources on the phone, and produce short articles every session and a long-term feature story. Quality articles will be published on Korea Exposé.
Class 1 (Jan 6): Introduction: How to find and pitch a story
You'll be exploring a neighborhood in Seoul, approaching strangers and searching for story ideas. We'll go over how to reach out respectfully to sources. How do you make them trust you? AKA Cold-Calling 101. Guest lecturer: Steven Borowiec, KÉ's politics editor, on reporting during the Sewol disaster.
Class 2 (Jan 13): North Korea & Journalism Ethics
How does North Korea present huge ethical dilemmas for journalists today? How can we report credibly on the "hermit kingdom"? Guest lecturer: Kim Gamel, Korea correspondent at Stars & Stripes and former Middle East correspondent for AP.
Class 3 (Jan 20): It's All About Multimedia & "I" in News
Why are more New York Times reporters incorporating "I" into their articles? How is opinionated writing becoming more popular in journalism today? Let's look at some fascinating storytelling experiments in journalism. Guest lecturer: Matt Stiles, data journalist and Korea correspondent for LA Times, on how he cracked data journalism.
Class 4 (Jan 27): Covering Big Institutions
It's not always fun — and definitely very hard — to cover government and big business sources. How do reporters do it? Guest lecturer: Ben Jackson, KÉ's environment editor, on covering how South Korea's big companies are ruining the Indonesian rainforest.
You'll also be presenting your feature article on the last day; well-written pieces will be selected for intensive editing and publication on Korea Exposé.
Instructors and Guest Lecturers
Se-Woong Koo, instructor / Publisher and Co-founder @ Korea Exposé
Haeryun Kang, instructor / Managing Editor @ Korea Exposé
Ben Jackson, guest lecturer / Environment Editor @ Korea Exposé
Steven Borowiec, guest lecturer / Politics Editor @ Korea Exposé
Kim Gamel, guest lecturer / Stars & Stripes correspondent, former AP reporter in the Middle East
Matt Stiles, guest lecturer / Data journalist, LA Times correspondent
Classes may be cancelled if demand is insufficient. In that case your payments will be refunded in full.
For more information, contact us on our Facebook page at KÉ Journalism School, or email us at bombom[at]koreaexpose[dot]com.
Become a subscriber to access all of our content.