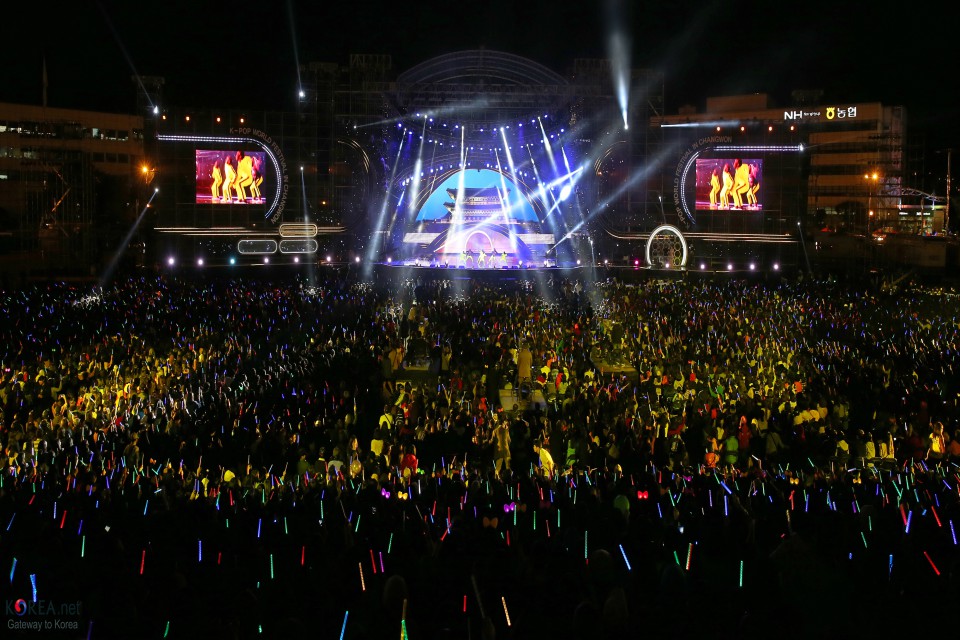 The Other Side of K-pop and Korean Music: Labor Abuse
Korean music is synonymous with glamorous K-pop stars like PSY, Big Bang, Girls' Generation and Super Junior. But they are a lucky few that can earn tens of thousands of dollars or more with each performance. They are a very small part of the music industry in South Korea.
Earlier this year, indie musician Lee Lang made headlines for selling her trophy to the audience right after receiving it at the Korean Music Awards.
"My income in January was 420,000 won (around 370 U.S. dollars)," she said, before starting the bidding. "Not just from my music sales, but the total. Thankfully, I made 960,000 won (840 dollars) in February. It is difficult to make a living as an artist. It would have been great if there was some prize money to this award, but it is not the case. So I think I'll have to sell this trophy."
An alarming portion of South Korean musicians don't get paid for their work. Unfortunately, this mistreatment is commonplace. Singers and songwriters often complain that there is no law, no contract and no average price in the music industry. Labor exploitation is the norm.
Kim Hyeong-seob, the drummer of the indie band Another Day, shared his experience. "When my former band was invited to a cultural event two years ago, an employee of the organizing company said we'd get paid 300,000 won (less than 270 dollars). After we performed, he changed his terms: 'There were other teams who played much better than your team,' he said. 'You should appreciate just being on the stage.' This basically translated into 'no pay.'" Kim said practices like this are prevalent in the music industry.
It's not uncommon for musicians to perform without knowing how much they would be paid. On Mule, an online community for musicians, posts seeking artists to perform at events are uploaded everyday. (The name of the community is ironic but not inappropriate for describing toiling musicians.) Very few of the job postings state how much the payment would be. Some posts even ask for 'charity talent,' which means to perform for free.
"Even verbal contracts are rare," said Esssin, an indie singer and manager of the education and policy team at Korea Musicians' Union, a labor rights organization established in 2013 for musicians. "When artists ask about the fee before a performance, organizers commonly respond, 'How dare you ask for money? You should be thankful just to be on stage.'"
The mistreatment, of not receiving proper compensation, doesn't happen only to indie musicians, many of whom perform and busk in Hongdae, a busy college neighborhood in Seoul and a hub for musical talents.
"Unless you are that 'hot' musician of the moment, this sort of humiliation happens frequently to musicians," said Esssin. "Music professors and even well-known singers are sometimes subject to this mistreatment," he said, referring to the disadvantageous labor conditions for musicians.
A former member of a K-pop boy band, speaking on condition of anonymity, agreed. "Singers with no names, who belong to the smaller entertainment agencies, are the most vulnerable members within the music production system. My K-pop group was basically forced to sing for free by our company and event organizers. We had to perform many times with no income, just waiting for the day we'd hit fame."
Lee Lang, an indie musician, sold her trophy to the audience directly after receiving it.
Even when an artist's music becomes popular enough to generate revenue, the financial situation for the musicians is not always much rosier.
When songs are distributed through streaming sites, musicians get the smallest bite out of the profit pie.
According to the Ministry of Culture, Sports and Tourism, a consumer pays an average of 14 won (1.2 cent) for streaming a song on a music distribution site.
However, according to Bareun Music Cooperative, a group aiming to improve profit distribution for musicians, many sites provide a monthly flat rate service (for limitless streaming), which cuts down the user price by half, to 7 won per song. Of this 7 won, composers and writers take 10 percent. Singers and instrumentalists get 6 percent. 40 percent goes to the company distributing the music on its website and 44 percent goes to the company that produced the music.
A common joke among musicians in the industry goes like this:
"If we can buy cigarettes with the profit from the song, we did O.K. If we can buy a pack of fried chicken, we have succeeded."
The origin of this exploitative practice may be partly cultural. Yun Jong-su, a manager at indie label Bunker Buster, pointed to the social prejudice that artists shouldn't ask for money. "This is a common perception: People think that artists are supposed to be hungry in their profession, that even though they're poor they should work passionately. This perception aggravates the situation for musicians, who must remain silent despite not being compensated for their labor," said Yun.
Advertisements about free music aggravate the situation: For example, in February 2015, Milk, a streaming app Samsung Electronics launched in 2014, used this catchphrase to entice consumers on their Facebook page: "Do you still pay to listen to music?"
Some artists say there is no such thing as a minimum wage in the music industry. "The minimum wage law does not apply to the music business," said Choi Hyeon-min, the leader of indie band M020.
"Power and fame rule the industry," he argued. "As an example, if a famous singer wants to sing the song of a rookie composer, the composer is commonly forced to give the song for free. Sometimes, even the copyright is not registered under the composer's name; there have been cases that the person who introduces a newbie composer to a famous singer steals the copyright [for the song]. Also, there is no standard fee for a performance. It depends on the unilateral decisions of the event organizers."
This lack of standard fees plagues even festivals funded by the government.
The organizers of this year's Chimac (fried chicken and beer) Festival in Daegu, which was held from July 19 to 23, attracted popular outrage after announcing that each member of a band would be paid only 20,000 won (around 18 dollars). That wasn't enough to cover the one-way bullet train fare from Seoul to Daegu for a single musician.
To make matters worse, the festival had secured a budget of 780 million won (around 685,000 dollars) through sponsorship from the Daegu government and numerous other public agencies, including the Ministry of Agriculture, Food and Rural Affairs. The festival's budget, compared to the meager compensation given to musicians, angered even more people.
Most musicians don't resist openly. They are afraid of being known as a 'rebel' and losing valuable opportunities to create songs and perform. "Companies with the power to produce music and organize festivals usually sit above the artists. Artists give up on speaking out for their rights and just continue to work," said Esssin.
"Performing means making a promise to the audience. Let's say we receive only 20 percent of the fee that was originally offered to us. It's not like we can only do 20 percent of the performance. We have to do 100 percent for the audience. Some companies exploit this reality to buy musicians' labor at a rock-bottom price," said a musician who gained popularity through YouTube and AfreecaTV, a South Korean streaming site.
She requested anonymity, because she was afraid that openly criticizing the music industry would ruin her career.
"To make a profit, the only possible way is to broadcast yourself online. It brings in advertising and helps grow your own brand as a musician," she said.
(Her fan club on Naver, a South Korean portal site, has about 100,000 members.)
Laws rarely help. It's not easy for artists to get support through the Artist Welfare Act, which came into effect in 2011 after the death of Choi Go-eun. Choi, an award-winning screenwriter, was found dead in her apartment that year, with an unsent note to her neighbor asking for some rice and kimchi. She had died of hunger, while suffering from pancreatitis and hyperthyreosis.
To be eligible for government support under this law, a musician has to submit a list of albums he or she made over the past three years and show that his or her annual income is more than 1,200,000 won (around 1,100 dollars) or 3,600,000 won for three years (around 3,200 dollars) — this minimum income is supposed to prove a person is viable as a professional musician.
"Considering it takes a long time to produce an album, this law doesn't reflect reality at all," criticized Yun Jong-su at Bunker Buster.
On Sep. 19, Korea Musicians' Union was part of a small protest at Gwanghwamun Plaza in downtown Seoul, organized by Laborers' Union of Culture and Arts, an alliance of workers from the different arts, including film, dance, theater and music. 15 people gathered in the square and demanded that politicians pay more attention to the working conditions of artists.
Some musicians are opting for new ways to survive rather than waiting for society to change. Bunker Buster has held a successful fundraising event, which brought in enough money to produce two albums and plan a concert, to be held in Hongdae Dream Hall on Nov. 4.
Bareun Music Cooperative is another example of musicians fighting for their rights: Established in 2014, the organization is comprised of around 2,500 singers in South Korea, not just from the indie scene, but also popular rock, jazz, and more. It aims to inform the public about the maldistribution of profit in the music industry, and demand a higher share of the profit for artists.
"To create a healthier ecosystem in the music industry, we are promoting revisions of the relevant laws and trying to change public perceptions of artist rights," Shin Dae-chul, Bareun's chairperson, told Korea Exposé.
(Shin is a member of the rock band Sinawe and one of the most famous guitarists in South Korea. His musician father, Shin Joong-hyun, is often called the 'Godfather of Korean Rock.')
Changing how some musicians themselves view their rights is another task.
"More musicians should be aware of the unjust conditions surrounding themselves, study the law and confidently demand what they should receive," said Esssin. "At the very least, we need to ask for a contract before working. If we hesitate to claim our own rights, society will never change."
Cover image: The other side of K-pop and Korean music is widespread labor exploitation. (Source: Koreanet via Wikimedia Commons, CC BY-SA 2.0)
Become a subscriber to access all of our content.