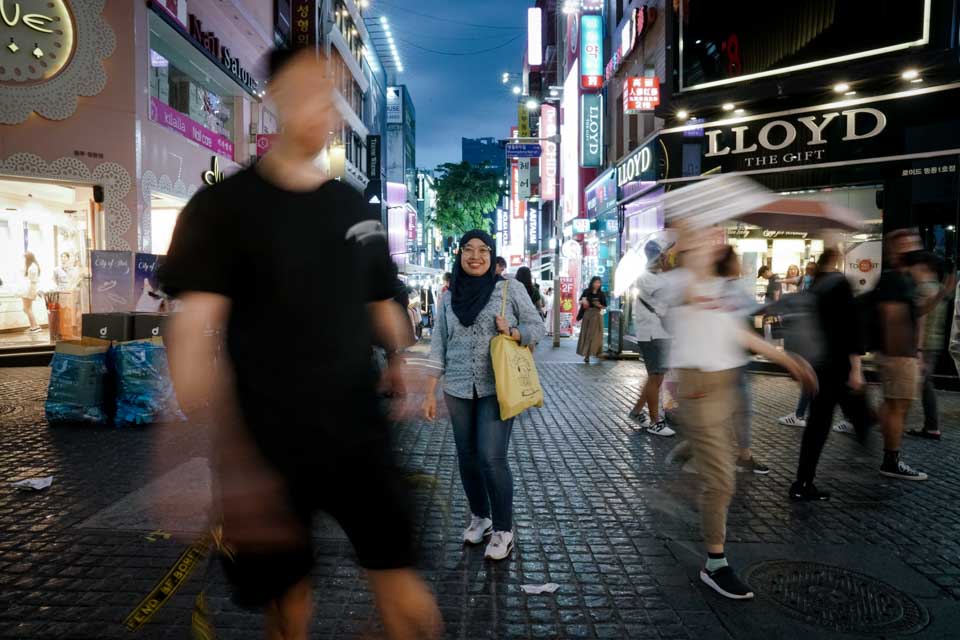 "I became a BTS fan on Jan. 6, 2017," said Siti Mariam Sulaiman, a 38-year-old government official from Malaysia. That's an oddly specific date, but she says every ARMY, an acronym for fans of the K-pop boy group, remembers the exact date of one's induction into BTS fandom.
BTS, or the Bangtan Boys, is a K-pop sensation, breaking the metrics of its predecessors in the global market. Five years after its debut in 2013, the seven-member boy band became the first South Korean band in history to debut an album at the very top of the U.S. Billboard chart. BTS was the most tweeted-about celebrity in 2017. The tickets to their U.S. tour are currently the most expensive in the world for the summer of 2018.
All this is a far cry from the earliest days of K-pop, when 'K-pop forefathers' Seotaiji and Boys debuted on a Korean music show in 1992. (One of the judges said their "melody is too weak" because the song focused too much on rap.) Or when BoA breaking into the Japanese market was a huge milestone in global expansion. Or even recently, Girls' Generation's unsuccessful venture into the U.S. market.
BTS's rise marks a new chapter. K-pop is an ever-increasingly lucrative export for South Korea: In 2016, the music industry earned over $4 billion in export revenue, according to the Ministry of Culture, and there are no signs of slowing down. From being the 33rd-largest recorded music market in 2005, South Korea is now the world's sixth-largest market by revenue as of 2017.
Seotaiji and Boys' debut performance in 1992, a turning point for modern K-pop.
Now, most K-pop groups are created with the vision of reaching a global fandom outside South Korea. The demand seems to support the strategy: According to Gmarket, one of South Korea's largest ecommerce platforms and a subsidiary of eBay Korea, 89 percent of BTS-related sales came from its Global Service — Gmarket's English section — between April and May. Only 11 percent came from South Korea.
At the heart of K-pop's growing industry are fans like Sulaiman. "I used to think K-pop is cute: for children, not adults," she laughed. But then she heard Blood, Sweat and Tears, BTS's 2016 single.
She changed her TV subscription package from English channels to Korean channels, like TVN. She travelled to Bangkok from Putrajaya, where she works as an official in Malaysia's Ministry of Education, to attend a BTS concert in 2017. She learned Korean, watched Korean dramas and eventually came to live in South Korea — although not just because of BTS — to participate in a one-year masters program in Sejong, around 120 km south of Seoul.
"If I listen to 100 songs a day, 99 are BTS songs," she said.
She's no stranger to traveling long distances to support her beloved boys: In February, she came to Seoul from Sejong, stood in line for two hours in the cold, and was the second-last person out of hundreds of waiting fans. The prize? As many BTS x LINE merchandise as she could get her hands on. "My friends in Malaysia come here just to buy BTS products," she said.
"I think 10 percent of my salary goes to BTS, almost every month," she said. Among the hundreds of BTS products she owns: Puma merchandise, Dunkin' Donuts products, Mediheal facial masks, concert merchandise, fan meeting merchandise, and of course, all of their albums.
"BTS is a good ambassador. Whatever they use, I buy."
Sulaiman is part of the BTS ARMY — which stands for Adorable Representative MC for Youth — a formidable army in its own right. "BTS communicates with fans every single day," said Sulaiman, referring to the boy band's 15-million-strong Twitter account.
It's not just BTS; K-pop stars in general are expected to engage online with fans. IU recently made headlines for leaving "sweet and affectionate" comments in her fan cafe. Stars hold regular fan meetings, give shoutouts of thanks, and use the intimacy fans feel toward the celebrities to promote songs, products and causes.
For example, Give Love was a global donation campaign that collected over 85 million won (over $76.000). BTS member RM (Kim Nam-joon) attracted nearly 1,000 donors, mostly from the U.S. He sold autographed copies of the novel Demian by Herman Hesse – a book that inspired BTS to create its 2016 hit album Wings.
"We learn about what they do everyday," said Sulaiman. "When fans feel connected to the band and feel they know them very well, they become loyal. The ARMY is very loyal. When BTS has a new single in the U.S., ARMY know we have an obligation to stream the songs, tweet on social media," and of course, buy as many BTS-related merch as possible.
K-pop consumers are increasingly becoming geographically diverse. For example, in the first five months of 2018, Thailand, not South Korea, ranked first in Gmarket's global sales of K-pop merchandise, at 22.6 percent of total sales. Three years ago, the platform's album sales usually came from ten countries. Now, there are consumers from over 50.
But it's still not easy for global, non-Korean fans to access K-pop products.
"With the global popularity of K-pop, you see more awareness from agencies," said Crystal Anderson, a researcher and one of the founders of K-pop Kollective, the oldest "aca-fansite" for K-pop, run by academics/fans.
"But there's still a concentric circle where they're most concerned with South Korea, then China and Japan, and then the rest of the world. The main focus is still those major music markets closest to Korea."
Some official fanclubs still don't offer membership to fans that aren't South Korean citizens or foreigners residing in South Korea.
"We see the official goods go up on the fan cafes, but you need to be signed up as a fan to get those products," said Anderson, who has also been a K-pop enthusiast since the days of SS501 around a decade ago. "So you're like, 'Ooh, that's nice…. I can't get that even if I wanted!'"
Sulaiman says it's hard to find foreigner-friendly platforms, even with an official fan membership (which she has). "It's full of frustration," she said, referring to the matrix of payment processes and lack of English options. "I only use Gmarket because it has English. It's cheaper than Amazon and easier to use."
But there's a limit to how much can be purchased online; hence Sulaiman's travels up to Seoul and the long cues in the middle of winter.
"I have only one year in Korea. Since I'm here and have access, I should maximize this time. Buying the official products is about self-satisfaction. You're supporting the group. Being a fan is a commitment. Before, I used to judge, but now I understand what it's like to be a part of something."
Increasingly, fans like Sulaiman remind South Koreans that K-pop isn't simply Korean — if it ever was. K-pop's production strategies, with agencies strictly training and grooming artists, are a familiar echo of Motown. K-pop integrates musical genres from all over the world. Often, songs are created by non-Korean producers, including many from BTS's Billboard hit album.
But K-pop is still at the forefront of that phenomenon we call 'the Korean Wave,' or hallyu. "K-pop opened other parts of Korea," said Sulaiman. "I watched Korean dramas, learned the language, visited places I saw in movie clips. K-pop promoted tourism and my sense of adventure."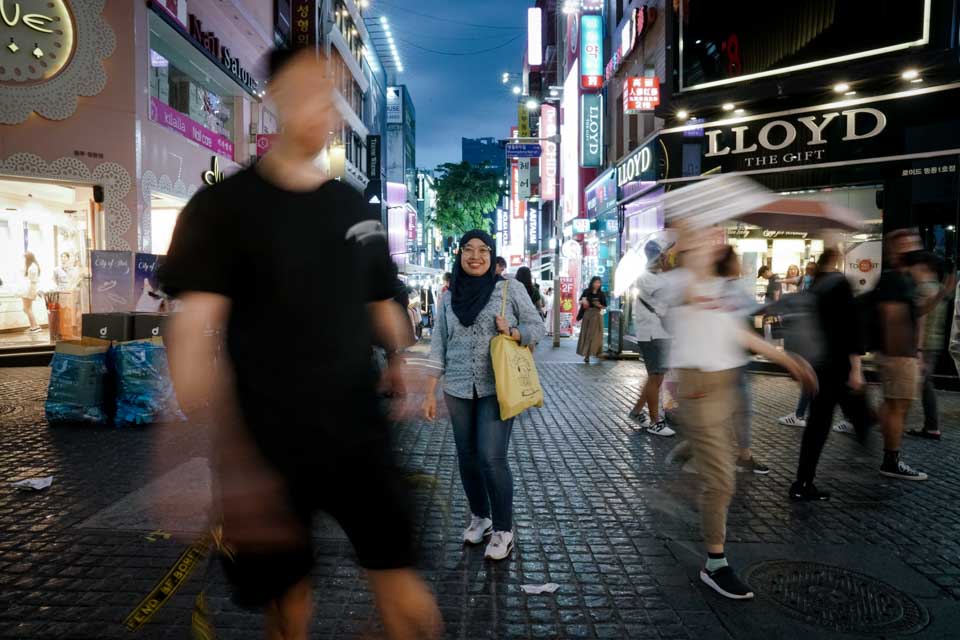 Partly thanks to the Korean Wave, where culture is exported globally as a commodity, South Korean tourism has doubled in the past ten years. In 2007, around 6.4 million tourists visited South Korea. In 2017, there were over 13 million, according to the Korea Tourism Organization.
For now, BTS is pushing the Korean Wave. "What's gonna be interesting with BTS is how they will sustain this [level of success]," said Anderson. "Because that's always been the problem. Even with Psy. He was there one minute and gone the next."
But of course, that also depends on how one defines success. Is mainstream success in the U.S. the only real form of success? Or can sustaining a loyal, dedicated subculture be that, too? After all, there are plenty of K-pop acts that don't fit the former category, but are still wildly successful in other markets, and from the perspective of devoted, individual fans.
K-pop's global expansion is now arguably over two decades old (think S.E.S and H.O.T's benefit concert with Michael Jackson in 1999). What started with a very small pool of stars that had a global fanbase is now a massive industry including not just BTS, but Twice, Wanna One, Red Velvet, and so many more (who don't always "sound the same"). The stars may originate from South Korea, but the music they create goes far beyond its borders.
The key players driving the K-pop industry are no longer just the South Korean fans, but a global population who wants more inclusion and recognition. There's more consumer demand, which means more room for profit — for example, Korean ecommerce platforms are rushing to create a much-needed bridge between Korean products and global demand by developing better services in foreign languages.
"The essence of hallyu is mutual exchange," Kim Yong-rak, the director of Korean Foundation for International Cultural Exchange, told daily newspaper Herald Corp. It's about the integration of different cultures, not just the Korean. The K-pop DNA is about cultural hybridity, not Korean domination.
Maybe it's time to rethink what the 'Korean' in the Wave means.
This article was sponsored by eBay Korea. All photographs of Siti Mariam Sulaiman, unless otherwise stated, were taken by Jieun Choi.
Cover image: Siti Mariam Sulaiman, a BTS fan, in Myeongdong, Seoul. (Jieun Choi/Korea Exposé)
Become a subscriber to access all of our content.