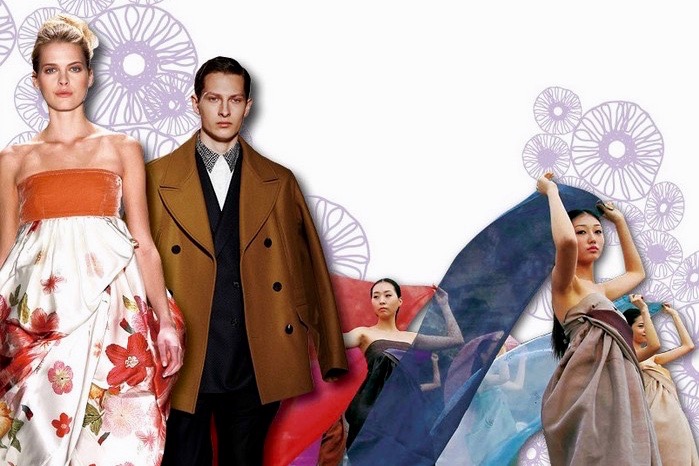 K-Fashion: Where Imitation Breeds Creativity
Scandinavian mass retailer H&M recently launched its "K-Fashion" limited edition collection, available only in Asia.
The line, which aims to capitalize on the popularity of South Korean pop culture in regions like Hong Kong, China and Japan, features oversize sweatshirts with Mickey Mouse faces, Snoopy-patterned crew-neck tees and a variety of crop tops that were supposedly inspired by South Korean street style.
And yet in the preview photos, the collection doesn't strike me as 'Korean.' The models look like they're wearing clothes that are equally indistinguishable in their childlike and cartoonish-ness and street style dark colors and cut. It looks like they borrowed clothes from the same person's closet.
Is conformity then what K-fashion is about? It is perhaps insulting that H&M might posit this through their latest line. But what is K-fashion anyway.
For the past three seasons, I've been attending Seoul Fashion Week (SFW) to profile the shows, people and events in my work as a fashion journalist. On each day of SFW, Dongdaemun Design Plaza (DDP) becomes a lively playground for fashion enthusiasts, with different looks, new people and experiences that provide ample opportunity for learning more about the South Korean fashion industry.
Besides all the talk about the street style scene, polished K-pop stars making their appearances on the front row, and the general excitement surrounding each show, the term "K-fashion" is always mentioned throughout the week's events.
While K-fashion is certainly a catchy term, the word doesn't hold much substance for observers I spoke to.
What is K-fashion?
"I don't know what the word means," a South Korean fashion student said to me in the halls of the DDP. "I think that K-fashion is part of the marketing strategy [for reaching] Southeast Asia and China, but the term itself may not necessarily mean anything."
"For me, it's the way that everyone here dresses the same," said a Thai exchange student waiting to catch her favorite models. "It's good that people have confidence to wear new trends. But everyone looks kind of similar [in that they are wearing the same ones]."
Many insiders agree that something as diverse and creative as fashion should not be branded under one national identity. "K-fashion is hard to describe in words because it's a mixture of so many different styles," Chang Kwang-hyo, veteran South Korean designer for the brand Caruso, explained last season.
It is difficult to resist the label though, given the strong tones of nationalism in South Korean society and the immense pressure young designers face to make it big and become famous South Korean brands abroad. South Korea has plenty of K-hyphenated buzzwords such as K-food, K-wave, K-beauty, K-anything related to South Korean cultural exports. The government encourages cultural industries to adopt the K-brand as a way of burnishing the national reputation.
But does this strategy work? Fashion critics have voiced their concerns.
Vogue international editor Suzy Menkes spoke about this when she in town last season to attend SFW FW2016. She warned that showing collections at European fashion weeks would not help, because buyers at those events are not looking for South Korean representatives, rather unique brands to bring into their shops and showrooms.
"I never look at designers, thinking this is a Korean designer, this is a Japanese, this is a French designer. For me, designers are great because they are strong in themselves. I also think Asian designers should think of themselves this way, not as Asian designers but as great designers," Menkes told Joongang Ilbo. 
Simon Collins, former dean of fashion at Parson's New School for Design, and official mentor for SFW, also reflected on such matters while he was in town to attend SFW last week.
"There's definitely a look which I suppose one could call K-fashion, but I don't buy into the influence or the prevalence of that," he said. "Who wants to look Korean apart from Korean people? The Chinese – maybe, for five minutes."
"Ralph Lauren doesn't sell cowboy hats, people don't buy it because they want to look American. People don't buy Prada because they want to look Italian. Or Vuitton because they want to look French. Or Uniqlo because they want to look Japanese."
The Necessity for Originality
The general consensus was that breaking into the international fashion scene requires some risk. Unfortunately, South Korean designers are often met with criticisms of not being unique or "daring enough". It's no easy feat, as developing a unique aesthetic identity can be difficult in a society that highly values conformity and uniformity.
Another problem affecting the local fashion industry is the issue of plagiarism and imitation among designers.

"Veteran designer [Ch]ang Kwang-hyo said that he often sees some of the young designers rip off hit designs from European runways, usually held two months earlier than the Seoul one, and apply them to their collection.

In the 2016 F/W Seoul Collection, French brand Vetements's trademark oversized fit and long sleeve looks were easily found in many Korean designers' clothes including well-known designer brands Ordinary People, NOHANT, SOULPOT STUDIO and Kiok."
Aug. 15, 2016 – The Korea Times.
South Korea's reputation for fashion has come a long way since the 70s and 80s, when it was best-known for its manufacturing industry, as well as its ability to produce uncanny, high-quality knock-off goods. While South Korea is no longer a main source for counterfeit goods, counterfeit trade still exists in pockets of Seoul.
At a talk during the Conde Nast International Luxury conference in Seoul earlier this year, a luxury expert recounted one of his favorite stories:
Years ago, a major designer label came to Seoul to open their very first shop in South Korea. The local cleaning crew contracted to work with them was proud and excited about their new clients. They showed up on the first day of work, wearing custom-made cleaning suits that bore the brand's monogram from head to toe.
The label was not happy, but also realized this was an act done out of reverence for their brand.
"A Real Phony"
In a strange twist, Vetements, the searing-hot French label, have based their latest "Official Fake" capsule collection sale in South Korea off such events.
The sale, which took place just a day before SFW, was held in a remote warehouse in Deokso, Gyeonggi province. The exclusive line featured "officially counterfeit" versions of Vetements' signature hoodies, t-shirts, caps and raincoats hanging from racks inside a dark garage full of trash against one of the walls.
Vetements creative director Demna Gvasalia was reportedly amused by the fact that he could purchase a copy of the hoodies he designed for USD$ 50 inside Doota, one of Dongdaemun's most popular fashion malls. This notion became a source of inspiration for Gvasalia's line of official fakes. (Vetement's original hoodie retails for around USD$ 800.)
The collection was a success. Over 800 fans of the brand waited outside patiently till doors opened, and the line sold out in less than 15 minutes.
Near the end of SFW, some visiting fashion editors and I headed over to Doota. We went into the men's section to track down the faux Vetements hoodies that had now become a part of the lore of the much-feted brand's history.
There was just something irresistibly meta about purchasing a copy of clothing so popular that it spawned the creation of its own "real fake" copy by the original designer.
A few South Korean critics were not happy with Vetements' "Official Fake" sale. They viewed the collection as an insult to the intelligence and integrity of local customers.
But perhaps the sale's huge success is also testament to the South Korean fashion industry's significant, albeit unintentional, impact on global fashion trends. Imitation isn't just the most sincere form of flattery; it can also give rise to creativity.
Become a subscriber to access all of our content.