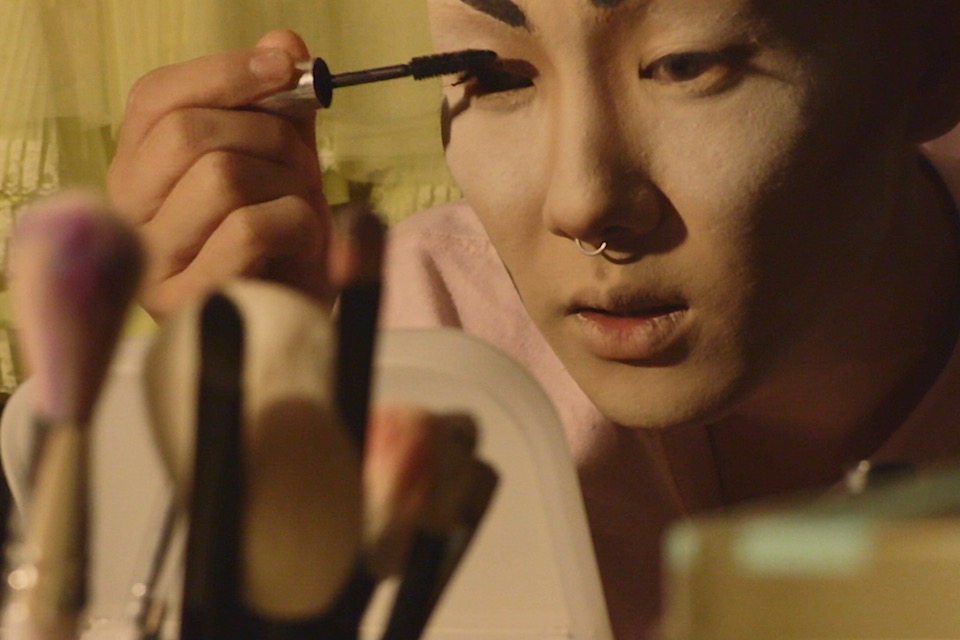 Jungle: A Drag Queen and Man
"Have you heard of Junglé?" Alex, a young French director, asked me with excitement.
On Jun. 16, I met up with Team Ohioh, a Seoul-based French-Korean video production team at their office in Seoul. The only thing I had been told in prior to this rendezvous was that we would be following around a South Korean drag queen. I ran down the list of the drag queens in this country that I knew of, but the name did not ring a bell.
Junglé, also known simply as Jungle without the accent, is a young drag queen who celebrated this June the first anniversary of her debut. I would be among the very first to approach this rising star, thanks to Team Ohioh's vigorous search to discover and document hidden artists working in Seoul's underground scene.
Drag is not new in South Korea. A drag club in Itaewon called TRANCE has served as the center of the local drag scene for almost twenty years now, and some twenty to thirty drag queens are actively performing in Seoul. But after the American reality TV show RuPaul's Drag Race took off, the drag scene in South Korea also found new energy. And the community quickly embraced Jungle's flair, propelling her to prominence in just one year.
Last week, on the night of the 18th Korea Queer Culture Festival (KQCF), Jungle performed with some of the highest-profile drag performers worldwide, including Detox Icunt, who's now become a fixture in the Southern Cali drag scene. (Detox's popularity also was boosted by her appearance on RuPaul's Drag Race). Jungle has also been casually invited by Kimchi, a Korean-American drag performer of renown and another beneficiary of RuPaul's Drag Race, to join her on a trip to Chicago this summer.
Team Ohioh and I had just sat down at a coffee shop near Itaewon station in Seoul's most cosmopolitan neighborhood, when a lanky guy with closely cropped blond hair and blue eyes strided in wearing a ripped sleeveless shirt. He said hi to us, cast a glance at our bulky set of recording devices and laptops, and told us that he just wanted to casually chat. "I have done a few interviews before, but I was disappointed at how shallow my identity could be portrayed as, especially in the most typical form of interview questions and answers. Sometimes they give off the wrong idea about me, and also about drag in general," he said in fluent English, with a mild British accent. We swiftly delved into his childhood, his outlook on life, his insecurities, and his deepest thoughts. I intermittently sipped my coffee as I listened to his life story unfold, like a rollercoaster ride right in front of my eyes.
"I spent my first ten years struggling with my sexual orientation as a homosexual, and then another ten years fighting to live as an artist. I left my parents when I was twenty years old, working almost nonstop from 9 am to 11 pm, then doing alternative military service and working the night-shift at a bar afterward to earn money. It was a boring life until one day I decided I needed to put a stop to this. I left Korea for Europe in 2015, thinking I could start over. I stayed mostly in Paris and London, learning French, constantly looking for a part-time job, exploring and meeting new people. For the first time in my life, I felt like I was actually living my own life; I absorbed different mindsets, different cultures and different lifestyles. I discovered more and more about myself, absorbing everything that I observed."
"But I came back because I went broke shortly after one year. I spent all my money without having a proper job or a career; and when I came back to Korea, I felt terrified, feeling like a complete failure who had fallen out of society. I couldn't meet a single person for months. But then a thought suddenly occurred to me: What am I living for? What have I left Korea for? Thanks to my ex-boyfriend's suggestion that I should try drag, I started to gradually pick up what I used to love — wearing make-up, putting on nice clothes, singing and dancing to music, always creating something, painting something, making something. Some people think drag is all about sexuality, but in fact it's not; drag is just about being who you want to be. It has been only one year since I started doing drag, but now I know the decision was well-made."
[ngg_images gallery_ids="26″ display_type="ds-nextgen_royalslider"]
Next Saturday, on Jun. 24, we met up at 4 pm at Jungle's house next to an overpass near Noksapyeong station, also in the Itaewon area. In the small red-brick house where Jungle lives with two other roommates, we huddled up in the cramped yellow living room with our cameras, camcorders and tripods to capture Jungle's preparation for a performance that evening.
Her show with three other local drag queens was scheduled for 2 a.m. at Trunk, a basement club in the nearby gay district. We watched her put makeup on and do hair for three hours. After that, we spent another hour helping her put her clothes on. Alex and I took turns asking questions, but for the most part we just sat on the staircase outside smoking cigarettes or drinking bottles of cheap wine we had bought at a convenience store nearby. Alex and Jungle chatted like old friends whenever the focus was Paris, or their love thereof. We chatted for hours about how amazing the film "Paris is Burning" (1990) was, and more so about whether we would ever get close to making a film like that. And how long we would have to wait until the Itaewon drag scene became like that in New York City.
"Why the name 'Jungle', though?" Alex asked.
"It was my nickname when I was working at Lush Cosmetics. We were choosing our nicknames from our products, which had all these pretty names like honey, ocean…. But they were all taken, except for one: Jungle. People said that the name didn't suit me because it was too masculine — but as much as I embrace my femininity, I also embrace my masculinity as well. People often mistake all drag queens for transgender people; for me, the two aren't the same thing. I have both sides, as a man and a woman, and I'm proud of that. I am happy to be versatile, as my name suggests," she said.
The delicacy with which she transformed into "Jungle" — putting her makeup on, putting on her wig and her hand-sewn dandelion-color dress — was the kind of perfection I could never imagine any woman I know achieve. She never did something without adorning it with a meaning — how her dress exuded the vintage aura of the 40s, and how she deemed the act of putting makeup on a process of understanding your facial structure and features.
She continued. "One thing about gays in Korea is that a lot of them are worried about disclosing their femininity. But this is slowly changing, too; more gay guys feel less insecure about dressing up like girls. You should be able to do whatever you feel comfortable with, be it wearing a crop top or walking in high heels. Of course, most people are not used to this, so they automatically assume you are transgender, that you dress up like a girl because you want to be female. But you know, it's less about whether you are a woman or not — it's just being who you are."
"I want to create a rupture in this society by making the public more uncomfortable, by making them question themselves. So I started out by staging little protests, going out wearing skirts and putting on nail polish. I don't necessarily get angry when people get frustrated; they don't have to like everything I am doing. For many people, it's probably their first time seeing a man dress like that. They just need some time to digest and make sense of what they are feeling, because people are ignorant if they haven't seen it before. At least after they see me dressed up unconventionally, for the first time they'll begin thinking about it — whether it's good or bad isn't what matters."
***
The show began. Four drag queens took turns performing to their favorite music. Jungle twirled around in her chiffon dress to a Sheena Ringo song. About one hundred fifty people filled up the small venue, chanting, cheering. None of the performers there today was sidelined by another; all exuded different types of energy that did not resemble that of any other. A common misconception is that drag is about imitation, when in fact it is actually a form of self-realization.
"As cliched as it may be," Jungle said, "I would like to live by what I believe. It takes a hella courage just to figure out what you want in your life and to be who are you are. Remember, all our lives we were never given a choice: what to wear, who to be, how to behave…. We need to fight more to get what we want. Having an option, having the freedom to live your life, to be able to pick the values you treasure, that's the best thing one can achieve in one's life. My aunt once told me to let my existence be a piece of art — and that's exactly what I want the rest of my life to be: my life, as the fullest form of art itself."
The show ended at a little past 3 a.m. Jungle came over to say goodbye, tugging off her blue wig and fishnet stockings. "You looked gorgeous today." I had been looking for the right time to tell her this. "Thank you, darling," she said as she blew me a kiss. Then she strutted off into the thick fog streaked with lights of Itaewon.
Meet Jungle on instagram:
https://www.instagram.com/junglethedragqueen/
For more on Team Ohioh, visit:
https://www.facebook.com/teamohioh/
*
Cover image: Jungle applies makeup in preparation for an evening performance. (Credit: Team Ohioh)
Become a subscriber to access all of our content.