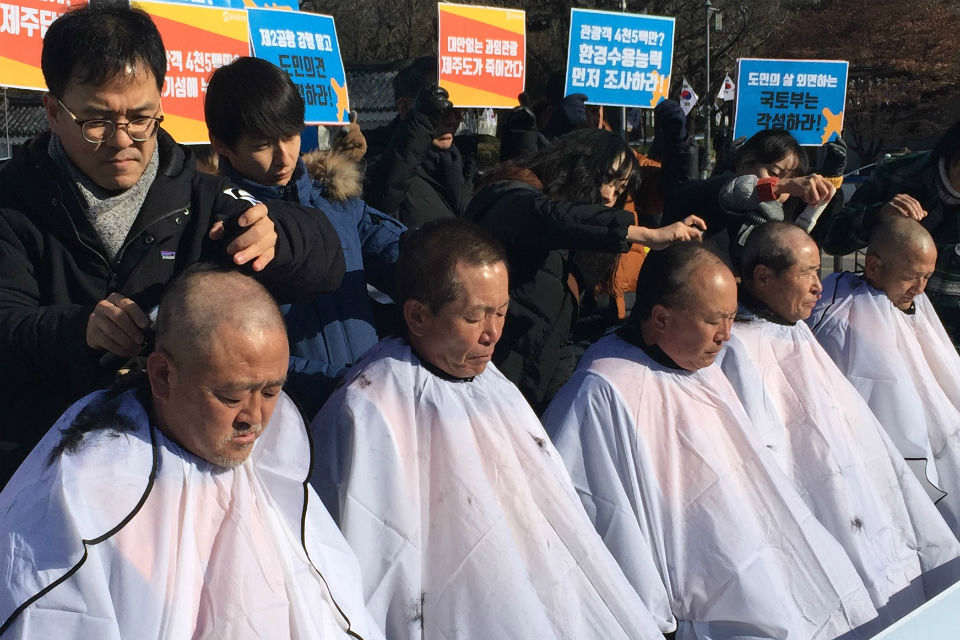 Plane Madness? Second Airport Plan Angers Jeju Islanders
On Tuesday morning, the wind blew tufts of black hair across freezing paving stones by the Blue House. Giant fiberglass Pyeongchang Olympic mascots — a white tiger and an Asiatic black bear — looked on as five electric razors hummed across five scalps.
Villagers from Seongsan, a quiet county on the eastern tip of Jeju Island, were having their heads publicly shaved — a traditional form of desperate protest — by the fountain in front of the South Korea's presidential office on Dec. 19.
A portable loudspeaker squealed into life.
"Drop plans for the second Jeju airport!" the protesters chanted, fists pumping.
Jeju's second airport is planned in Seongsan. Its residents had gathered in central Seoul to make a direct appeal to South Korean president Moon Jae-in to intervene in this controversial plan and, hopefully, have it reviewed.
Their direct call to the president came after a meeting with the Ministry of Land, Infrastructure and Transport (MOLIT) where, they allege, a high-ranking official simply reiterated plans to build the second airport in order to accommodate a projected huge increase in already-high tourist numbers.
As reported by Korea Exposé earlier this month, Jeju's environment is already under massive strain. Tourist numbers hit 16 million last year, having increased by about one million every year since 2009. The island's wastewater treatment plants are overwhelmed, groundwater supplies are rapidly dwindling, trash is increasingly problematic and locals are being priced out of their own real estate market by wealthier outsiders.
Rather than trying to slow down the tourist increase, the new airport is part of the plan to accommodate a projected further threefold increase in visitor numbers by 2035 — approximately 45 million arrivals per year. Jeju's permanent population, by contrast, is just 660,000.
The Jeju residents' statement issued on Dec. 19 called for Moon to reform MOLIT, for an investigation of the feasibility of the new airport based on the environmental capacity of the island, and for MOLIT to abandon its current airport plan and start again, this time by gathering the opinions of locals (as things stand, they have been unilaterally informed of the plan via an announcement from MOLIT).
The statement pointed out that MOLIT is also responsible for the controversial Four Major Rivers Project, a massive and now widely-discredited civil engineering scheme that swallowed some 22 trillion won (approx. 20 billion U.S dollars) in state funding, citing this as further evidence of the need to reform the ministry.
A MOLIT official, requesting anonymity as usual, said that the ministry was about to start a second study to check if the initial feasibility study, conducted by a subcontracted research company, had been done appropriately.
"As part of our [new] investigation, we'll hold public debates and maintain communication with the local people," he said.
Regarding the environmental implications of the airport, the official claimed these were "outside the scope" of the new investigation and needed to be discussed at Jeju's local government level. He predicted that the new investigation would be completed within five months.
For more on detrimental effects of tourism on Jeju Island, read:
*
Cover image: Seongsan residents had their heads shaved before the presidential office in Seoul to protest Jeju Island's second airport, planned in their village. (Ben Jackson/Korea Exposé)
Become a subscriber to access all of our content.