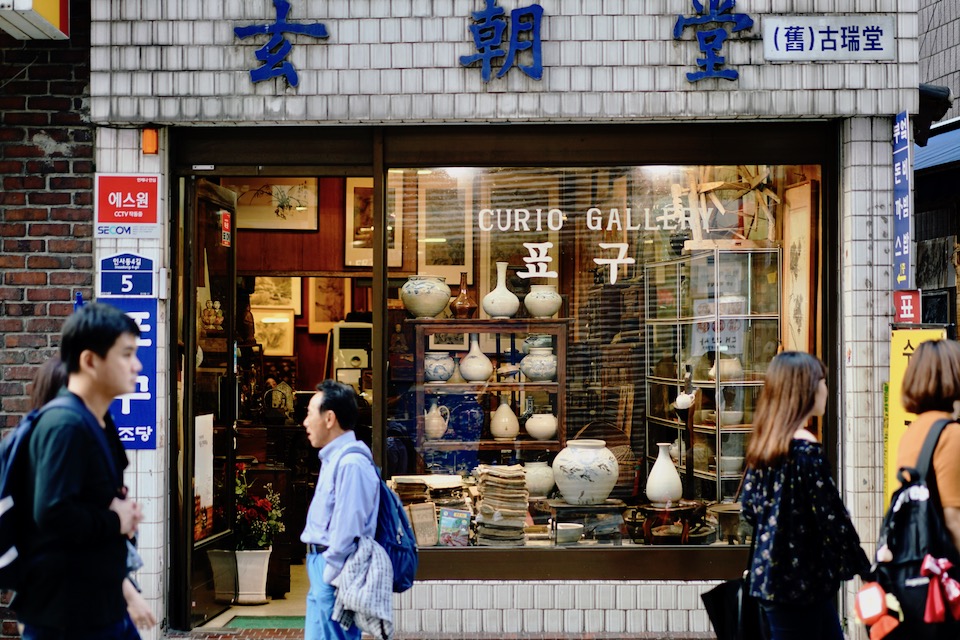 Insadong: Breathing Its Last
Every South Korean used to need a seal for conducting legal affairs, and I was fourteen when I had my first seal carved.
We could have gone to any seal shop in the neighborhood, but my father insisted that we go to Insadong and make a family outing out of it. "No, no, it's your first seal. We cannot do it just at any store."
The place we went to was a small business run by the seal-carver himself. He explained different types of stone, carved my name by hand into the block of my choice, and presented it to us in a small brocade-wrapped box in the end.
It was slow, and expensive. But the whole experience had the feeling of a different era.
Insadong, for that matter, was a rather different place back in the late 1990s. The street was open to cars 24/7. The sidewalks were narrow and often muddy during the monsoon season. Nearly all businesses specialized in specific wares that seemed to have little relevance for modern life: calligraphy brushes, celadon, mulberry-bark paper of every thickness, sturdy multichrome papier-maché boxes and dishes for serving little sweets, to mention just a few.
Insadong's history is said to go back to the Joseon Dynasty, when the royal painting bureau was located close by. During the colonial period (1910-1945) it became a hub for the local antique trade. After Korea gained independence in 1945, it earned a reputation as a meeting place for artists, writers and scholars who appreciated the refined ambience. Art galeries flourished.
As a child, I loved going to Insadong because it looked nothing like other areas of Seoul, a city made homogeneous by franchise stores and identical apartment blocks. I spent a considerable amount of my pocket money on tchotchkes, so much so that my mother began complaining — good-naturedly — about the growing collection: teapots and cups of different colors and styles, painted fans, a wooden mold for making traditional sweets out of pine pollen and roasted bean powder, and lacquer boxes with mother-of-pearl inlays.
You can still buy these things in Insadong today, but it is just not the same any more.
In the name of attracting more tourists, the city government carried out major construction work between 1999 and 2000 to expand the sidewalks and reduce vehicle traffic. On weekends, the main drag was closed entirely off to cars. The street became pedestrian-friendly as it is today.
It seemed like a great idea at first, but one immediate consequence was for businesses to bear. As more people flocked to Insadong, landlords began jacking up the rent. Small shops disappeared one by one, torn down and replaced by big new buildings selling cheap trinkets and snacks. The ones that survived the change resorted to peddling conventional souvenirs to make ends meet.
You must have seen them if you visited Insadong recently. Fabric pouches and t-shirts and K-pop posters. Key rings. Scarves and hats for 5,000 to 20,000 won each.
There is a regulation reserving the middle section of Insadong for traditionally oriented businesses, but it doesn't seem to be working.
My incense shop is long gone. My paper shop died several years ago. My celadon vendor finally shuttered this summer. I gave up on buying lacquer boxes in Insadong because what I find are now either overpriced or poor in quality. Now I just go to the underground shopping arcade in Sogong-dong, between Seoul City Hall and Lotte Hotel, for my lacquer fix.
An interview with Yongjung Collection owner Kim Mun-jeong (Jieun Choi/Korea Exposé)
One recent casualty is Yongjung Collection, a vintage timepiece boutique with a 52-year history, not so long by the standard of some countries but borderline ancient in rapidly changing Seoul. When asked about typical Insadong visitors these days, the second-generation owner Kim Mun-jeong, who relocated her shop to Gangnam in September, said, "They buy fun little things, accessories and handicrafts that cost just a few thousand one, and then eat food that masquerades as authentic traditional set meals but cannot really be called as such.
"It's been hard for me, but all the historic restaurants around here have also suffered a heavy blow."
When I stop by Insadong these days, usually on the way to an appointment downtown, I see foreigners wandering around, presumably because some guidebook told them it was a good idea. They must have read that Insadong is a preserve of traditional culture, of beauty and refinement.
Beauty and refinement is still there if you look hard enough. Napcheong trades in brass tableware and musical instruments of exceptional quality. Vin Collection, while not terribly old, applies traditional sewing technique to create exquisite pillows and bedding. Many calligraphy and painting supply shops continue to fight for survival, though it is hard to say what will happen to them when current owners, many of them in retirement age, pass away.
In a country that ostensibly values history and tradition, Insadong is a cautionary tale of what happens when commercial interests and ill-conceived government policy come together.
And there is little time to save what remains before it all becomes just another Gangnam, Myeongdong or Sinchon.
Cover image: Insadong, known as a preserve of Korean traditional culture, is slowly dying. (Jieun Choi/Korea Exposé)
Become a subscriber to access all of our content.