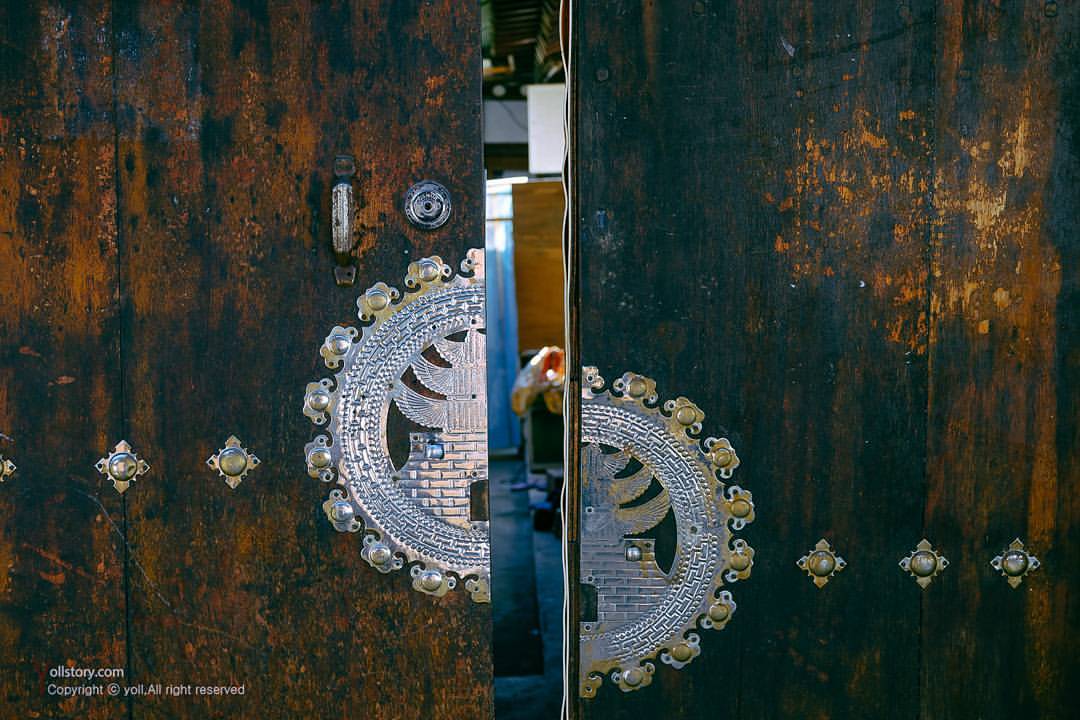 Ikseon-dong: Seoul's Hottest Poverty Porn Destination
If you plug Ikseon-dong, the name of a central Seoul neighborhood, into your preferred search engine, you'll come up with countless photographs, many of which look the same: shabby low-rise buildings with wooden doors along narrow alleyways. One recurring image is Ikseon-dong shot from above, contextualizing it as a flat cluster of humble structures surrounded by skyscrapers, a pocket of old-world charm in one of Seoul's most bustling areas.
Ikseon-dong offers visitors the chance to feel like they're stepping into Seoul's past, a time before the city was covered in interchangeable residential and commercial buildings. One article described entering Ikseon as "a bit like discovering a long-thought-extinct species in the jungle."
What is absent from these representations of Ikseon-dong, and the flowery blog posts many of them accompany, are the voices of the people who live there, who are often reduced to being described in such zoological terms.
According to a recent report by OhMyNews, a left-of-center online outlet, long-time residents of Ikseon-dong are less than thrilled to be the objects of visitors' fascination. One local resident said that the photo-seeking hordes make her and her neighbors feel like "animals in a zoo," that she asks them to not take photos, but they click away regardless.
The OhMyNews story describes the photos of the neighborhood that circulate online as "poverty porn." Pornography is not necessarily sexual; the writer William T. Vollman defines it as consisting of two essential components: One, the intention to give pleasure, and two, the effect of offending some of those who view it.
Perhaps the images of Ikseon-dong are genuinely intended to give pleasure, to hark back to a simpler time in South Korea, a time when groups of happy-poor middle-aged women spent afternoons sitting in a circle peeling garlic, when children played outside instead of sitting indoors staring at screens.
Maybe people who aren't poor travel to low-income settings searching for sensations of cultural authenticity that are no longer palpable in the places they themselves live. They seek neighborhoods where people still know each other, where local customs haven't all been eradicated.
Or it could be that in an overworked, hyper-competitive city like Seoul, people are fascinated by people who appear free from the burdens of ambition, who have opted to remain out of the rat race and in their unglamorous setting, somehow managing to not be driven mad with wealth envy. Maybe they're seeking the cliche of the happy poor, a triumphant human spirit that finds contentment amid material scarcity.
Regardless of intention, not everyone in Ikseon-dong appreciates these uninvited guests, or the changes they can affect on the neighborhood when they spread online. Ikseon-dong was the topic of a KBS documentary last April, which significantly boosted the neighborhood's profile. After it aired, landlords raised rents to levels locals couldn't afford, pushing many to move away seeking cheaper housing elsewhere.
Jeon Eun-joo, a researcher at Sungkyunkwan University's Urban Architecture Lab, told OhMyNews that around 30 percent of the neighborhood's residents have moved out over the past three years.
This phenomenon of recreational gawking at those less fortunate is by no means limited to Seoul. Fishbowling poor communities is now an actual industry. A traveler who wants more than a beach or conventional sightseeing can visit the ramshackle Mumbai neighborhoods that inspired the movie "Slumdog Millionaire," the South African townships that saw the bloodiest uprisings during the Apartheid era, and the Brazilian favelas depicted in "City of God."
I understand the allure. I grew up in a milk-toast middle class setting, on tree-lined streets in Toronto, and as soon as I began traveling abroad in my early twenties, was drawn to taking long, aimless walks around the poor neighborhoods in whatever city I was visiting.
Naturally, I wasn't always welcome. I once wandered out of Ulaanbaatar, the capital of Mongolia, to a tent village on the city's outskirts, a place where recently arrived migrants set up makeshift shelter. While walking along the rutted mud road that led into the village, a car pulled up next to me, and a man leaned out of the passenger-side window and tried to yank away my camera. I managed to keep it from him and scurry away.
Later that evening, when I told the story to a Mongolian interviewee, she explained that the man wasn't a thief; she said local residents don't appreciate photo-seeking tourists, and that he would have smashed my camera on the ground in front of me.
I maintained this fascination when I moved to South Korea to work as a journalist. More than once I went to Guryong Village, a shantytown within view of Seoul's affluent Gangnam district. (Journalists like nothing better than a stark juxtaposition, two opposite ends of a spectrum somehow coexisting side by side.) I took long subway rides to the so-called "moon villages" (poor hillside neighborhoods) where an unimaginative writer like me can frame interviewees as living in poverty while gazing down upon wealth.
My normal approach to journalism is to get as close to the story as I can, to whenever possible, physically visit the place I'm writing about. Meet people face to face, exchange small talk, get a sense of the texture of their lives as individuals. This kind of immersion can infuse writing with power.
But when we go to a neighborhood, we change it, often in ways that aren't beneficial to the people who live there. I came to feel that in showing up for one day to poke around, get quotes and take photos, I might be making the residents feel like objects and fueling a superficial fascination.
This might be the first story I've ever written where I deliberately defied that instinct to get close to the story. I didn't want to be another camera wielding dork in Ikseon-dong. Though I have been there, and often spend time in areas nearby, after thinking about it for this essay, I don't plan to wander through there any time soon. I think it is better to let the people who live there alone, to experience the place they live as a neighborhood, not a zoo.
Cover Image: "틈으로 보다.. 익선동에서.. #" (CC BY-ND 2.0) by yollstory.com
Become a subscriber to access all of our content.