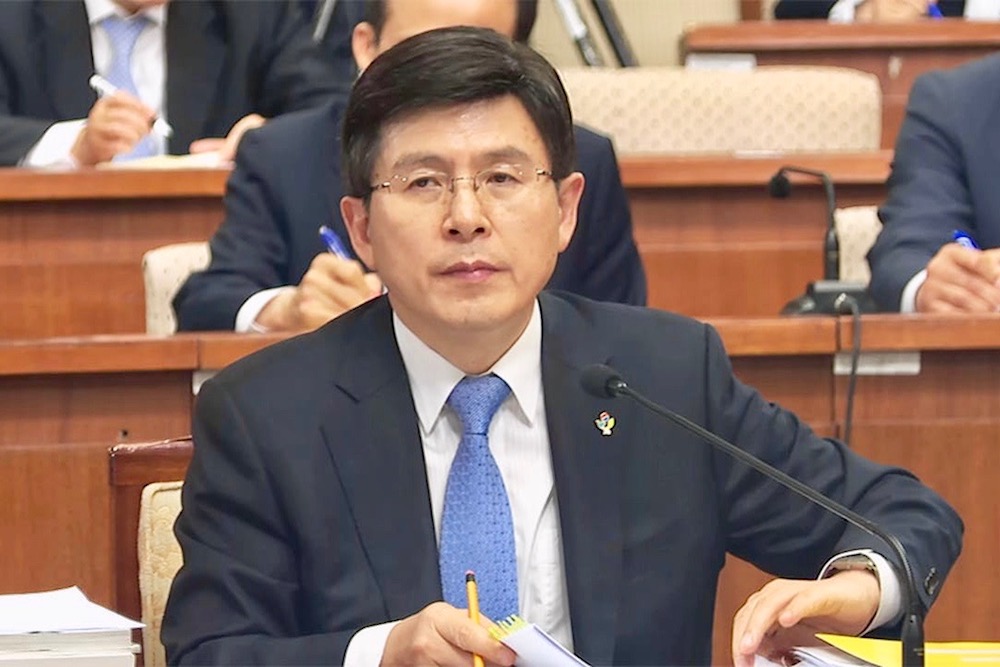 Hwang Kyo-ahn: The Man Who Wouldn't Be King
When President Park Geun-hye was impeached, her Prime Minister, Hwang Kyo-ahn was named the acting president. Upon taking the top job, Hwang made no effort to distance himself from the disgraced Park, and went as far as to take responsibility for her plight: He said that the whole mess was his fault instead of Park's, because, he said, he had failed to support her adequately.
This choice to take blame for Park's crisis says a lot about Hwang. A more ambitious politician might have told the nation that he would herald a new beginning, that he would affect a break with the cronyism and incompetence that characterized Park's rule. Instead, Hwang stayed loyal to Park, and thereby did nothing to alienate the right-wing voters that would have formed his core support base had he run for president. But Hwang isn't a politician. He has spent his whole career in government and law and has never run for office.
Hwang's latest move is an even stronger sign that he has no political ambition: Despite being the conservative candidate leading in the polls, Hwang said on Wednesday that he will not run for president. In a statement released to the media, Hwang explained that he had "heard the voices of the people" who hoped he would run for president, but determined that with the country in an economic and national security crisis, it wouldn't be appropriate for him to run. He says he plans to focus on managing state affairs until the election is held on May 9.
Hwang's decision might not have been so selfless; his shot at winning the election was slim given the disintegration of the conservative movement in the aftermath of the Choi Soon-sil scandal. It also leaves the right scrambling for a viable candidate that could prevent liberals, likely the Minjoo Party's Moon Jae-in, from cruising to the presidency.
South Korea's conservatives have therefore had a sudden movement of reinvention pushed upon them, and the question now is whether they can present a new policy approach to capture voters' loyalty, or if their candidate will run on the old reliable platform of national security and protection from North Korea.
Not-so great right hope
Some on South Korea's right had hoped that a lack of compelling candidates would be addressed by Ban Ki-moon, that as his term as United Nations Secretary General ended at the end of last year, he would run for the ruling party. He decided to stay out of national politics after a tumultuous return to South Korea, which included allegations of influence peddling involving his family members.
As for Hwang, he topped the list of conservative candidates, most of them miserably unpopular, before bowing out. An unintentionally funny column in the right-of-center Joongang Daily said that Hwang had "surfaced as the next big thing," then added a bit sheepishly, "but his approval rating has also dropped to the single digits."
The right's remaining hopefuls have even less support to bank on. According to the latest polls, much of Hwang's support has been absorbed by Hong Joon-pyo, governor of South Gyeongsang Province (a conservative stronghold). Hong is fresh off an acquittal on corruption charges, and is expected to soon announce his candidacy for the Liberty Korea Party (formerly the Saenuri Party, rebranded in an apparent attempt to disassociate itself from the Choi scandal).
Also competing on the right are lawmaker Yoo Seong-min and Gyeonggi Province governor Nam Kyung-pil, both from the Bareun Party, which was recently founded by anti-Park Geun-hye defectors from the Saenuri Party.
The scandal forced this reshuffling and rebranding, but so far there is no clear evidence that South Korea's conservatives have undergone any substantive change. It looks like they're continuing to base their political identity on their claim to be the only party that can maintain South Korea's national security.
While lagging in the polls, conservatives are pinning some hope on the possibility that public opinion polls don't tell the whole story of how South Koreans might actually vote in the election. Along the lines of the unexpected ballot box results of Brexit in the United Kingdom, and then Donald Trump's victory in the U.S., South Korea's right-wing hope that polls have somehow failed to account for the electorate's true feelings.
A prosecutor steeped in privilege
Hwang Kyo-ahn oversees the continuing breakdown of the South Korean right from his comfortable perch as acting president, with no pressure to win an election. Born in 1957 in Seoul, Hwang's background is chock full of elite privilege. He attended Kyunggi High School, a venerable institution in Seoul, roughly comparable to Eton as a learning ground for students who go on to hold prominent positions in government and business. He studied law at Sungkyunkwan University, a prestigious school that dates back to the Joseon dynasty.
In a move common among South Korea's wealthy elite, Hwang found a way to avoid the mandatory military service that all able-bodied South Korean males are required to complete. Hwang was exempted after claiming that he suffered from a rare case of hives. Though Hwang has maintained that the hives, a condition called chronic urticaria, were a legitimate reason for exemption, he has ever since been dogged by accusations that he just wanted an excuse to avoid the more than two-years of physically arduous service.
(At the National Assembly hearing in 2015 to confirm Hwang's appointment as prime minister, one Minjoo Party lawmaker, Jeon Hee-cheol, cited figures showing that among the more than 3.5 million South Korean men who were up for military service over an 11 year period, a total of four were exempted due to chronic urticaria.)
After university, Hwang began a career with the prosecutors, where he immersed himself in South Korea's controversial Cold War-era National Security Law. "His strength was never investigation; he was always more interested in communicating, in convincing others of the importance of the National Security Law," said Lee Chun-jae, author of "A Lean Balance," a study of South Korea's judicial system.
As a prosecutor, the most prominent case Hwang handled was the so-called "X-file" case in 2005, which involved leaked recordings featuring the names of more than 20 politicians and prosecutors that had allegedly been bribed by Samsung. Hwang went against Justice Party lawmaker Roh Hoe-chan, who published the transcripts online, finding that the recordings were inadmissible as evidence because they were illegally obtained.
This case would have an eerie echo years later, when Hwang would get the opportunity to act out this passion for the National Security Law on a national level.
A champion of public security
When Park Geun-hye was inaugurated as president in early 2013, she named Hwang her Minister of Justice, the latest phase in a loyal relationship between the two, which dates back at least to Hwang's support for Park's pursuit of the presidential nomination in 2007 (Park lost out to eventual president Lee Myung-bak).
He brought with him to the job a determination to stamp out the Unified Progressive Party, a left-wing nationalist party that held five seats in the National Assembly at the time. The party, and its lawmaker Lee Seok-ki in particular, were implicated in a scandal that broke out in 2013, when the National Intelligence Agency led search and seizure operations on the homes and offices of UPP members. At the time, Hwang described the UPP's platform as "working to revolutionize the South Korean society under the guiding ideology of Juche," referring to the vague ideology attributed to late North Korean leader Kim Il-sung.
Lee was detained on charges of fomenting an insurrection and praising North Korea (a violation of the National Security Law). The NIS based its case against Lee on a recording of a meeting that took place in Seoul, in which Lee allegedly discussed material preparations to assist North Korea in the event a war broke out with South Korea.
This time, Hwang apparently had no issue with a recording, of uncertain legality, being used as evidence in this case. In early 2014 Lee was sentenced to twelve years in prison (later lowered on appeal to nine years) and late that same year the Constitutional Court ruled to disband the UPP, the first time a South Korean political party had been disbanded since 1958.
An uncertain future of the right
Perhaps out of a sense of urgency, in the weeks leading up to Park's ouster, more right-wing groups held public protests decrying her impeachment, and some are now carrying out a round-the-clock vigil outside Park's house in Seoul, where she is currently holed up, awaiting a summons for questioning by prosecutors. The groups have adopted the South Korean flag as their symbol, and in their chants and on the placards they carry, express fears of losing the country, of a liberal leader taking power and leaving South Korea vulnerable to communist infiltration by North Korea. Some even say martial law must be declared. These ideas may be far-fetched, but the conservatives' concerns over losing the top spot are real.
Hwang became prime minister in 2015, and even though Park tried, at the height of the scandal, to fire him in a bid to wipe the slate clean, he stuck by her. He has also committed himself to carrying out Park's agenda, including the controversial deployment of THAAD, a U.S.-made missile defense system that has angered Beijing so much.
Given Hwang's loyalty, and background as a national security hawk, he would have made an appealing candidate for hardcore conservatives who find fault with the way Park has been removed from power.
With Hwang out of the election picture, the next question is whether the conservatives can come together to throw their support behind one candidate that can challenge Moon, and more importantly, if they can find a new issue to hang their hat on, a cause that could form the basis for a fresh identity. What they decide will be significant in that it will determine whether South Korea's right moves forward, or clings to its old red-baiting approach.
*
Cover Image: Hwang Kyo-ahn at the National Assembly hearing in 2015 to confirm his appointment as prime minister. Few knew then that Hwang would become acting president in less than two years' time. (Source: Newstapa)
Become a subscriber to access all of our content.