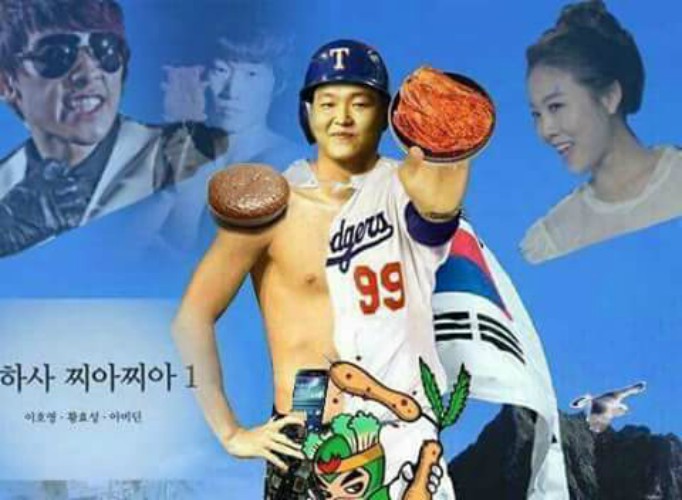 "Gukppong": The Nationalism Meth
Picture this: South Korean Singer Psy is holding kimchi in one hand. In the other, he's holding a Samsung phone. He wears the uniform of the L.A. Dodgers (for which a South Korean baseball player is currently playing). In the background, K-pop idol group Girls' Generation is standing by Dokdo, the islets in the east claimed by both South Korea and Japan.
That's not all: There's another well-known singer Rain, former Manchester United player Park Ji-sung, and even Pororo, an animated penguin from an internationally popular children's show created by South Koreans.
This image satirizes South Korea's gukppong sentiment. Gukppong literally means "nation-meth." It's a derogatory term that connotes excessive nationalism. The picture above, for example, is full of symbols of South Korean national pride — icons that are supposed to inject South Koreans a high dose of national pride, akin to shooting up some "ppong," or methamphetamine.
In a country where overindulgent nationalism, even bordering on chauvinism, is still widespread, the increasing popularity of the term gukppong is an interesting phenomenon. It's not clear how the word originated. Some suspect it appeared to mock national pride in the aftermath of the 1997-98 Asian financial crisis (which hobbled the national economy); some say the word first appeared in the early 2000s on DC Inside, a South Korean online community that's not too dissimilar from Reddit. "That person's shooting up some gukppong" is a common way to use the word, which ridicules blind nationalism.
Throughout modern South Korean history, as in other nations, nationalism served as a useful tool for mobilizing and uniting citizens. Community has been seen as trumping individual liberty, and the government routinely promoted the supremacy of the nation to inculcate citizens with pride.
But appeals to nationalism are becoming less effective, at least among some South Koreans, especially the younger generation. For example, "Hell Joseon" is a popular counter-narrative to the pride-filled nationalist image of the country. In a recent survey by Job Korea, a major job portal, seven out of ten respondents — not just young people — said they would emigrate to another country if they could.
Even so (or perhaps precisely because of this declining sense of national loyalty), government agencies, corporations, and even media outlets obsess over "K-pride." Idealized portrayals of the nation still persist everywhere.
In the video above, CJ, an entertainment giant, promotes its cinema chain in an advertisement titled, "Only One Korea." The 2015 ad goes, "A country where 90 percent of its people have national flags…. A country that rose from being one of the poorest to one of the ten biggest economic powers of the world…. Only One Korea." Not everyone shared that pride.
https://twitter.com/soundly_s/status/602398577713762304
"CGV's funny gukppong advertisement, with that "Republic of Korea is Amazing" talk, may work on some people. People like that typically get offended by others who criticize structural and moral problems in our society. They say, "Why do you always look at things so negatively?""
What's changing is South Koreans' perception toward these efforts to glorify the nation. Gukppong falls in line with the growing culture of exasperation toward such excessive "patriotism marketing."
But the country's frequent shots of gukppong aren't just reserved for its own citizens. Foreigners, especially those who live in South Korea, are also mobilized to enthuse over the wonders of the country.
Making fun of those efforts is, for example, the T-shirt above. Photoshopped onto the T-shirt is a short list of people and things South Koreans are typically proud of. "A must-have for foreigners entering South Korea," the netizen who posted the picture said, mocking the culture of gukppong enforced on non-Koreans.
In the same post, the netizen criticized how many foreign stars who come to South Korea are made to try the horse dance in Psy's viral sensation, "Gangnam Style."
"It's good to have pride in our country," the netizen wrote. "But this 'entry-screening' [for foreigners] is embarrassing. Can we stop it already?"
Cover Image: Psy, kimchi, Rain, chocopie, LA Dodgers, the South Korean flag… All united under "Korea Pride." (Source: Online community Inven)
Become a subscriber to access all of our content.