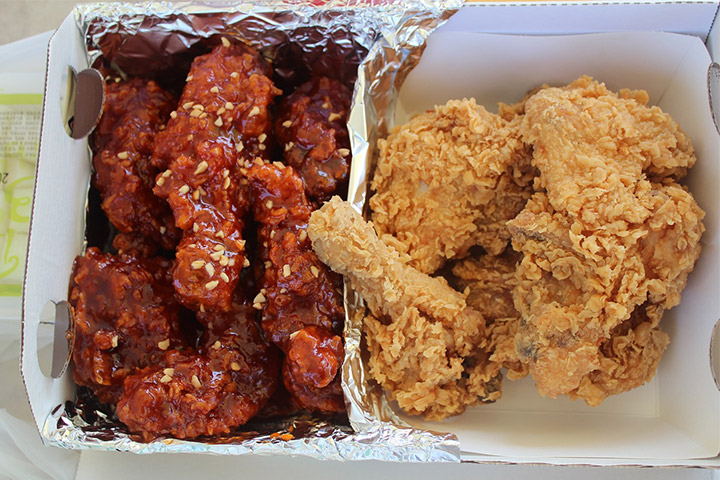 Fried Chicken Tests Take Wing in South Korea
South Koreans love their fried chicken. So much so, in fact, that they've used it (cheekily) as a determinant of political party affiliation, labeled the country chimaek (chicken and maekju, or beer) republic, and consume 800 million chickens annually, in a country of 51 million people. Now, they've combined fried chicken with yet another core aspect of national culture: test-taking.
On Jul. 22, Delivery Nation, a mobile delivery service app, hosted the Chimmelier Qualification Exam — a portmanteau of the words chicken and sommelier — at Lotte Hotel World in Seoul. In a format recognizable to any South Korean student, participants answered a total of 30 standard and 12 applied questions, each one about the extensive world of fried chicken.
Three listening questions slowly warmed up the test takers at the start of the first section, which was 20 minutes long. "Listen to the following sounds and mark which is the sound of a real chicken." "Which of the following is not the advertisement song of a major chicken franchise?" "Listen to this foreigner describe his favorite chicken brand. Which brand is it?"
Other questions were as follows:
(4) What is the best temperature to fry chicken?
100°C
130°C
180°C
200°C
(5) Which of the following is the most accurate location of chicken breast?
(6) Which of the following is not on BHC's chicken menu?
Curry Queen
Macho King
Chi-Bago
Hot Bling
(7) Which of the following photos is NeNe Chicken's 'snowing chicken'?
A total of 500 people took the exam, which included individually tasting 12 varieties of fried chicken and matching them to their brands. Among the 118 test-takers who passed, the top chimmelier was Kim Mi-Jung, who scored 35 points out of 42.
"Not all chicken is the same. This is something you remember not with your head, but with your body," Kim said in an interview with the daily Chosun Ilbo newspaper. "I trusted the senses of my eyes and tongue."
Kim consumes chicken up to four times a week, and said she must have devoured about 2,000 chickens in her lifetime. She spoke to why she, and perhaps so many other South Koreans, foster a love for the omnipresent fried dish.
"It's convenient to have delivered, easy to share with loved ones and a good way to prepare for drinking sessions," she said. "The great thing about (chicken) is that it's such a readily available food," she said. "No matter where you're meeting your friends, there will be a chicken shop nearby."
Her advice for the round 2 test-takers? No matter what new flavors the market comes up with, original fried chicken is still the quintessential dish. "Don't forget the basics," she said, if you want to be the next top chimmelier.
Cover photo: Marinated and plain fried chicken in South Korea. (Source: ewhity on Pixabay)
Become a subscriber to access all of our content.