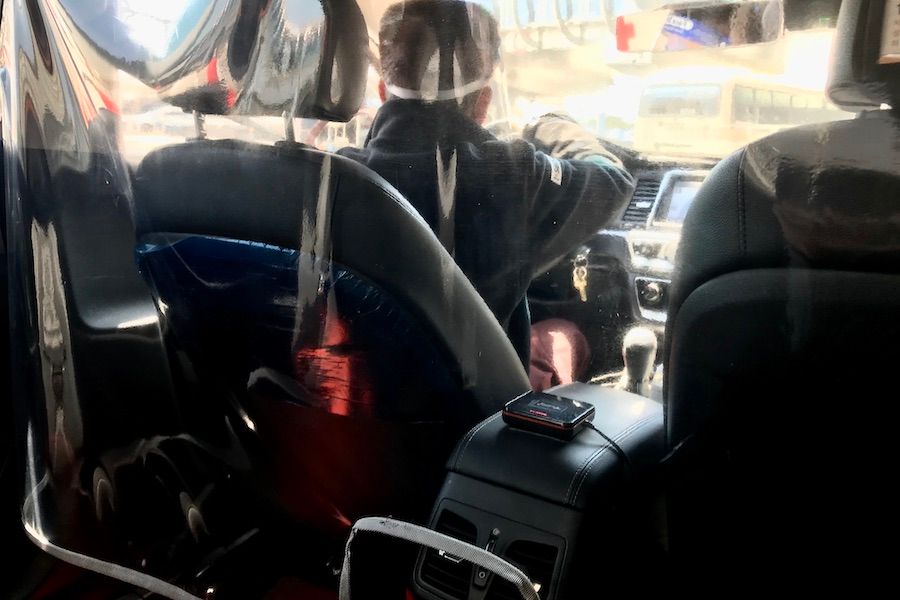 Entering Korea as a Foreigner During COVID-19 Crisis
The first sign that my visit to Seoul would be different this time came at the Frankfurt airport check-in counter. After seeing my passport and ensuring that I had a valid visa, the Asiana Airlines employee showed me a laminated sheet of paper with two QR codes: one for android phones and another for iPhones.
"Please download it now before boarding the plane."
It was a link for the location-tracking app the South Korean government has mandated for all new international arrivals in the age of COVID-19, a.k.a. coronavirus. Regardless of one's nationality, the app is a must if one wishes to enter the country.
I left Seoul for Europe in late January, and I did not think I would return so soon. But then the coronavirus outbreak intensified, border shutdowns began worldwide mid-March, and airlines began canceling flights. I was buying overpriced disposable masks on South Korean e-commerce sites and having them shipped to my elderly parents in Seoul, and I decided that I should try to see them at least once before travel became even more difficult.
To my surprise, flights were easily available, and the round-trip fare from Frankfurt to Incheon in late April was affordable at around 800 euros. I booked it, called my parents to let them know I was coming, and decided to find out for myself how difficult the whole trip would be.
This is what I have learned about going to South Korea as a foreigner during the coronavirus crisis.
Disclaimer: What follows is mainly based on personal experiences since April 25. I tried as much as possible to supplement them with information from the South Korean government sources and domestic media reports, but some information may be incomplete or out of date given the rapidly changing nature of the situation.
Preamble About Visa
One can hardly expect to get to South Korea as a foreigner without having a visa, so a point on that before flying. On Apr. 10 the Ministry of Justice announced that all short-term visas issued on or before Apr. 5 were being temporarily suspended regardless of validity. So-called "long-term visas" (starting with the alphabets A, D, E, F, G, H) and "short-term employment visa" (C-4) are exempt from suspension.
I have a multi-year F visa, so there was no need to apply for a new one. If a non-South Korean national wishes to obtain a visa for immediate use, an application must be made at the nearby embassy or consulate, along with a coronavirus test certificate issued within 48 hours.
Also on Apr. 10, the South Korean government suspended existing visa exemption and waiver arrangements "for nationals of countries imposing entry bans on Koreans". That suspension applies to citizens of 90 countries. The full list can be found here in a PDF file at the end of the page, but be sure to consult a nearby South Korean diplomatic mission before planning your journey.
Flight
My inbound flight to Incheon was on an Airbus 359 with 306 seats. At the check-in counter I was told only 56 passengers were flying, and the plane was understandably empty. Once in the air, flight attendants distributed three forms to be filled out in advance of arrival: a normal customs form in addition to two health questionnaires. In-flight meals were served on time, snacks were plentiful, and I even bought duty-free goods as presents.
Health Inspection
Assuming you have made it as far as Incheon Airport (the smaller Gimpo Airport has closed its international terminal over lack of traffic), I imagine you are standing in line for a turn to speak with a public health inspector.
When my turn came, my temperature was measured and one of the two health questionnaires I filled out onboard the plane were collected. I was asked if I suffered any symptoms of coronavirus infection and when I answered in the negative, I was allowed to proceed in the direction of the immigration desk.
If you answer that you have had symptoms or display symptoms, you are to be directed to the makeshift clinic (which I saw in the airport corridor) for a secondary inspection, according to the Ministry of Health and Welfare.
But don't plan on hiding a fever by taking medicine. If caught (for this or any other attempt at circumventing the COVID-19 prevention measures), the punishment can be up to a year in prison or a fine of up to 10 million KRW, says the Korea Center for Disease Control and Prevention. And the government has not been shy about making examples out of violators.
Border Control
The familiar border control procedure was no longer in place. Leading to the immigration counter were a series of desks, each one assigned a different task.
At the first desk, my phone was inspected to ensure that I had the location-tracking app. It was then activated by one of the officials, who measured my temperature one more time and entered it into the app (this is something I would go on to do myself twice daily for the following 14 days), and I was given a tag to wear around my neck.
At the second desk, officials confirmed that I had "verifiable contact information and address for their stay in Korea." My address is in the government database, so there was no problem with proving where I would stay, and my phone vibrated as expected when they dialed the number.
At the third desk, I was asked to fill out additional forms, all of which demanded identical information along the lines of birthdate, address and phone number. I also signed a "Restriction Order on the Scope of Activities" detailing what the quarantine implies and what consequences I can face for breaking it.
If you have not been aware up until that point that you need to spend your first 14 days in South Korea in quarantine, you will for sure learn it at this point, because signing the restriction order implies you have been informed and will abide by it.
(Some foreigners are granted exemption from the quarantine requirement, or may be allowed to end the quarantine earlier than others, however. Diplomats are one such group.)
A kind official checked my visa status and informed me that my quarantine would be carried out at home — a fact that was also noted on one of the many forms.
At the fourth desk, yet another official checked that all my documents were in order and ready for inspection.
Finally, at the border control counter, all the forms were collected with the exception of the restriction order, which I kept. I was finally permitted to proceed to the baggage carousel and collect my bag before going through customs into the arrival area.
All this sounds extremely tedious, but the whole process in fact took less than half an hour, given the very small number of passengers.
Traveler Categories and Testing
Anyone, regardless of nationality or visa status, is to be isolated and tested during the health inspection stage at the airport if he or she shows symptoms of coronavirus, says the Central Disaster Management Headquarters of Korea.
If asymptomatic, South Korean nationals and "long-term stay foreigners" are allowed to leave the airport and undergo self-quarantine at their registered addresses. But they must visit a public health office in their respective jurisdictions to undergo a COVID-19 test within three days of entering the country.
EXCEPTION: Even asymptomatic South Korean nationals and "long-term stay foreigners" are tested for COVID-19 at the airport and quarantined at a government facility to await the result if they are coming from Europe.
As an asymptomatic "long-term stay foreigner" out of Frankfurt I was made to show my passport for inspection and led out of the airport arrival area by a soldier (a young army conscript serving his mandatory military duty). I was handed over to another soldier who led me across the street to the auxiliary structure on the other side. There my passport and tag around the neck were once again examined.
After recording my identification details, two men in full hazmat suits tested me for the virus with two cotton swabs, one in the throat and the other in the nose. A third soldier then appeared and took me around the corner to a parking area. My identification details were recorded again and my neck tag finally taken away by two police officers. A bus came in a few minutes, but a fellow passenger of mine from Germany and I had to wait four hours before the bus took off.
I asked the police on duty why it took so long, and one answered, "There aren't many incoming travelers, so there are only two to three buses a day to the quarantine facility." We ended up leaving when the bus was loaded with a total of 12 people.
"Short-term stay foreigners"
In the official announcement concerning new entry restrictions, the justice ministry defines "short-term visas" as C-1 (temporary journalistic activities) and C-3 (general purpose, business or tourism).
The health and welfare ministry states that such "short-term stay foreigners will be quarantined in a designated facility for the 14 day incubation period" on arrival.
Citing an official with the Central Disaster Management Headquarters, South Korean media reported on April 1 that "short-term stay foreigners without a clear address are to be quarantined in a government facility" and that "the costs of quarantine are to be borne by travelers themselves."
The cost is 1.4 million KRW (1,150 USD) for the 14-day period. In early April, a Taiwanese national who refused to pay the fee on arrival at the quarantine facility was forcibly expelled from South Korea and made headlines for being the first example.
Good news, if I can call it that, is: any "inbound travelers who test positive [for COVID-19] will be transferred to an isolated treatment ward or 'Living Treatment Center' to get treatment." And the cost of treatment is "covered by the local or central government", for "both Koreans and foreigners."
Quarantine Facility
My overnight quarantine facility was a residence hotel located in Cheonan, about two hours south of Incheon Airport. At the reception, all 12 of us were greeted by fully suited-up personnel who took down our identification details one by one. Each traveler was given a room key, a box of food for dinner, a small bottle of water, and a plastic bag containing hygiene products (wads of paper towel, shampoo, body wash, and toothpaste among other things).
We were then loaded two at a time into an electric golf cart, which took us across the sprawling hotel ground to our individual rooms. My room resembled more a small apartment complete with a kitchen, a living area, a bedroom, a bathroom and even a balcony. The open wifi signal was strong, and the high-definition wide-screen TV had multiple channels. There was no bed but the closet contained two blankets and a small pillow.
(Many of my non-Korean friends with plans to return to South Korea were dismayed to hear about having to sleep on the floor; I cannot verify whether all overnight quarantine facilities lack beds as was my case.)
As it was late, I went to sleep almost immediately. Next day, breakfast—another box of food with bigger bottles of water this time—was delivered at around 8:30, and around 9 am a call came that my test result was negative and I had permission to leave.
Bear in mind, I did not have to pay for any of this.
I packed my bag hurriedly. The same golf cart came to pick me up and another traveler in a nearby room. We were taken together back to an area near the reception, and the personnel on hand talked to us one by one. I had to show the tracking app on my phone in exchange for the test certificate, and the man in charge recorded my official home address and the name of the public servant who is apparently in charge of my case—both noted on the app.
The staff spoke almost no English, but the printed instruction—handed out to us the night before—said that one could choose to leave the facility with a family member or friend driving a car. I saw, however, no one who did that.
Instead, everyone got on a waiting bus and made the same journey back to the airport in just under two hours. We were unloaded and rather confusingly left to our own devices. Only back in the airport terminal building could we ask someone how we could proceed to our next destinations.
Traveling Home
Incoming travelers are not allowed to take the AREX (Airport Express) train starting Apr. 1. And for three months until Jul. 1 the AREX non-stop express train service to Seoul Train Station is being suspended (although the time period may be shortened or extended depending on how the coronavirus crisis develops.
Instead, special buses are available for reaching different parts of the country. Alternatively, one can take a coronavirus-proofed taxi as I did, complete with a clear polyurethane sheet to separate the driver—wearing a face shield and a mask himself—from the passenger. It can be ordered at a special counter in the far western end of the arrival area. The fare is fixed and determined by the destination. Mine, going to the far southeastern end of Seoul, cost 90,000 KRW (74 USD).
Home Quarantine
Clearing the initial COVID-19 test at the airport and making it home is only the first step in your 14-day quarantine. I am to remain strictly home for the two-week period and use the location-tracking app twice each day to self-report my health condition. (A friend asked on Facebook if I can go out for walks, and I can only answer, 'I wish'.)
On the third day, a shopping bag full of disposable masks, disinfectant gel, disposable thermometers and special plastic bags for disposing biohazard materials was hand-delivered to my apartment door. That same day, a call came from my local district government office. They wanted to know my bank account number so they could transfer 100,000 KRW in cash for buying whatever supply I needed, and the money came that very same day.
In keeping with the extent to which the government seems intent on making the quarantine tolerable, penalties for flouting it is severe.
South Korean media reported on May 1 that four foreigners had been expelled from the country over leaving their registered addresses. One had gone out to smoke a cigarette, and another to use a gym inside his or her apartment complex.
One could leave the phone at home and go out, but after a number of high-profile violations involving both South Korean nationals and foreigners, the government has instituted the practice of paying an unannounced visit to catch offenders. Since Apr. 27 quarantine violators are given the choice of either entering a government facility for the remainder of the isolation period or wearing a location-tracking bracelet that cannot be removed.
I am now on the last day of my 14-day quarantine, so I cannot say much about what happens after. I called on Friday the local public health office as well as the Korea Center for Disease Control, and they both told me I am not required to come in for a second COVID-19 test, but this is mandatory in some localities around the country. I will simply need to wear a mask in public, remain vigilant about social distancing, and monitor my body for any symptoms that suggest infection.
And I will finally be able to delete the app.
Cover image: a corona-proofed taxi for passengers at Incheon Airport (credit: Se-Woong Koo)
Become a subscriber to access all of our content.