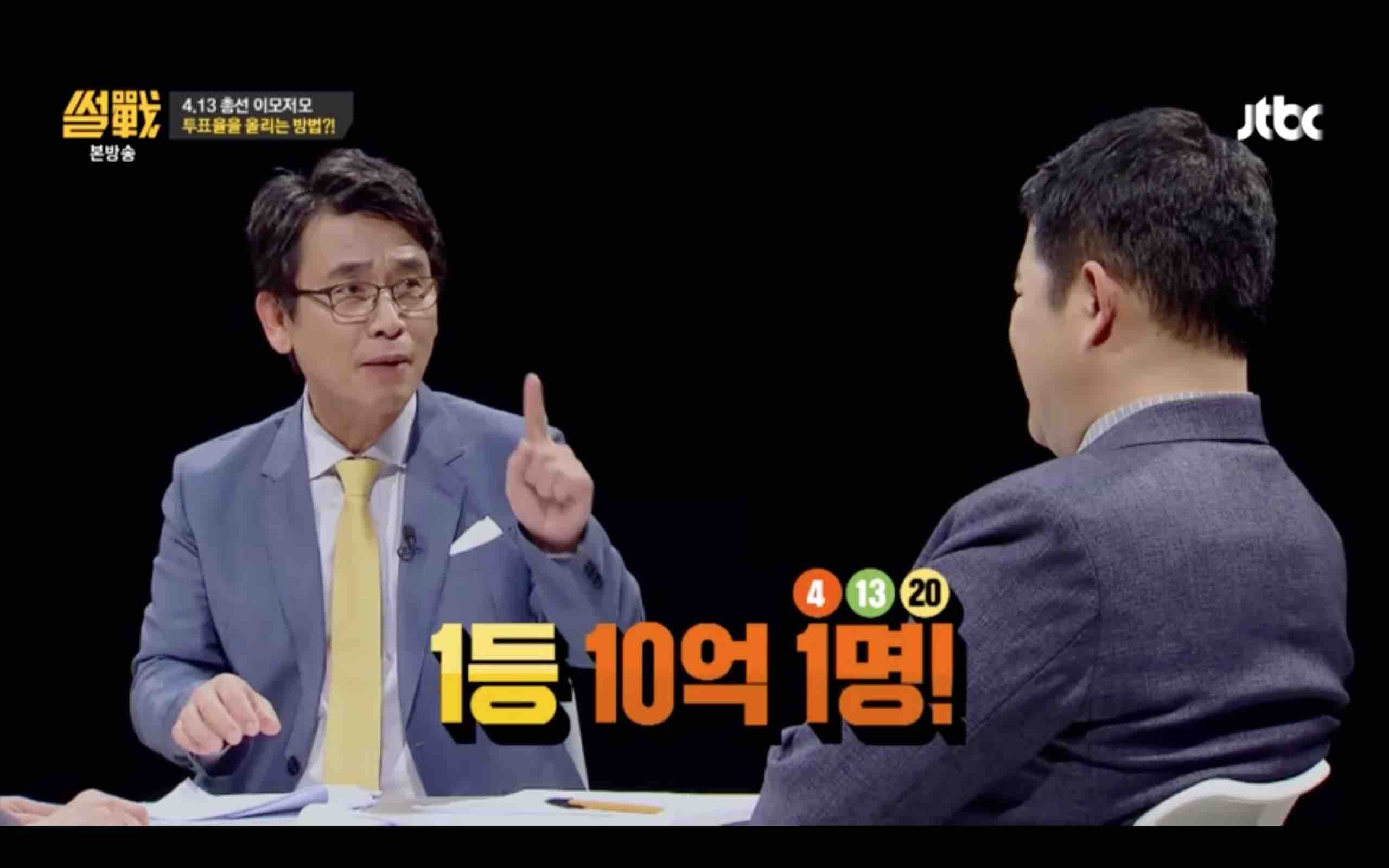 The Election Lottery: Cast Your Ballot, Win a Prize?
What's the best way to lure voters back to the ballot box? Some South Koreans think holding a lottery, with monetary prizes, may do the trick.
Recently, 30-year-old software developer Yoo Byeong-joon launched the "National Voter Lottery" with six like-minded friends.
The idea sparked interest last April, when politician Rhyu Si-min proposed it in an appearance on TV talk show "Ssul Jeon." Rhyu suggested that holding a lottery among confirmed voters would help boost turnout. He said it made more sense to reward those who voted than to track down and punish those who didn't.
Marveling at the originality of the idea, fellow panelist Jun Won-tchack, a lawyer and TV personality, told Rhyu he should apply for a patent. Rhyu said he wouldn't seek to patent the lottery, as it was a project intended to contribute to the public good. When Jun warned that it might encourage gambling, Rhyu conceded, saying, "I was just putting it out there."
Maybe Rhyu should have gotten that patent after all, since Yoo has now gone ahead and made the concept a reality.
"Many people have been aware of low voter turnout. What Rhyu said on Ssul Jeon resonated with many people, myself included, setting off a ripple of excitement on social media. So I decided to execute the idea instead of just thinking about it," Yoo told Korea Exposé.
Yoo and six friends, all of whom work for different startups, agreed to launch the service for the next presidential election, which, at that time, was scheduled for the end of 2017. When Park Geun-hye was ousted from the presidency in March, the election was moved forward to May 9, pushing Yoo and his team to expedite their plan and kick off the service on Apr. 17.
Voters who have cast their ballot can enter the lottery by submitting evidence of themselves voting. Photos taken in front of a polling station or encouraging others to vote are acceptable, but a photo of the ballot paper or one that alludes to a specific candidate will be nullified for violating the South Korean election law. To ensure that each eligible voter enters only once, entrants must sign up with their Kakaotalk (a popular South Korean instant messaging app) accounts.
The prize money will be accrued from donations, but only after operational costs have been deducted. Yoo said that the prize money would be proportionally allocated to the top three winners — 50 percent for first prize, 20 percent for second, and 10 for third. The remaining 20 percent will be divided into 50,000-won prizes (around 45 U.S. dollars).
As of Apr. 24, 418 individuals donated more than 4.7 million won (approximately 4,100 dollars). It's not clear how much will be deducted to cover the cost of operation.
In South Korea, after the voter turnout peaked at 97 percent in the 1960 presidential election, decreasing numbers of eligible voters have cast ballots. The lowest voter turnout for a presidential election came in 2007, at only 63 percent. While it rose in 2012 (75.8 percent), the last three presidential elections still have seen lower levels of participation than any before them. General elections fare worse; the turnout was only 58 percent in 2016.
Will the "National Voter Lottery" boost voter turnout? Yoo sounded hopeful but hesitated to speculate on the long-term viability of the project. "We'll have to wait and see how it turns out in the long run. But if it works well, I'm willing to carry on," said Yoo.
Cover image: Rhyu Si-min suggests on television show Ssul Jeon, that the winner of a lottery among those who vote should earn 100 million won, or roughly 88,500 dollars. (Source: JTBC)
Become a subscriber to access all of our content.