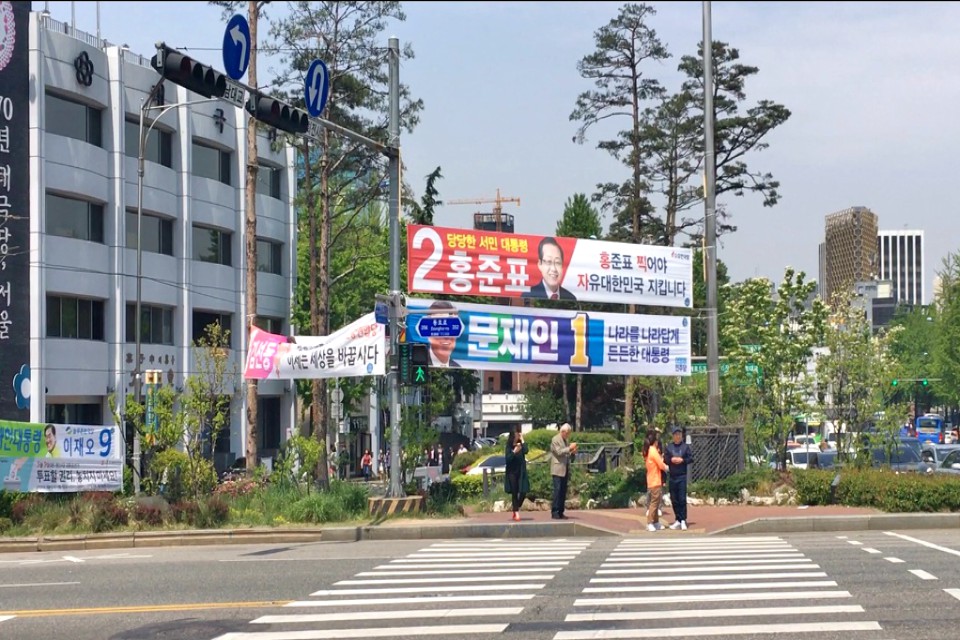 VOTE FOR ME! I CAN CHANGE SOUTH KOREA! Colorful election banners decorated South Korea's streets throughout the recent presidential election campaign. The country is now left with reportedly over 17,000 strips of synthetic fabric, which threatens to go to waste (they will likely be incinerated or buried in the ground).
To reduce the waste, a group of social entrepreneurs decided to make pretty eco-friendly bags from the banners.
The project is called "Five Years of Promise": Crowdfunding investors choose a candidate and receive a bag made out of her/his placard, with their respective pledges sown neatly into the inner pouch. This way, voters can stay in touch with the memories of whomever they supported — and those with Moon Jae-in bags can monitor the newly-elect to keep his promises during his five-year incumbency.
The hottest item by far, already sold out, is the "Moon Jae-in bag"; an eco-bag with a tint of dark blue, the color of Moon's liberal Minjoo Party. Least popular is the "Cho Won-jin bag," representing the candidate of the new Saenuri Party — a receptacle that sat sadly unsold at the time of publication. And where, you may wonder, is the bag of Hong Joon-pyo, the runner-up conservative candidate who won 24 percent of the vote this election? His Liberty Korea Party, it turns out, refused to collaborate with the project.
"Each candidate is responsible for the production and disposal costs of banners, but no one takes responsibility for the environmental pollution — neither the candidates nor the parties nor the government," said Touch4Good, the organizer of the project, on the crowdfunding site. Touch4Good estimated that around 3.5 billion won will be spent on incinerating the banners this year, adding yet more harmful chemicals to the air.
"Upcycling," a portmanteau of "upgraded recycling," offers a modern and alternative solution to disposing waste. Creative reuse can transform waste materials into new products with better design and quality, while adding both environmental and social value.
"Banners are important, inasmuch as they signify candidates' long-considered promises. We've started this project to make sure these promises don't get abandoned like the banners," said Touch4Good.
Upcycling began trending in South Korea in the mid-2000s, around the time several social enterprises, including Touch4Good, came onto the scene. Touch4Good's political banner-bag project started with the 2009 regional elections, continuing with the 2012 presidential election and surviving into the 2017 presidential race.
The Five Years of Promise project is currently seeking crowdfunding. It has already met and exceeded its goal fourfold, having attracted more than 1,000 supporters.
*
Cover Image: Tens of thousands of banners decorated the streets during the presidential campaign. (Jieun Choi/Korea Exposé)
Become a subscriber to access all of our content.