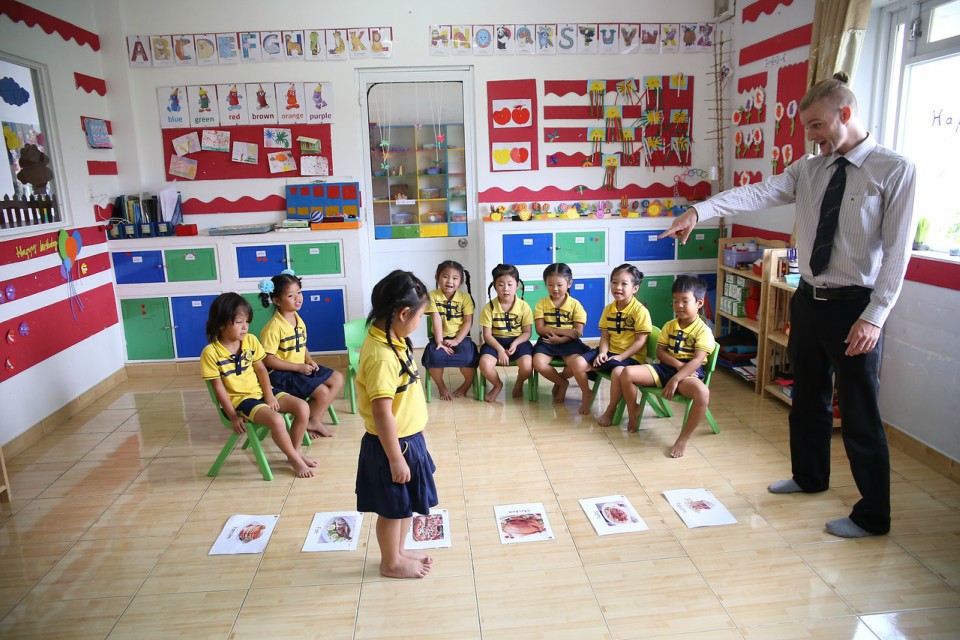 Education Blues Pt. 3: A Deported English Teacher
English education is arguably the holy grail of South Korea's infamous education craze. The private sector market for English education, rife with private cram schools called hagwon, amounted to 61 trillion won (about 55 billion U.S. dollars) in 2014.
Among these hagwon is a group of institutions that call themselves "international schools," mostly English-immersion alternative schools, which often have curricula certified by Anglophone states. While degrees from these schools are not acknowledged in South Korea, they often are outside the country. Many students at these international schools proceed to overseas universities in the U.S. and Canada.
Starting this April, the South Korean immigration office has been clamping down on some international schools registered legally as hagwon. Canadian British Columbia International School (CBIS), a certified Canadian school in the South Korean capital, was the first to be raided. Allegedly, some 14 teachers holding E-2 visas were effectively deported, receiving departure orders for visa infraction. CBIS, which is still in operation, refused to confirm the number of deported teachers.
The E-2 visa is for foreign language instructors who teach conversational language. E-7, on the other hand, is for foreign workers with professional knowledge. Strictly speaking, teaching English grammar with an E-2 visa is illegal. The immigration office pointed out that these E-2 visa holders at international schools should have obtained an E-7 instead, because they were teaching subjects other than conversational English.
CBIS's raid only marked the beginning of ensuing crackdowns on similar English institutions, including Westminster Canadian Academy (WCA), BIS Canada, BCC Canada, SIS Canada and Calvary Christian Scholars, according to former English teacher Christina King. Christina, now back home in Texas, taught English for three years at WCA in Seoul with an E-2 visa. She was forced to leave South Korea in late June.
At the time of publication, Korea Exposé was unable to confirm with the Ministry of Justice the number of raided schools nor the number of deported English teachers.
Korea Exposé spoke with Christina over Skype about her experience in regards to the recent clampdowns and her views on the problems facing South Korea's education system. For 13 years, she had taught English in numerous South Korean hagwon — including WCA, a relatively small institution with around 70 students from grades 1 to 12 — before she was given the departure order from the immigration office this year.
The following interview has been edited for length and clarity.
*
KÉ: What happened on the day that WCA was raided?
Christina King: On Monday, May 22, about eight people from the immigration office with badges rushed into the school building. They started knocking on doors to find E-2 visa holders, and asked us teachers to meet them at the cafeteria after class. Later that day, [out of the eight E-2 visa holders present] the principal and three English teachers were detained, including myself. The other four had to come [to the immigration office] the next day.
I was supposed to be under a 48-hour detention. I had to fill out a questionnaire and sign a document admitting my guilt. If not, I would have been deported immediately after the detention. After signing the document, I went home that night. They called me the next day and told me to come in on Wednesday [May 24] — that's when they gave me the departure order to leave within 30 days. I left exactly 30 days later, the last possible date I could leave the country.
What did you teach at WCA?
Among the deported teachers from WCA, I was actually the only ESL teacher. Others were certified teachers of other subjects. Since the immigration office pointed out that the E-2 visa was only for teaching conversational English, which I was, I brought all the materials to argue that I wasn't infringing visa regulations.
The immigration office first said they wanted to talk about the matter later on, but they actually didn't even bother. I really didn't get to plead my case. I think the problem was that WCA was not a language school, but operated as an actual school.
Do you know why this happened? Who is behind the crackdowns?
Everyone says it's the new Moon Jae-in administration, but CBIS was raided before the presidential election. Immigration put all the blame on us [teachers]. I think they just wanted to shut down the English-immersion alternative schools.
I think the government is to blame, to a large extent. There is a big problem with the education system in South Korea, but the government is pointing the finger in the wrong direction and labeling it wrongly. And since the owners of the international schools are business-savvy people, they are going to find loopholes and this is going to happen again.
During the presidential campaign, Moon pledged to abolish "elite schools," to reduce inequality in education. These so-called "international schools" are often criticized for being elite schools for the rich. What do you think about such criticisms?
The South Korean education system is badly broken. If you look at the students from these international schools, not all of them are from rich elite families. Indeed, a 20 million-won annual tuition [around 18,000 U.S dollars] is very expensive and it's true that most students have parents with money.
But I do know of some families that have pooled resources to send their kids to these schools for whatever reason. I can't justify the tuition fees, but these teachers at WCA are highly educated — with Ph.D. in education theories for instance. Parents were paying for quality teachers and education.
One of the reasons that Canadian schools did quite well in South Korea was that they really educated students. Education in these schools wasn't about how much one learned, but about the process of learning it, including self-discovery and exploration.
Conversely, the South Korean education system is only for two types of learners: one that learns and memorizes, and the other that is naturally talented in math and science.
When South Korean students go abroad to study, to the U.S. for instance, they have a very hard time: First, they have this [idea] of perfection they can't achieve; second, they can't survive in social classrooms. They don't know how to participate in discussions, critically think or solve problems that aren't black and white. And those were the things that international schools promoted that South Korean schools didn't.
If I had been in a South Korean high school, I wouldn't have survived. That's the problem here. The finger has to be pointed at the inadequacy [of the education system], not the foreign teachers or 'international schools.'
What are some cases of parents sending their kids to WCA despite financial burdens?
At WCA, we had a lot of special needs students with learning or behavior disabilities. The South Korean education system is not adequately supporting these two groups. Special needs is a very unexplored area here.
In South Korea, students with mental disabilities are sent to special schools where the child carries the registered stigma for the rest of his or her life. But minorly disabled students with dyslexia, Down's syndrome or ADHD don't need special schools but knowledgeable instructors.
And the teachers at WCA were more trained and equipped to teach these students. They were more accepted despite differences, instead of being alienated or singled out. These students are underrepresented in South Korea. If you are not first, you are a loser.
What will happen to WCA?
The Ministry of Education in Canada is having second thoughts about giving licenses to schools in South Korea. Apparently, the owner of WCA reapplied for the license for next year but was rejected. The Canadian ministry said there was no guarantee from the South Korean education authorities [that these schools would run].
There are seniors that need to graduate next year. We as teachers were paranoid about them. As soon as the school was raided, we made dummy accounts to put in their report cards so that their certificate can be recognized in Canada.
Students sent me messages like "Are you coming to school tomorrow?" and "We miss you." These students have no other place to go. I hope they have a second option.
Are you allowed to come back to South Korea in the future?
If we [the deported teachers] wanted to apply for jobs again, technically, we could come back in one year. I had been in South Korea for 13 years. But I don't think I'm going to go back. I'm excited about the change. I'm actually happy about it.
But it wasn't the case at all for my coworkers. They are much younger and had much harder times. Some didn't get paid because the school was raided in May but the contract was until the end of June. I'm speaking out not because I want revenge. What I want is reform and the truth. And justice for other teachers.
The only way South Korea changes is to be publicly embarrassed.
South Korea actually sent away a bunch of people who actually cared about and wanted real change in the country. E-2 visa holders who were deported are very educated teachers with high credentials. And they really cared.
I'm not angry. I love Korea. I just want the country to continue to improve, to continue to be great. I'll do anything to contribute if I can.
Cover image: English is arguably the holy grail of South Korea's infamous craze for education. (Source: Pixabay)
*
For more on South Korea's "education blues," check out our running series:
Become a subscriber to access all of our content.