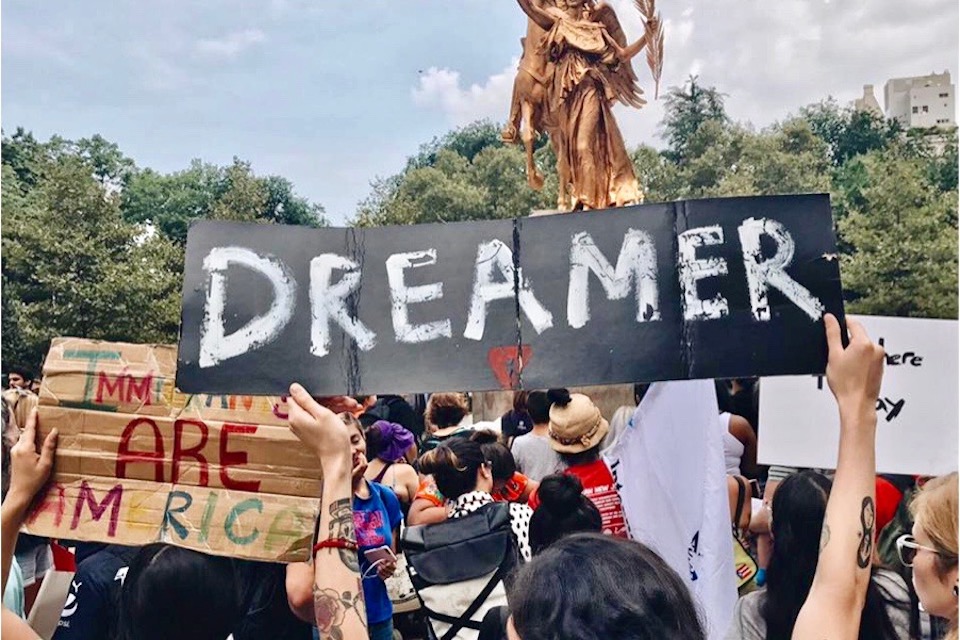 The End of DACA: Is South Korea Ready for a Wave of Deportees?
Update (Sep. 15, 2017): Since this piece was published, reports have surfaced that Donald Trump is close to sealing a deal with congressional Democrats to write DACA into law in exchange for increased border security funding. There are different interpretations of what this means, and uncertainty over the future of current DACA beneficiaries only grows.
Angie Kim, 34, is a Korean-American community organizer based in Queens, New York. She is also an undocumented migrant, but has been able to stay legally in the U.S. since 2012 thanks to the
Deferred Action for Childhood Arrivals (DACA)
program.
If the Trump administration has its way, Kim — the only undocumented member of her family — is liable for deportation back to South Korea, a country she has not seen in a quarter century.
President Donald Trump publicly announced on the morning of Sep. 5, 2017, via Attorney General Jeff Sessions, that he decided to rescind DACA.
That decision will affect approximately 690,000 "DREAMers" like Kim: young undocumented migrants, who are currently enrolled in and benefit from provisions under DACA, an Obama-era executive policy decision that allowed individuals brought to the U.S. illegally as children, to temporarily live, work, and or study in the country without fear of deportation.
Without DACA, all beneficiaries of the program will return to their previous undocumented status. While the large majority of DACAmented DREAMers are Hispanic/Latinx, Koreans make up a significant percentage of the remaining population of unauthorized immigrant youth in the US.
Kim said she knows what it's like to live a life of fear and uncertainty from being undocumented. "The thought of some hundreds of thousands of people having to go through that is heartbreaking."
According to the Migration Policy Institute (MPI) — an independent, nonpartisan, not-for-profit think tank that analyzes demographic changes across the globe — as of 2016, approximately 1.3 million undocumented young adults were immediately eligible to apply for DACA, and 52,000 of them were of Korean heritage. In California alone, DACA-eligible Koreans numbered in at 17,000, approximately three percent of the state's total DACA-eligible population.
Of those 52,000 nationwide, 7,693 applied for DACA in 2016 and 92 percent of those applications were approved, data from the U.S. Citizenship and Immigration Services indicates. MPI's 2016 data also reveals that Koreans represent the largest group of young non-Hispanic/Latinx immigrants who qualified for DACA.
James Hong, co-director of the MinKwon Center for Community Action, which serves the Korean-American community in New York, said, "DACA has been tremendously popular for immigrants from Korea. Korea is number 6th overall, with over 18,000 immigrants who have used this program."
Jang Jung Rae, another Korean-American DACA-recipient, told Korea Exposé that his mother brought him to the U.S. in the hopes that he would be able to receive an American education. But prior to gaining his DACA approval, Jang was unable to afford university enrollment fees and could not find legal means of supporting himself and his mother. Jumping from state to state, Jang and his mother were finally able to settle down in Flushing, Queens, New York after his DACA application was approved in 2012.
Jang said, "DACA, for many of us [beneficiaries], means opportunity."
Living in Limbo
The Trump administration's decision once again throws Jang, like Kim, into a limbo. When asked about his biggest concern, he answered, "Congress has a proven track record of not being able to pass anything in the last few decades in regards to progressive immigration agendas. My biggest concern is that Congress will not be able to reach a conclusive solution at the end of six months."
Many social justice advocates are calling for Congress to write DACA, or something with similar provisions, into law. Although Jang is trying to stay positive, he added, "If there is no meaningful legislative solution after six months and Trump decides to enforce the law with more deportations, it will destroy the confidence and the trust that immigrants have towards the government."
Eligible DACA applicants were obligated to report their addresses, family history, and work or school information to the federal government before being approved. As such, DACA recipients are at considerable risk for deportation if the federal government decides to allow Immigration and Customs Enforcement (ICE) officials to use such information for the purpose of detaining undocumented individuals.
Hong said, "Law enforcement [ICE] has been sort of given free reign on how to exercise their discretion on who to put into deportation procedures. Are they going to start going after people that used to have DACA and it's expired? It's possible. We cannot put anything past this administration."
While self-deportation is an option for some, it is not a reality that most Koreans are hoping for. Jang agreed. "Most people came here at an early age, at the age of 3 or 7, this is pretty much the only country that they know of or that they remember so it'll be hard for them to go back to Korea and to adjust to a new life."
When asked about Korea, Jang said, "[Korea] is the home country that I was born in and I have a very emotional attachment to it but it's not home anymore, so to say. Korea is a very connected society. If you want to get a good job, in a certain company, you have to have graduated from a specific university or have family connections. This is something that still exists in Korea."
"DREAMers, for example, me — a DACA recipient who was educated in and spent the majority of my life in the U.S. — I don't have those kinds of connections."
South Korea's Challenge
Whether undocumented Korean-Americans want it or not, South Korea will be the natural destination if deported from America. Hong noted somberly, "The question of reintegration back into Korean society — it's unfortunate that we have to think about it — is something for the Korean government to figure out."
The burden will then be on South Korea to care for repatriated citizens who may have little to no knowledge of their 'motherland.'
However, the South Korean government has already been faced with criticism this past year over its lack of services and programs for repatriated South Korea-born adoptees.
Phillip Clay, a Korean adoptee deported from the U.S., committed suicide on May 21, 2017, by jumping from the 14th floor of an apartment building in Ilsan. (He never became an American citizen because his adoptive parents failed to file the necessary paperwork.) Deported adoptees face a variety of social, economic, and psychological struggles that are specific to having spent decades in America with little exposure to South Korea and Korean culture.
Many of them are subject to homelessness, depression, language barriers, and financial insecurity. Moreover, deported adoptees struggle with finding social services and assistance that can provide with the support necessary in integrating into South Korean society.
Hellen Ko, a chief counselor at the Korea Adoption Services in Seoul, said in a New York Times article, "Deportation is like the death sentence to them [deported adoptees]."
Clay's passing prompted government officials to formally recognize the issues that deportees face in South Korea. They have stated that plans to protect repatriated adoptees are currently being discussed. But the problem at hand now is not simply addressing the issues that deported adoptees face but, rather, providing services to all repatriated citizens whose numbers may continue to steadily rise as a direct result of DACA's termination.
What then will the future hold for young Korean/Korean-American returnees who will have been, as Kim stated, "forced to walk away from the only life that they've known"?
How will South Korea's Ministry of Education deal with the rise in Korean students who will be, for a lack of better terms, Korean Language Learners?
Will more university seats be allocated to returnees who do not plan on taking South Korea's grueling College Scholastic Ability Test (CSAT), mandatory for most high school graduates seeking university admission?
Will there be an expansion in special-track admissions to universities for transfer students?
Will there be a diversification in military duty options, required of all young able-bodied South Korean men, for male deportees, GBTQ and heterosexual?
Likewise, with some young South Koreans already calling their country, "Hell Joseon," how will young deportees from the U.S. fare in South Korea's competitive job market?
What kind of resources, if any, will be provided to help repatriated citizens carve out a new life in Korea?
It is currently impossible to tell how the South Korean government will prepare for the possible arrival of young Korean deportees. However, one fact is very clear: South Korea cannot simply expect returnees to be "Korean." South Korea's assimilationist ideas about "multiculturalism" cannot be enforced on them.
These people have grown up in completely different spaces and communities. They cannot be forced to immediately accept South Korea as their home.
Cover image: DREAMers protest the Trump administration's decision to rescind DACA. (Courtesy of Van Anh Tran/Movimiento Cosecha)
Become a subscriber to access all of our content.