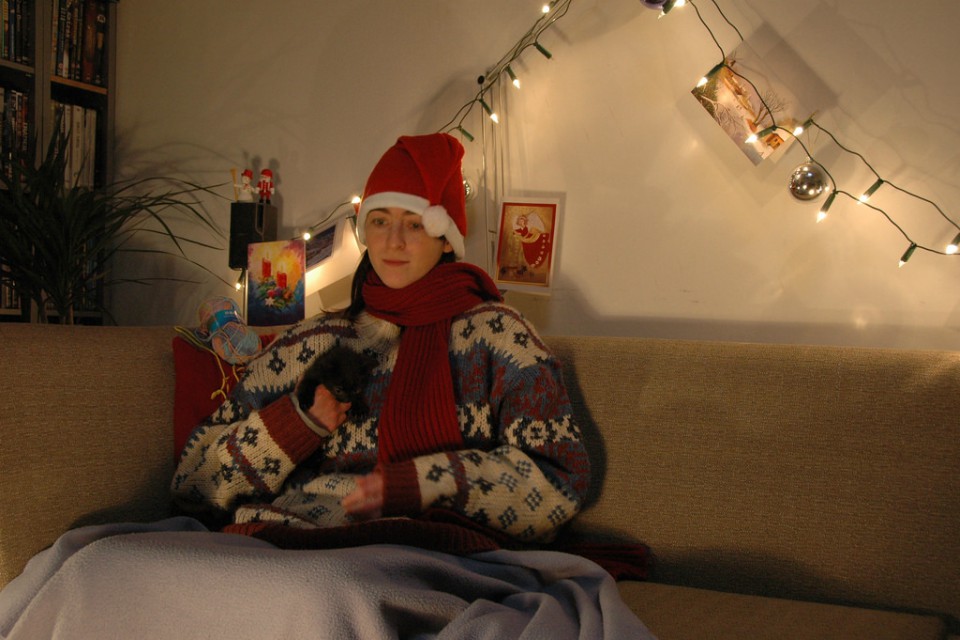 Nightmare Before Christmas: Battle of the Solos
Even the rain on Christmas Eve did not deter couples in South Korea from going out on dates.
"I feel like we both took for granted that we would be spending Christmas together," said Alice Son, a 22-year-old college student in Seoul, about her plans with her boyfriend. She said she planned to watch a popular rom-com play titled "Rooftop Cat" and go ice skating at the Seoul Gwangjang Ice Skating Rink if weather permits.
Unlike in the U.S., Christmas is generally not the time people travel long distances to spend the holidays with their families — that's more likely to be chuseok, the harvest holiday in autumn, or the lunar new year seolnal.
Maybe it's the Christmas rom-coms from the U.S., or the beautiful TV advertisements showing romance blooming under a snowy Christmas — but this time of the year, especially for the younger generation, is more about spending time with one's significant other. Shopping districts and popular attractions in Seoul bustle with young, cheerful couples who walk around holding hands.
Then there are the 'unfortunate' singles. While happy couples enjoy their romantic dates, the singles must endure the social pressure that they should be in relationship to fully enjoy Christmas festivities. 'Solo Christmas' is a trendy phrase, making fun of people who spend Christmas as a single.
To avoid loneliness, singles go on a quest for love prior to Christmas. On Dec. 9, Saemip (short for Saemaeul Meeting Project) organized a matchmaking event in Pangyo, Gyeonggi Province. The event was dubbed as a solo daecheop, literally 'Battle of the Solos,' a word originating from a similar gathering of singles in Yeouido Park on Christmas Eve five years ago.
200 male and female participants in their 30s, labelled as 'Gold Mister' and 'Gold Miss,' gathered at a restaurant from 2 p.m. to 5 p.m. The 'Gold' labels refer to people in their 30s to 40s, with the right financial and educational pedigrees, ripe for marriage, but single nevertheless. Two people of the same gender were paired, to hop around various restaurants at Avenue France, a shopping mall in Pangyo, and meet another pair of people of the opposite gender (needless to say, it's not easy for non-binaries to fit in at meetings like these).
People exchanged phone numbers via post-its, delivered flowers to those they were interested in, and drew lotteries to win prizes, like perfumes. "People seemed to have a good time," Kim Tae-eun, a PR official at Avenue France, told Korea Exposé.
While Christmas today is widely perceived as a day for people to go out and have fun, this festive association with the holiday did not come about until relatively recently.
According to Lee Eun-seon, a professor teaching Christian literature at Anyang University, Christmas was first introduced in the Korean peninsula in the late 1800s by Western pastors. Pastors established churches and modern schools — Yonsei University being one of the most famous examples — and celebrated Christmas with decorative lights and special events such as plays. These activities induced non-Christians to try coming to church, spreading Christianity to those who weren't fond of the religion. The Independent, the first private daily paper of Korea, published on December 23, 1897 that it recognized Dec. 25 as a global holiday and would not print that day.
By the early 1930s, Christmas seems to have become increasingly commercialized and modernized. In 1933, the magazine Modern Women wrote an article listing various Christmas presents by price. Such celebration was suppressed in the late 1930s and early 1940s by the Japanese colonial government, as the Second Sino-Japanese War broke out in 1937 and socioeconomic conditions deteriorated for those in Japan and its colonies. The Japanese colonial government more strictly forced Korean citizens to worship at Shinto shrines and quelled any other religious activities, including Christmas celebrations.
After liberation from Japan in 1945, Christmas started properly arriving in South Korea, thanks to the arrival of U.S. military troops. That year, the United States Army Military Government declared Dec. 25 as a federal holiday in South Korea, a legacy that remains until now. At the time, the U.S. military also disabled the legal curfew just on Christmas day and New Year's Eve (the curfew was lifted for all other days in 1982).
According to scholars, by the mid-1900s, Christmas was already a household holiday. "All the young people would go out to Myeongdong [at Christmas] and hang out all night," professor Lee told Korea Exposé.
On Dec. 24, COEX, a huge shopping mall in Gangnam, Seoul, was packed with couples. The 'Romantic Gold Tree,' a large, golden Christmas tree, was surrounded by couples taking selfies. As soon as one couple left, another would quickly take the spot to take photos.
Love was in the air, from couples wearing matching outfits to gomusin couples (or 'rubber shoes' couples doing long distance because the male is serving in the military service — it's a common expression to say 'the woman is wearing the gomusin upside down' when she meets another man during her boyfriend's service time).
In the spirit of Christmas, companies were quick to capitalize on the needs of the solos. Duo, one of the largest and oldest matchmaking companies in South Korea, hosted a "meeting party" on Dec. 24 at JW Marriott Hotel in Seoul. The party was titled 'Adieu 2017, Hello My Fate.'
Around 60 males and females, well-dressed and financially stable, all qualified for the titles 'Gold Misters and Misses,' walked into the hotel venue around 3 p.m. on Christmas eve. They wanted to meet their potential lifelong partner. Duo's event team seated the participants at small roundtables; as awkward and silent as they were at first, some will come out as pairs, Duo explained.
"These people are all busy. They're not singles because they can't find a partner; they're all professionals with a lot of responsibilities and not enough time," organizer Lee Jae-mok said. "If they find potential in someone, wouldn't they look forward to the new year?"
The stigma against being alone appears to intensify during a holiday like Christmas, which in South Korea is saturated as often with images of heterosexual couples enjoying a romantic night out as with images of baby Jesus in his crib. In general, being alone is often seen as a handicap than a natural state of human existence. There are jokes in South Korea that you're basically like a magician, if you manage to be single for over 30 years. There are restaurants catering specifically to people that eat alone, an activity that's often seen as rather embarrassing.
But being solo is nothing to be ashamed of. We won't get into the millions of ways in which solitude can be more meaningful and productive, at times necessary, than constantly being in the company of others. So merry solo Christmas – without any cynicism.
Cover image: There's nothing wrong with a solo Christmas. (Source: Hendrik Dacquin via Flickr, CC by 2.0)
Become a subscriber to access all of our content.