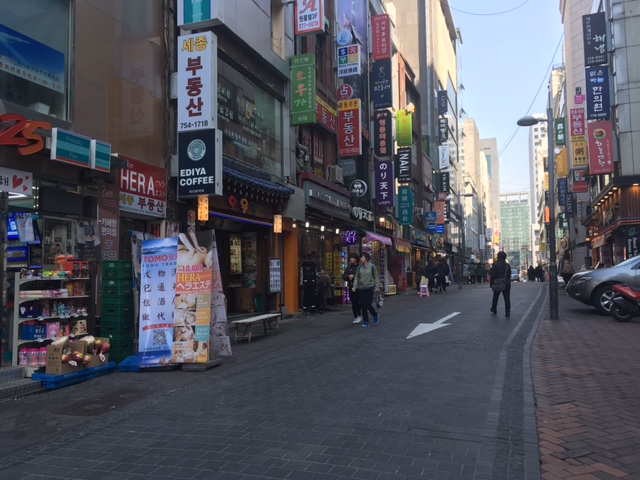 China Travel Clampdown Empties South Korea's Myeongdong
Myeongdong, a downtown Seoul shopping district typically packed with tourists, was unusually quiet on Wednesday. For the last few years, the area has drawn an unending torrent of Chinese tourists. Most street signs and signboards are written in Korean and Chinese — sometimes only in the latter.
But in recent weeks, the sound of spoken Chinese has grown quieter. On Wednesday, cosmetic shop touts in Myeongdong called out promotional phrases in Chinese here and there. But two Chinese speakers I approached at a Starbucks turned out to be Taiwanese.
Since South Korea decided to allow the deployment of U.S. anti-missile system THAAD on its soil, China has been taking retaliative measures. Mar. 15, the day I visited Myeongdong, marked the first official day of China's clampdown on South Korea-bound tourism. On the orders of Beijing, Chinese tour agencies stopped selling group tour packages and flight tickets to South Korea.
On Mar. 15, Lotte Department Store in Myeongdong was unusually quiet. In the past few weeks, the store has seen a dramatic decline in its main customer base from China. (Source: Jieun Choi/Korea Exposé)
Demi Liu, one of the two Taiwanese tourists at Starbucks, said she saw more Japanese than Chinese tourists during her three-day visit in Seoul.
Lotte Department Store in Myeongdong was empty. Its parent Lotte Group has received one of the biggest hits from China since handing over one of its golf courses for the anti-missile system base. Many Chinese customers are now boycotting Lotte products. China has now closed down more than half of the Lotte Mart branches in the country, ostensibly for "fire-safety reasons."
The lack of Chinese tourists didn't seem new to many working in Myeongdong: A significant drop in numbers had already begun last weekend, possibly even earlier. Last Saturday, more than 3,000 Chinese tourists on a cruise ship that stopped at Jeju Island refused to even set foot on South Korean soil in protest at the THAAD deployment.
Lotte Department Store has seen up to 90 percent drop of its Chinese customers in the past few days, according to Zhang Yan, an employee at the Global Blue Tax Refund counter. (Source: Jieun Choi/Korea Exposé)
At Lotte Department Store's tax refund counter, two Chinese employees were enjoying a calm afternoon — a dramatic change of pace at work.
Zhang Yan, who only started working there a few weeks ago on Mar. 1, said more than 500 tickets were given out daily to tourists on her first week. Over the past few days, they hadn't even turned on the ticket machine.
"We usually deal with up to 300 Chinese tourists each morning. This morning, we had ten," Zhang said. While tourists of other nationalities still dropped by, she added, they didn't spend as much as the Chinese.
Employees at Lotte Young Plaza stood idly, chatting with their coworkers or looking at their smartphones. Just a week before, the stores were packed with Chinese customers. (Source: Jieun Choi/Korea Exposé)
South Korean Kim Yoon-jin, a Chinese-speaking attendant at Lotte Department Store, said only around 700 Chinese tourists had dropped by with inquiries over the past couple of days. Before that, she said, daily numbers had easily reached 1,000.
"Usually, even during weekday mornings it's hard to get into the store, as Chinese tour groups crowd in right from the entrance," Kim said, pointing at the empty floor.
Yang Jong-soon, who has been running a kiosk in front of Lotte Department Store for 25 years, said she has never seen the street so empty before. Her business has been declining since last year, but the most visible downturn came after North Korea fired missiles near Japan on Mar. 6 and the first deployment of THAAD began the next day.
No customer was seen at street food vendors in Myeongdong in front of the Lotte Department Store. (Source: Jieun Choi/Korea Exposé.)
Not everyone is viewing the loss of Chinese tourism as a crisis. The South Korean government is trying to take this opportunity to lower economic dependence on its giant neighbor — and biggest trade partner — thereby diversifying the export market.
Cover image: Streets in Myeongdong were far from crowded on Mar. 15. Many Japanese speakers were spotted, while almost no Chinese was heard. (Source: Jieun Choi/Korea Exposé)
Jieun Choi wrote this radar report.
Become a subscriber to access all of our content.