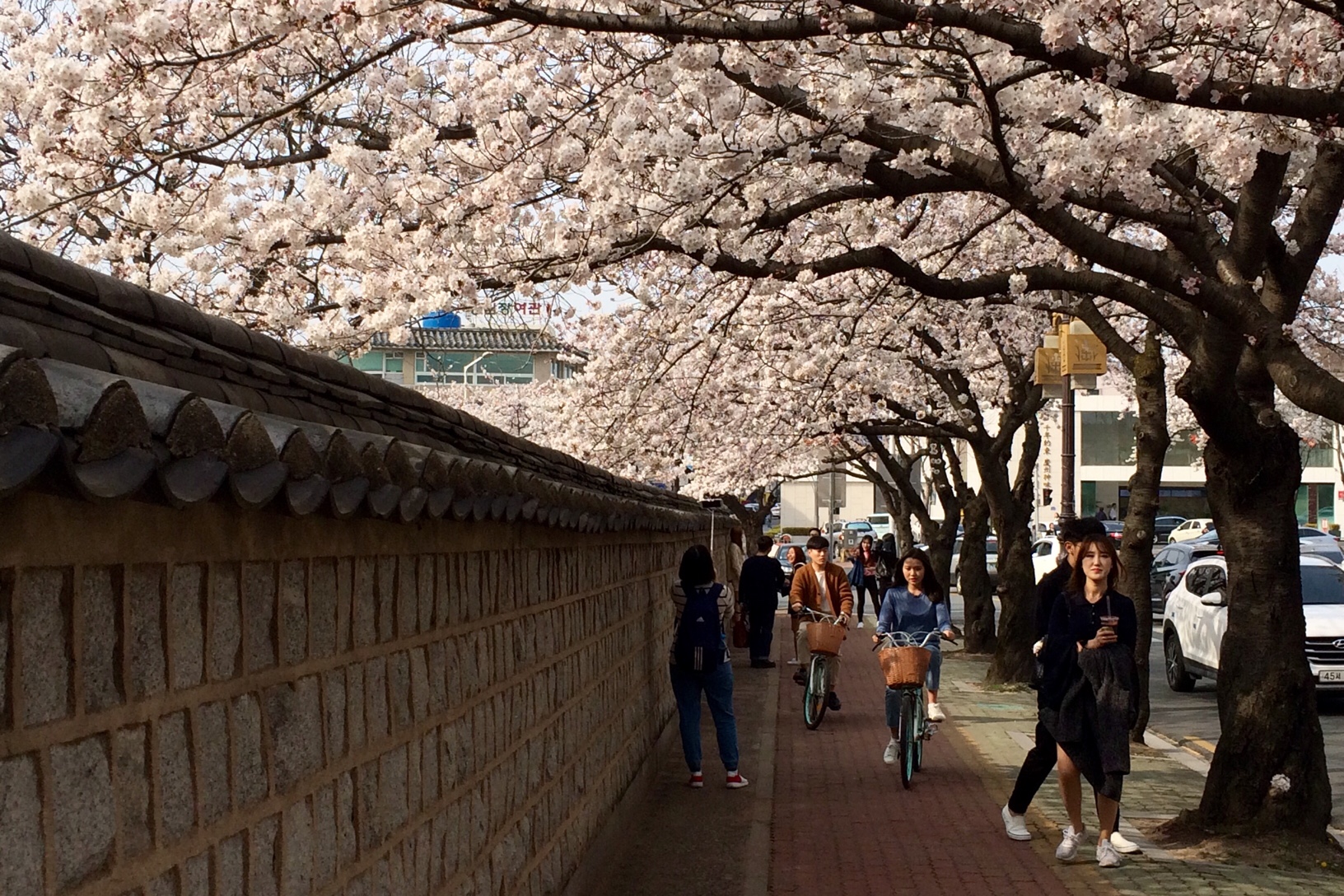 Cherry Blossom Politics: South Korea Vs. Japan
As cherry blossom petals herald the beginning of spring, typical spring routines return to South Korea, as South Koreans shed their winter clothes and hum a quintessential spring song by Busker Busker, "Cherry Blossom Ending."
But something else routinely comes back when spring is in the air: a controversy over the origin of cherry blossom trees. Who is the true parent of cherry blossoms, Japan or South Korea?
Since the early 20th century, the Japanese government has been giving cherry blossom trees as a diplomatic gift to other countries, notably to the U.S. The prominent cherry blossom festival in Washington D.C. stems from the planting ceremony held when Japan donated the trees in 1912. In South Korea, too, cherry blossoms are an important cultural symbol. Like in Japan, the flowers blossom beautifully in spring, prompting massive festivals and many South Koreans to go sightseeing.
In the spring of 2014, South Korean media outlet Newsis cited John Covell, an Asian art historian, arguing that over 6,000 cherry blossom trees that Japan sent to Washington D.C. in 1912 were actually from Jeju Island in South Korea, not a suburb in Tokyo. This is a common narrative in South Korean media. In the same year, Japan Times rebutted this narrative, calling it "a distorted interpretation of the facts."
So where does the cherry blossom originate from?
The species most commonly seen worldwide, partly thanks to Japanese diplomacy, does come from Japan. The species, an artificial hybrid, is called somei-yoshino, or Yoshino Cherry.
Here comes an interesting plot twist: Yoshino Cherry may be related to King Cherry, a species native to South Korea. (Taxonomists have yet to scientifically confirm the connection between the King Cherry and Yoshino cherry) They even look similar; although a 2007 study by researchers from South Korea and the U.S Department of Agriculture concluded that King Cherry is indigenous to Jeju island and genetically distinct from Yoshino Cherry.
Since 2014, China has also joined the "who owns cherry blossoms" controversy, claiming that cherry blossom trees originated from the Himalayan region in what is today China, and spread to Japan. People's Daily, the official newspaper of the Chinese Communist Party, said poems mentioning the dainty flowers are dated back to Tang Dynasty from the seventh to tenth century, when cherry blossom trees were widely planted in private courtyards in China.
Cover Image: Each year, when the cherry blossom flowers bloom, historical controversies over the origin of the flowers also bloom again between Japan and South Korea. (Se-Woong Koo/Korea Exposé)
Jieun Choi wrote this radar report.
Become a subscriber to access all of our content.