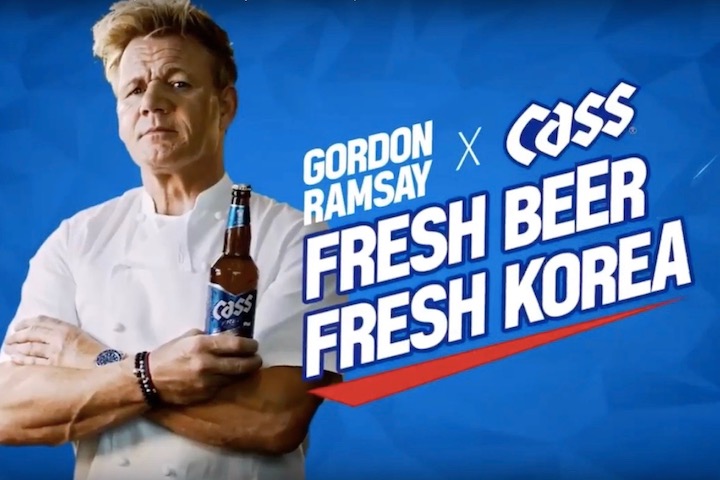 Gordon Ramsay Swears by Korean Beer, but Are Koreans Buying It?
"Before you learn to cook you need to learn how to taste," British chef Gordon Ramsay told late night host Jimmy Kimmel before using a blind taste test to evaluate Kimmel's ability to figure out what he was eating without seeing it.
While he is best known for his curmudgeonly personality and verbal shellacking of chefs who miss the mark, throughout his career Ramsay has trumpeted the importance of a chef's sense of taste, positing that to make good food, a chef must have an acute sense of how to evaluate flavor.
Ramsay will be able to show off his palate's prowess later this week when he films "Please Take Care of My Refrigerator," a South Korean television show where chefs compete to make dishes using ingredients found in a celebrity's fridge. It will be a chance for South Korean viewers to better get to know a chef with a quickly growing public profile in the country.
Of late, Ramsay has been a much talked about figure in South Korea due to his recent endorsement of Cass — a watery, mass-market beer that, multiple sources tell Korea Exposé, sucks. The shortcomings of South Korean beer have been documented elsewhere. One reason local brews lack flavor is that they are short on malt, and are often watered down from concentrates. Though it is inexpensive and pairs decently with spicy, greasy Korean food, Cass has a weak taste. Due to domination by a couple of big brewers, South Koreans have traditionally been left without much choice, though in recent years imported and craft beers have become more widely available, with even big breweries selling better offerings with higher malt contents.
Ramsay recently filmed a commercial for Cass at a Korean barbeque restaurant, most of which he spends waxing ecstatic about grilled pork belly. At the end, he takes a sip of Cass and exclaims, "Bloody fresh!" (To be fair to Ramsay, even bad beer can be 'fresh.')
The irony of a high-brow chef endorsing bottom-shelf swill has not been lost on the South Korean public. OhMyNews ran an article questioning whether Ramsay really thinks Cass is delicious, or if the company bought his approval. Even the pro-business Chosun Ilbo ran a piece cataloguing South Korean netizen befuddlement over Ramsay's professed affection for Cass.
Though he is far from the first celebrity chef to take on a questionable endorsement, Ramsay could be risking a blow to his reputation. A celebrity chef like him, at this point in his career, traffics as much in his trustworthiness as an evaluator of taste as his ability to cook. Companies have him endorse their products due to the sway Ramsay holds with consumers, the presumption that if he likes something, it must be good. According to Forbes, Ramsay made $54 million last year, so it's not like he signed the deal with Cass because he needs the money.
Ramsay is scheduled to arrive in South Korea on Friday for his four-day visit, during which he will have to answer the burning question: Is Cass really to your taste?
Cover image: Gordon Ramsay in a Cass commercial (Source: Cass TVC via YouTube)
Become a subscriber to access all of our content.