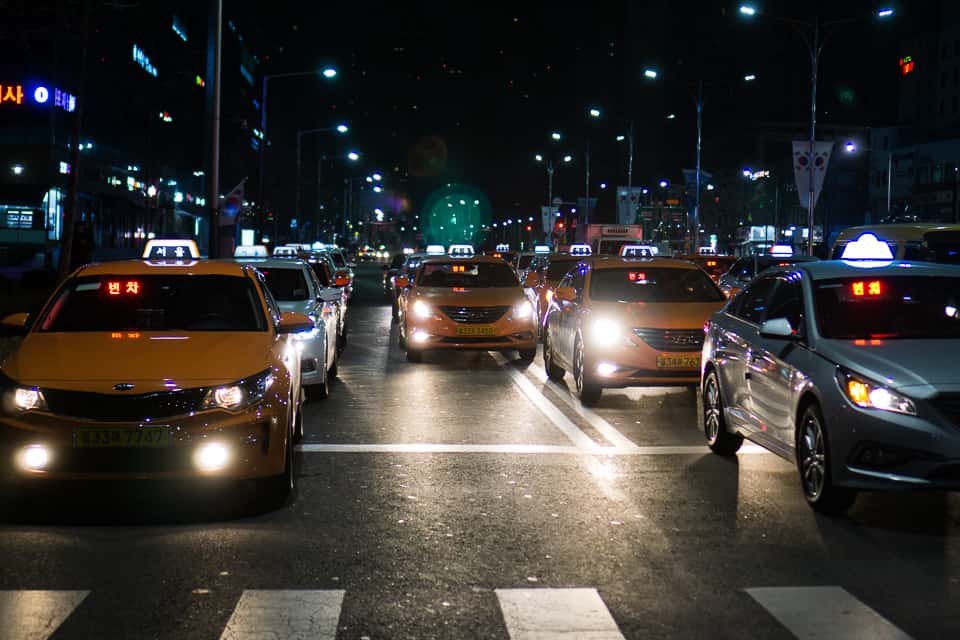 Carpooling Apps on Collision Course with S Korea Taxi Drivers
South Korea's taxi industry is reacting angrily to the latest threat from mobility apps.
Following the shutdown of ridesharing service Uber in 2015, this time carpooling apps are threatening to disrupt the country's transport ecosystem. Two leading local platforms — Luxi and its biggest rival Poolus — are at the forefront of the controversy. 
Taxi drivers hit the streets in a bid to get carpooling apps banned last November, but without success. Poolus received 22 billion won (about $20.5 million) in funding from Korean and international investors in October 2017, while Luxi was acquired for 25.2 billion won (about $23.5 million) by Kakao Mobility on Feb. 14, suggesting that investors do not expect the two platforms to share the same fate as Uber despite the current friction.
The taxi industry is a highly influential sector that has consistently opposed ridesharing technology. In 2013, it reacted furiously to the arrival of Uber, prompting the South Korean government to enforce a local law banning unlicensed drivers from providing transportation in exchange for money. Uber soon suspended its services in South Korea.
Into the vacuum left by Uber entered local player Kakao T, now South Korea's most popular mobility app. The app, which uses a similar interface to that of Uber but connects users with licensed taxi drivers instead, is operated by Kakao Mobility, a subsidiary of South Korean tech giant Kakao Corp. As of 2017, some 80 percent of all South Korean taxi drivers were registered with Kakao T.  
But Kakao Mobility's recent purchase of Luxi puts it in an unusual position: On one hand, it represents the 210,000 taxi drivers registered with Kakao T; on the other hand, it now owns Luxi, which the same taxi drivers see as a major threat.
Announcing its purchase of Luxi, Kakao Mobility claimed the app would "complement taxis, only at times of high demand."
"As of now Luxi will remain operationally independent and complementary to taxis," Yoon Seung-jae of Kakao Mobility told Korea Exposé. "There are differing opinions among Kakao T drivers but it's understandable that they find it difficult to welcome this decision."
Unlike Uber, both Luxi and Poolus are ostensibly designed for carpooling only. Though their drivers are not commercially licensed, the apps exploit a clause in South Korea's Passenger Transport Service Act that allows driving-for-pay "where people share the use of a passenger vehicle for commuting." Commuting times are not specified in the law, leaving problematic room for interpretation.
Luxi interprets commuting times in a relatively conventional sense, limiting its activity to two daily time slots: 5 – 11 a.m. and 5 p.m. – 2 a.m. Poolus formerly did the same, but suddenly announced a more flexible approach last November to let users "choose their commuting times based on diverse working conditions."
This interpretation angered the taxi industry. Several taxi interest groups filed complaints to Seoul Metropolitan Government (SMG) and the Ministry of Land, Infrastructure, and Transport (MOLIT), demanding that carpooling apps be declared illegal.
In November 2017, SMG announced that it would crack down on carpool apps operating outside commuting hours (defined as the same time slots used by Luxi), putting it on an apparent collision course with Poolus.
Poolus has yet to announce a change to its flexible commuting time interpretation. At time of publication, the company had not responded to Korea Exposé's request for comment.
According to Korea National Joint Conference of Taxi Associations (JCTA), there were 164,342 independent cabs and 88,412 company-owned cabs registered in South Korea as of last November. A total of 71,893 were registered in Seoul alone. Taxis were responsible for 6.8 percent of total passenger traffic in the South Korean capital in 2015.
South Korean authorities must tread carefully when it comes to regulating an industry whose many stakeholders include taxi drivers, taxi companies, and automobile manufacturers, for whom taxi companies and independent taxi drivers constitute a key customer segment.
JCTA doubled down on its carpool opposition on Feb. 2, announcing that it rejected "all discussion of regulatory reform pertaining to carpooling apps." The coalition stated it had refused to attend a policy hackathon on Feb. 1-2, hosted by the Presidential Committee on the Fourth Industrial Revolution Committee, aimed at discussing improvement of regulations.
Lee Seong-hun of MOLIT told Korea Exposé that the ministry had no plans to provide a more specific interpretation of the Passenger Transport Service Act.
"We must wait and see where the discourse heads after the hackathon, and figure out ways [for various industries] to coexist," Lee said. He revealed that the taxi industry was demanding that the issue be taken to the National Assembly for a clear interpretation of the law.  
The bleak reality of the taxi industry may account for its staunch resistance to new competitors. The average taxi driver reportedly earns 1.75 million won per month (about $1,500), little over half the national average of 3.29 million. Meanwhile, taxis' share of total passenger numbers in the transportation market has slowly decreased since 2011.
Cover image: Taxis await passengers at Seoul's Jamsilsanae Station, 2:00 a.m. (Ho Kyeong Jang/Korea Exposé)
Become a subscriber to access all of our content.